AMD Adrenalin Driver Features
As part of our comparison of these two RX 580s, Sapphire also asked us to highlight four main features found within AMD's Adrenalin driver: Wattman, Chill, ReLive and Freesync.
Wattman
At its core, Wattman is quite simple to use – it is AMD's own overclocking utility which lets you adjust the core frequency, memory frequency and fan speed of your chosen graphics card.
What many people don't know is that you can actually save different profiles – perhaps you want one profile to have the core frequency and fan speed cranked for gaming, but you want a separate profile to stay cool and quiet while browsing the web. You can also share these profiles as well – they simply save as .XML files.
That means you can share them with friends who have the same graphics card as you, or you can copy your old profiles to a new computer if you reset Windows.
Chill
Chill is my favourite feature of the Adrenalin driver. It's a simple but effective idea – with Chill enabled, your frame rate behaves as normal when moving around in-game. When you stop moving, however, Chill detects this and drops the frame-rate, meaning your GPU frequency slows, resulting in lower power draw.
It can be enabled globally from the 'global graphics' tab within the driver settings. However, you can also set FPS targets on a per-game basis – so the game knows how low you want the FPS to drop when you stop moving.
To test this, I benchmarked a minute of gameplay within Far Cry 5. During this playthrough, I would run for 10 seconds, and then stop moving for 10 seconds, and repeat until the minute was up. We did this three times: with Chill disabled, with Chill enabled globally, and then with a custom FPS target of 40-60 set for Far Cry 5 within the driver settings.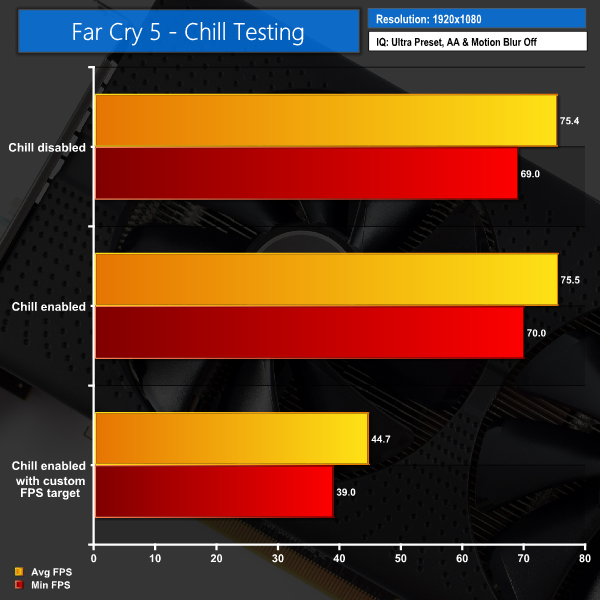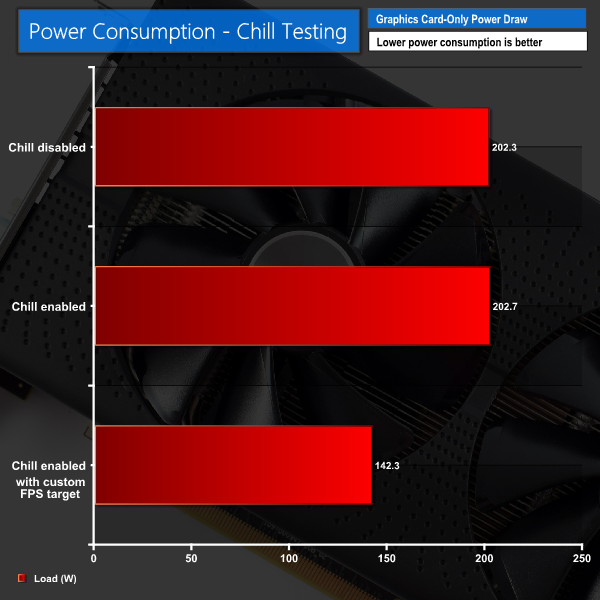 As you can see, having Chill enabled globally does not get the best from the technology. Instead, when you set a custom FPS target for each specific game, it can work wonders. The average FPS in our Far Cry 5 run, for instance, dropped to 44.7 – it would be right around 60FPS while I was running, but about half a second after I'd stopped, it would drop right down to 40. It's quite impressive.
This also has definite ramifications for power consumption – the total power draw dropped by 60W. For a desktop this may not be so important, but for a laptop with Vega graphics, this could be significant for the battery life of your machine.
ReLive
Next up is ReLive, which is AMD's software screen capture service. In a nutshell, it lets you record your gameplay.
It is a bit more advanced than that, though. Within the ReLive area of the software, there are four main tabs. The first is 'global', which gives you control over the main capture settings – where the files are saved, what key shortcuts you can use to start/stop a recording and so on.
After that, we have the 'recording' tab. Here you can set a target resolution, video and audio bitrate, as well as what codec you want to use.
Next is the 'streaming' tab, which will likely appeal to many Twitch fans – you can link ReLive to various social media and streaming services, allowing you to stream directly onto those services from within ReLive. There are also resolution, bitrate and FPS settings here.
Lastly, the 'overlay' tab just lets you enable whether you want an overlay on-screen while you're recording, showing your system info for instance. You can also set a custom overlay if you wish.
Freesync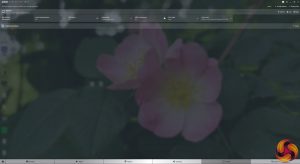 This is probably the feature that our readers will be most familiar with. Freesync is AMD's adaptive sync technology which ensures your display's refresh rate adapts to the frames being outputted by your graphics card, thus ensuring no tearing.
For this to work, you do need a compatible monitor and AMD graphics card – the RX 580 being a perfect example. To turn Freesync on, just go to the 'display' section within Radeon settings and check the 'Freesync' box to on. Sadly, my monitor does not support Freesync so the option is greyed out, but as long as everything is compatible, you will soon be on your way to tear-free gaming.
To learn more head over to why-radeon.com.