We discussed the specifications of the 'Vesuvius' design in detail already – there are basically two R9 290X cores linked together by the PLX bridge chip to create the R9 295 X2.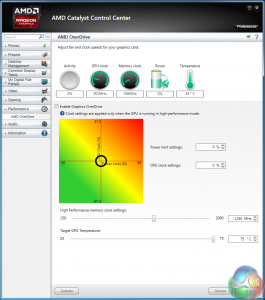 As we mentioned, the VBIOS switch on the card doesn't adjust any core clock or memory settings, the dual BIOS is a mirror. Catalyst Control Center indicates that the R9 295 X2 Powertune settings are configured to maintain temperatures to a maximum of 75c. This is a 20c reduction over the air cooled reference R9 290X.
As we previously explained on R9 290/X launch day, the Catalyst Control Center has been redesigned to accommodate the new PowerTune technology. Overclocking and Power are now linked into a '2 dimensional heatmap'. AMD have said that this design makes it easier for the end user to adjust product performance. The R9 290/X and R9 295 X2 use a dynamic engine clock and overdriving the core speed works on a percentage.

The fan speed slider has also been reworked. Previous versions of Overdrive would set the fan to a specific RPM. This new system sets an upper limit on the fan RPM but otherwise allows the fan to be managed based on demand and graphics load. At default, the fan maxes out based on the current settings of the video BIOS that was booted. Adjusting the maximum fan slider will allow the user to select a different limit.
We discussed the R9 290/X reference cooler in previous reviews and how it struggled to maintain a 95c threshold without downclocking the core clock speed. AMD partners went to work on releasing a series of higher grade coolers after AMD's launch, and for the most part have succeeded. The Tri-X cooler from Sapphire comes to mind as being one of the best air coolers we have ever tested in our labs.
That said, there was no doubt in my mind that the R9 290/X would work best if it was watercooled. Many early R9 290/X adopters did just that – removed the reference cooler and watercooled it.
When AMD told us that they were creating a R9 295 X2 with two of these cores on a single PCB we knew it would have to be watercooled.
Watercooling and a partnership with Asetek is certainly a good move, but when I saw the small 120mm radiator and single fan I did have a moment of doubt. Was this really enough for two of these hot running cores? Surely a 240mm radiator would be a more logical choice for such a hot running piece of hardware?



Furmark always causes controversy. Many people say it pushes the graphics cards to a level unrealistic when gaming. We have always used it, but only to subsidize our game load testing. If you don't value it, then ignore the results and focus on the game testing in our reviews – simple as that.
The matter is more complicated now because a lot of people have been using AMD graphics cards to mine for coins. This works in a similar way to Furmark – loading the cards to an extreme level. People who mine 24/7 have had graphics card fans fail, and power supply cables have even melted on rare occasions.
When we tested the AMD R9 295 X2 with Furmark, the core would drop and fluctuate between 800mhz and 900mhz. The temperature would rise to a steady 75c and stay there. It didn't take long for the watercooling hoses to get very warm.
Fortunately, gaming is much less intensive and we didn't notice the same level of clock fluctuation. After an hour of playing Tomb Raider we did notice the core clocks would drop a little – the watercooling hoses again got very warm to the touch.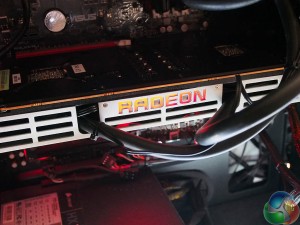 So my initial judgement was right, the 120mm radiator does struggle to cope. We really wouldn't advise overclocking this card either as the water temperature inside the cooler would rise more, especially under extended gaming sessions. We do overclock later in the review, because we know a lot of people will want to know the results.
There are some caveats when installing the AMD R9 295 X2. Ensure you mount it either at the top or rear of the case with the fan blowing air through the radiator and out. If you have the option of adding another fan and have the additional space for mounting, do it. We didn't get time to extensively test this, but another fan in a 'push-pull' configuration certainly wouldn't hurt.
Ideally, AMD and Asetek could have developed a larger 240mm radiator, complete with 2 x 120mm fans. It would have undoubtedly performed better. I am sure AMD will argue that if the end user was already using a 240mm radiator to cool his or her CPU, then install space inside the case could certainly be a problem.