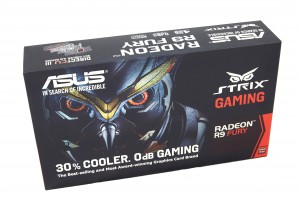 The Asus Strix OWL makes another appearance on the front of the box, with some specifications underneath.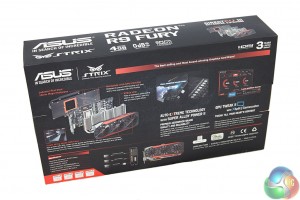 Details of the cooler are listed on the rear of the box.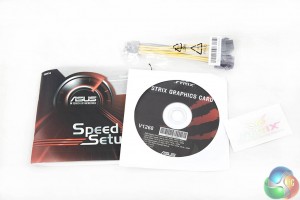 Inside the box is a software disc, sticker, literature on the product, and a power converter cable.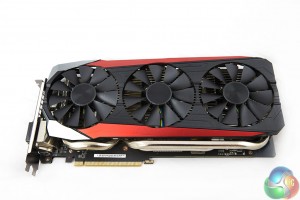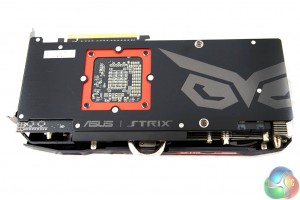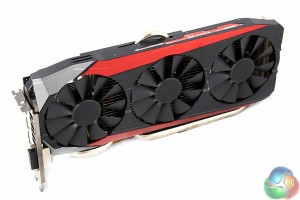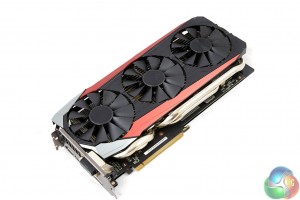 The Asus Radeon R9 Fury Strix is a big heavy card and it is fitted with a substantial back plate. They also install a 'GPU Fortifier'. The triple fans are based on the 'wing-blade' technology which places more air pressure on the edge of the blades to increase maximum air flow without increasing noise levels.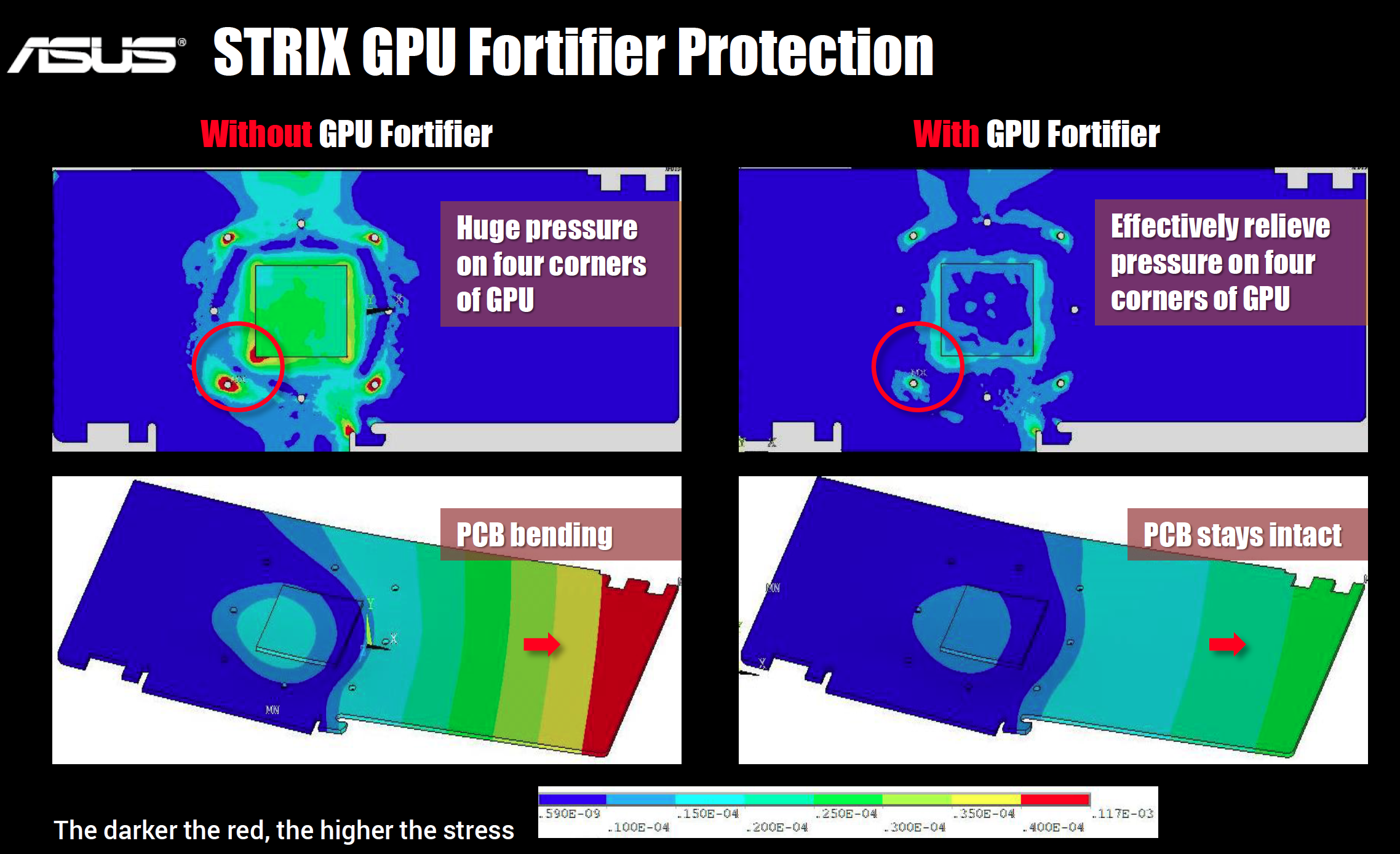 This 'GPU Fortifier' is said to give relief to the four corners of the GPU core on the PCB and to help ensure it doesn't bend either.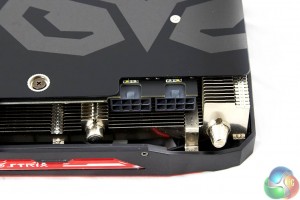 The card takes power from two eight pin power connectors.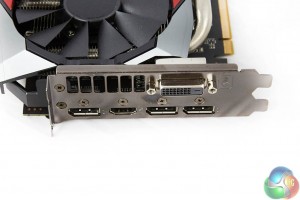 AMD have ditched VGA and DVI connectivity on the rear I/O plate – opting for DisplayPort 1.2a and HDMI ports. We have no problems with this, especially as the card ships with a DVI converter cable, however there is one, rather niggling issue. AMD are still using HDMI 1.4a ports on their cards which are limited to 30hz at Ultra HD 4K.
If you want to game on a large Ultra HD 4K television it is likely it won't have a DisplayPort connector – only a small percentage do. You are therefore not able to get 60hz at the native resolution … and no one wants to play games at 30hz. Nvidia cards have had full HDMI 2.0 support now for quite some time. This may not be an issue for many, but we have already noticed enthusiast gamers complaining about AMD's lack of HDMI 2.0 support, on our Facebook page. I think this is a rather glaring oversight by AMD.

On a more positive note, the card supports 4 monitors natively and up to six monitors with an MST hub or by Daisy chaining. There is full support for AMD Freesync, VSR, Liquid VR and bridgeless Crossfire.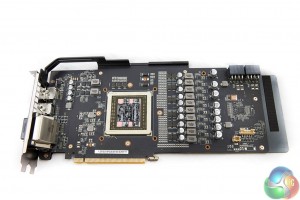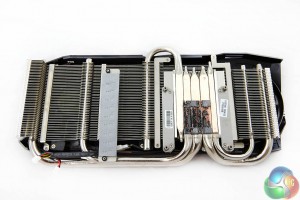 Sapphire didn't want us to disassemble their card, although ASUS seemed much more relaxed over taking the card apart. After we had finished testing we disassembled the R9 Fury card. We can see it is comprised of 5 thick nickel plated copper heatpipes running into two rack of aluminum fins on either side. Parts of the DCIII cool VRM components underneath.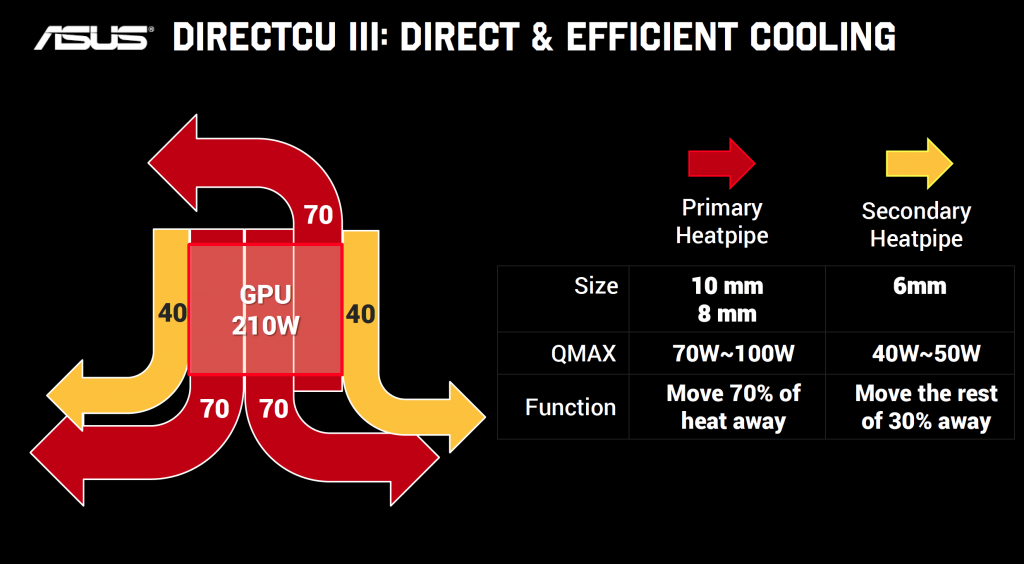 The diagram above came from ASUS and shows how their cooler design works.