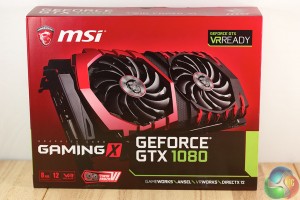 MSI are using some fantastic box artwork highlighting the lovely dual tone cooler.

The MSI GTX 1080 Gaming X 8G is a stunning card and by far my favourite looking of the GTX 1080 solutions I have reviewed so far. MSI have opted for two very large fans rather than three smaller ones. The card is fitted with a solid RGB capable black backplate, which is expected at this price point.
MSI have fitted this card with two very special fans – they are double ball bearing Twin Frozr VI TORX 2.0 fans which offer 13% more airflow and 22% more air pressure than the earlier version.
If you are paying close attention you may have noticed the steeper curved blades on the fans – this is to 'accelerate the airflow' increasing its effectiveness.
I think the MSI GTX 1080 Gaming X 8G looks great from every angle, even if the red and black colour scheme is somewhat overused in recent years.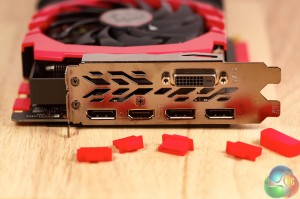 The MSI GTX 1080 Gaming X 8G has a dual DVI connector, 3 DisplayPort connectors, and a single HDMI connector. The Asus ROG Strix GTX 1080 Aura ditched one of the DisplayPort connectors in favour of another HDMI connector.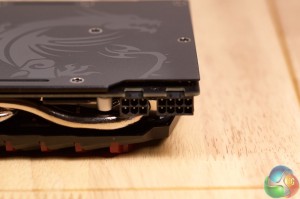 The MSI card takes power from the slot along with a single 8 pin and an extra single 6 pin (75 watt) PCIe power connector. The Gigabyte GTX 1080 G1 Gaming RGB took all the power it needed from a single 8 pin power connector, and the ASUS GTX 1080 Strix OC was equipped with two 8 Pin PCI e power connectors.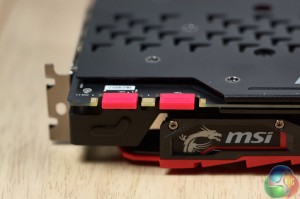 The SLI connectors are shown in the image above. If you haven't already, then I recommend you head to THIS PAGE to get detailed information on the new SLI configuration introduced in May with Pascal hardware.
MSI include two useful software packages with the graphics card – the MSI Gaming App, and MSI Afterburner. The MSI Gaming App offers three preset clock and fan profiles, and you can also adjust LED colours and monitor the hardware.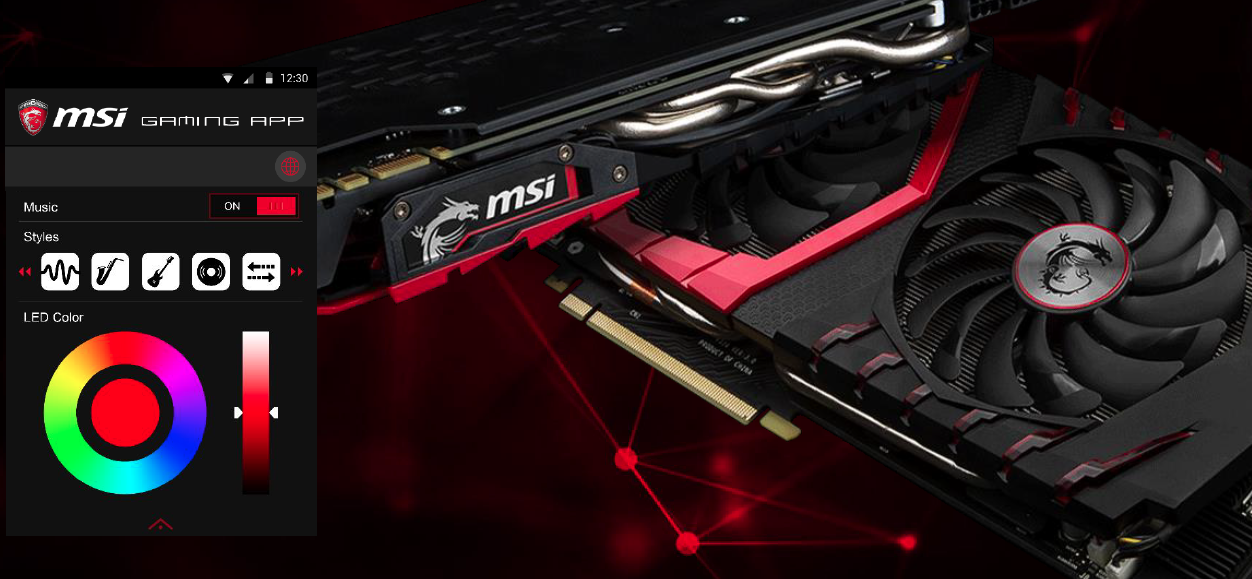 MSI Afterburner really needs no introduction at this stage. It is actually my favourite overclocking software which I use regularly on my own systems at home.
The Twin Frozr VI cooler is formidable. It comprises a series of nickel plated copper heatpipes ranging in size from 6mm to 8mm. These heatpipes run into two separate racks of aluminium fins on either side of the core. MSI have not opted for a direct touch heatpipe heatsink design on this card. The copper heatsink baseplate is solid nickel plated and is polished to a high finish. This is a great looking cooling system.
MSI have fitted this card with a strip which you can see in the above (left). This strip is called a 'rugged anti bending strip' and is designed to help reduce card sag when it is installed inside a system. The card is also fitted with a memory cooling plate and a PWM heatsink to help improve stability and overclocking as well as reducing temperatures.
MSI are incorporating Hi-C Capacitors, Super Ferrite Chokes and Japanese Solid Capacitors throughout the design, which is always good to see.