While we wait on custom partner RX480 cards to hit our labs we have turned our focus to the MSI GTX 1080 Gaming X 8G RGB, the latest in a line of GTX 1080 solutions we have reviewed in the last month.
The MSI GTX 1080 Gaming X 8G RGB is without doubt the prettiest GTX 1080 we have reviewed. I love the styling, accenting and sleek lines of the cooler, and the RGB lighting will appeal to a wide enthusiast audience who like to showcase their hardware from inside a windowed chassis.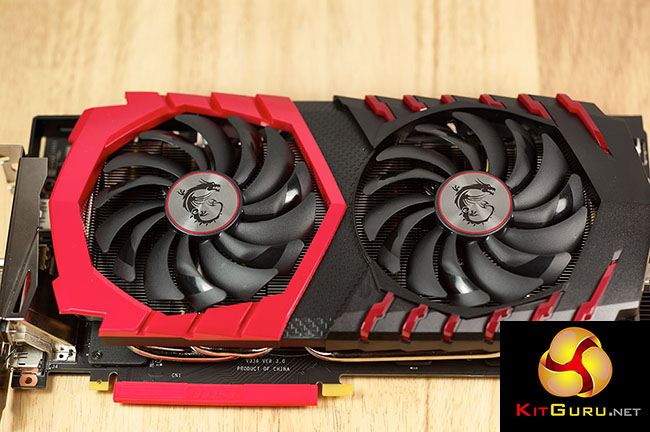 The MSI GTX 1080 Gaming X 8G RGB might not be quite as fast as the ASUS or Gigabyte cards we have reviewed 'out of the box', however after manually tweaking in Afterburner, the end results are stellar. I would take an educated guess that most of our audience are buying a GTX 1080 to overclock with a software tool such as Afterburner anyway. In that case we have found that most of the high end GTX 1080 cards hit very similar overclocked speeds.
Instead of opting for a triple fan configuration cooler MSI have decided to install two bigger fans in their shroud. In regards to noise levels, the MSI GTX 1080 is quiet with plenty of options available to tweak the settings either in the basic MSI Gaming App or via the more sophisticated Afterburner tool. The RGB lighting is also fully customisable. This cooler is certainly not outperformed by the latest triple fan configurations from MSI's competitors.
Our MSI GTX 1080 Gaming X 8G RGB sample ships with a BIOS speed set at 1683mhz/1822mhz turbo. The OC speed is only directly available by clicking a button in the MSI Gaming Application (shown earlier in the review). MSI list the available speeds on this page. There is also a slower setting available which downclocks the card and reduces fan noise further.

Overclockers UK stock the MSI GTX 1080 Gaming X 8G RGB. Retail price was initially set at £629.99 in the UK, but due to BREXIT and the falling value of the pound the cost has risen lately to £679.99 inc vat. You can buy it HERE.
Discuss on our Facebook page, over HERE.
Pros:
the best looking GTX 1080 we have seen.
good combination of noise and cooling efficiency.
overclocks to 2ghz+ easy enough.
this dual fan cooling system can compete.
fans disable below 60c.
Cons:
a little higher clock speeds out of the box wouldn't have hurt.
expensive in the UK right now.
Kitguru says: The MSI GTX 1080 Gaming X 8G RGB is the Cameron Diaz of graphics cards – its a beauty. MSI continue to make the best looking graphics cards on the market. The Gaming X combines top drawer performance with effective cooling proficiency and the ability to hit 2ghz+ in MSI Afterburner without much effort.