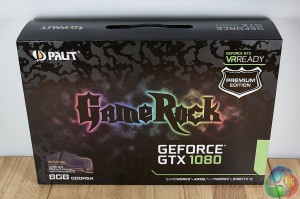 Palit have adopted very colourful box artwork, but fail to showcase the card itself on the front, which is a little disappointing. We can see the 'Premium Edition' badge top right as well.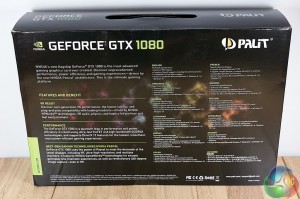 Not much is highlighted on the rear of the box, just a list of text based features.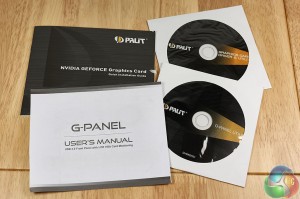 Inside, literature on the product, as well as two CD's features drivers and software for the GPANEL. We do advise heading over to the Palit website and snagging the latest versions of the software. Be aware that Forceware drivers on these discs could also likely be months out of date by the time you end up installing the card in your system. Head to the official Nvidia website for the latest drivers.
The Palit GPANEL is included with the Premium Edition card, as shown above. It can be installed in a case to offer various text based system information, generally related to the graphics card.
Above, some of the details you can get from the GPANEL system. Its actually really effective and easy to read, even in daylight conditions.
The Palit GTX 1080 GameRock Premium Edition is a huge triple slot GTX 1080 and the colour scheme is probably going to appeal to enthusiast users building a system inside a white case, such as those available from NZXT. Not quite sure I like the whole 'GameRock' angle done in the Guitar Hero font, but its hardly that big a deal.
The SLI connectors are shown in the image above. If you haven't already, then I recommend you head to THIS PAGE to get detailed information on the new SLI configuration introduced in May with Pascal hardware.
The Palit card takes power from the slot along with a single 8 pin and an extra single 6 pin (75 watt) PCIe power connector – identical to the MSI GTX 1080 Gaming X 8G solution. The Gigabyte GTX 1080 G1 Gaming RGB took all the power it needed from a single 8 pin power connector, and the ASUS GTX 1080 Strix OC was equipped with two 8 Pin PCI e power connectors.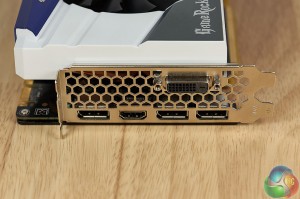 The Palit GTX 1080 GameRock Premium Edition has a dual DVI connector, 3 DisplayPort connectors, and a single HDMI connector. The Asus ROG Strix GTX 1080 Aura ditched one of the DisplayPort connectors in favour of another HDMI connector.
The Palit cooler is substantial, with very thick copper heatpipes running into thick, densely populated aluminum heatsinks across the full width of the shroud above.
As a matter of note, the Palit GTX 1080 GameRock Premium Edition is the only GTX1080 we have tested so far that would hold a boost speed over 2,000mhz during a lot of the testing, this is reflected in the scores.