Nvidia's GTX1080 has been at the top of the performance charts since it was released back in May. At this stage we have already reviewed the MSI, Gigabyte and ASUS models so it was interesting to look at the GameRock Premium Edition from Palit.
Palit are often a company who fly under the radar, but based on our experiences reviewing their cards over the last 5 years they can certainly create some of the fastest solutions on the market.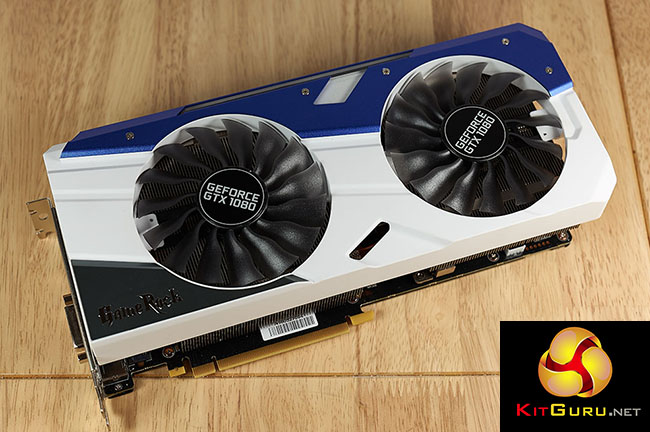 The Palit GTX 1080 GameRock Premium Edition may not be clocked quite as highly as the Asus Strix GTX 1080 OC however in real world terms, the boost clock holds at a higher level. In our tests it proved to be the fastest GTX 1080 we have tested to date, also surpassing the Gigabyte G1 and the MSI Gaming X.
The cooler performs very well and can keep up with competitor solutions from any of the major players. Palit have hit a good balance of low noise levels with stellar cooling performance. The dual fan solution works very well and it is quiet running too, helping maintain low noise temperatures within a new system build.
The GPANEL extra may not be something that everyone will use, but at least in practical terms you could monitor GPU temperatures and clock speeds or load while gaming. Its a worthy little extra.
The only real negative for me would be the appearance. I can't say I am fond of the white glossy, plastic looking cooler shroud with blue accenting. Its not terrible, but the 'GameRock' branding resplendent in 'Guitar Hero' font would be something I would want to hide, rather than show off to my friends and colleagues.

Overclockers UK stock the Palit GTX 1080 GameRock Premium Edition. It is one of the most competitively priced high end GTX 1080 cards on the market, especially when you factor in the performance out of the box and the GPanel extra. It is priced at £619.99 inc vat and you can buy it HERE.
Discuss on our Facebook page, over HERE.
Pros:
performance is class leading.
excellent cooling and noise balance.
runs around 2ghz out of the box.
fans disable below 60c.
GPANEL extra is welcomed.
Lighting works well.
Cons:
Not the prettiest GTX1080 available.
Kitguru says: The Palit GTX 1080 GameRock Premium Edition is a stellar performer, topping our single GPU performance charts. The GPANEL is a welcomed extra, ideal for those who like to read figures or measure temperatures when gaming. It is also competitively priced in the UK, at £619.99 inc vat in the UK.