Unigine provides an interesting way to test hardware. It can be easily adapted to various projects due to its elaborated software design and flexible toolset.
A lot of their customers claim that they have never seen such extremely-effective code, which is so easy to understand.
Heaven Benchmark is a DirectX 11 GPU benchmark based on advanced Unigine engine from Unigine Corp. It reveals the enchanting magic of floating islands with a tiny village hidden in the cloudy skies. Interactive mode provides emerging experience of exploring the intricate world of steampunk.

Efficient and well-architected framework makes Unigine highly scalable:
Multiple API (DirectX 9 / DirectX 10 / DirectX 11 / OpenGL) render
Cross-platform: MS Windows (XP, Vista, Windows 7) / Linux
Full support of 32bit and 64bit systems
Multicore CPU support
Little / big endian support (ready for game consoles)
Powerful C++ API
Comprehensive performance profiling system
Flexible XML-based data structures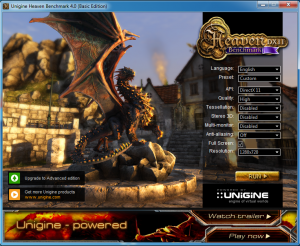 We use the settings shown at 1270×720.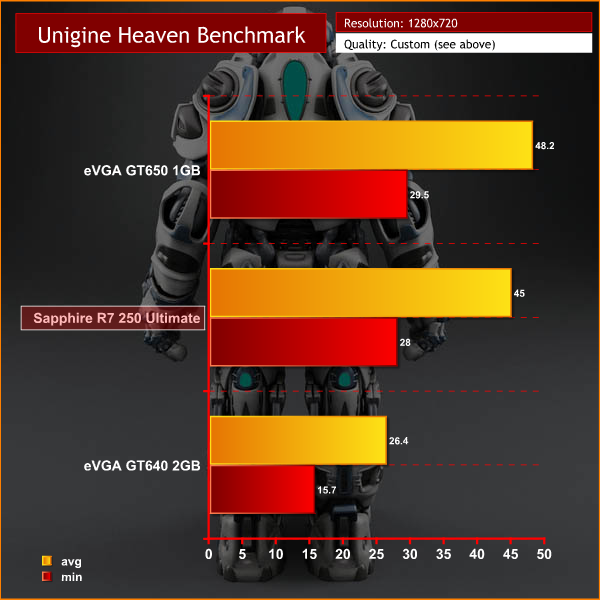 Overall performance at 720p is quite good, averaging 45 frames per second and dropping to 28 frames per second in the most intensive sections of the benchmark. The GT640 2GB is quite a poor performer with this benchmark, holding an average frame rate less than the minimum frame rate of the R7 250 Ultimate. The GT650 1GB is however the leader in this benchmark, by a small margin. Considering there is only £15 separating the GT640 (£64.96 inc vat) and GT650 (£79.65 inc vat), the performance differences are extremely noticeable.