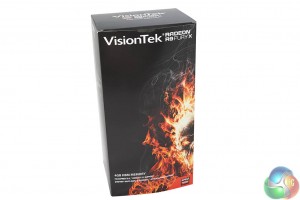 Our Visiontek R9 Fury X 4GB sample arrived with us just after the official AMD launch a short while ago. We decided to take more time and to retest all hardware with the latest AMD and Nvidia drivers – rather than rushing to get a review up as soon as possible with some comparison cards running on older driver revisions. Special thanks to Visiontek and (many) other AMD partners who offered us samples for this review.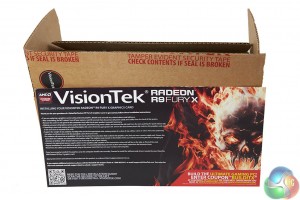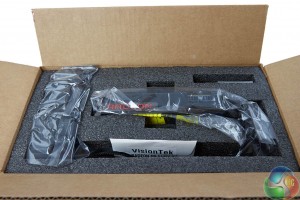 The R9 Fury X sample is protected inside thick slabs of foam. This is a self enclosed liquid cooled unit, so additional protection is needed to prevent leaks due to rough handling during shipping.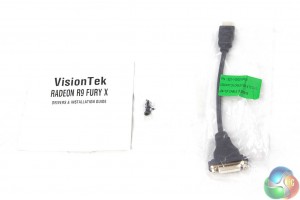 Not an extensive bundle, but the DVI converter cable will likely prove handy for many people using an older screen without HDMI or DisplayPort connectors.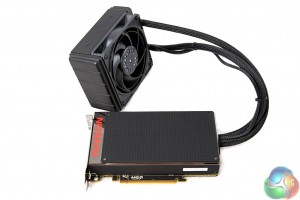 The Fury X 4GB card is very tiny, thanks to the HBM implementation. It measures around 190 millimeters long, although additional mounting space will be needed in the case to fit the 120mm radiator and fan. The R9 Nano – a future release, is said to be only 155mm long!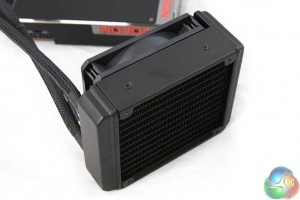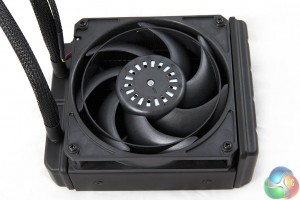 The radiator is compact and won't be difficult to install close to the card – although we can see this causing some issues for people. Many of our readers have a 120mm or 140mm 'all in one' CPU cooler already fitted in the rear exhaust position, so this would need to moved out of the way for the R9 Fury X radiator to be fitted.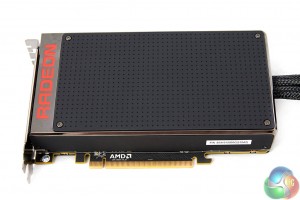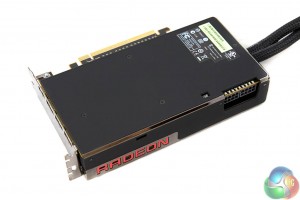 The R9 Fury X is nicely designed and we like the surface material, which feels great in the hand. It is a multi piece aluminum die cast construction with 'black soft touch texture side plates'. The Black Nickel aluminum contrasts well with the other materials. There is talk of partners using their own custom faceplates in future.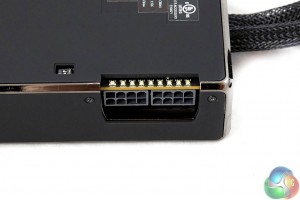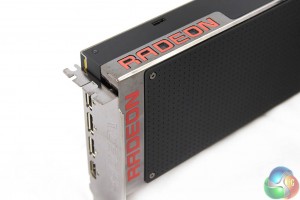 The card takes power from two 8 pin PCI-e connectors. Above these two connectors is a row of LED lights which are either red or green in operation. A single green LED indicates that AMD ZeroCore is active. The more red LED's are showing, the more active the GPU is. The 'RADEON' logo on the side also lights up in RED when the system is powered up.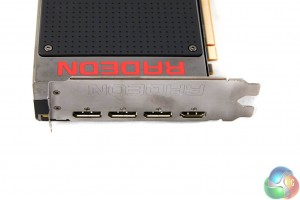 AMD have ditched VGA and DVI connectivity on the rear I/O plate – opting for DisplayPort 1.2a and HDMI ports. We have no problems with this, especially as the card ships with a DVI converter cable, however there is one, rather niggling issue. AMD are still using HDMI 1.4a ports on their cards which are limited to 30hz at Ultra HD 4K.
If you want to game on a large Ultra HD 4K television it is likely it won't have a DisplayPort connector – only a small percentage do. You are therefore not able to get 60hz at the native resolution … and no one wants to play games at 30hz. Nvidia have had full HDMI 2.0 support now for quite some time. This may not be an issue for many, but we have already noticed enthusiast gamers complaining about AMD's lack of HDMI 2.0 support, on our Facebook page. I think this is a rather glaring oversight by AMD.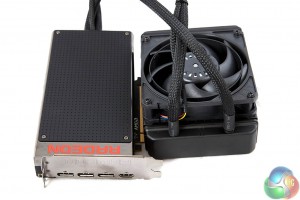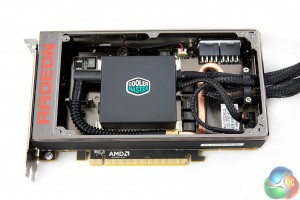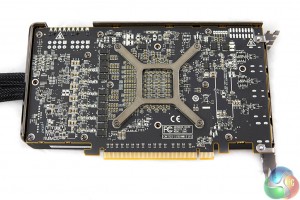 Getting access to the insides is rather easy and we can see the cooling system is created for AMD by Cooler Master. An all in one pump is in direct contact with the copper plate which covers the GPU core and the HBM memory underneath. Additionally there is a copper pipe and heatsink which covers the VRM components on the PCB. There is a dual BIOS switch, so it is easy enough to flash BIOS 2 and fall back to BIOS 1 in case of problems.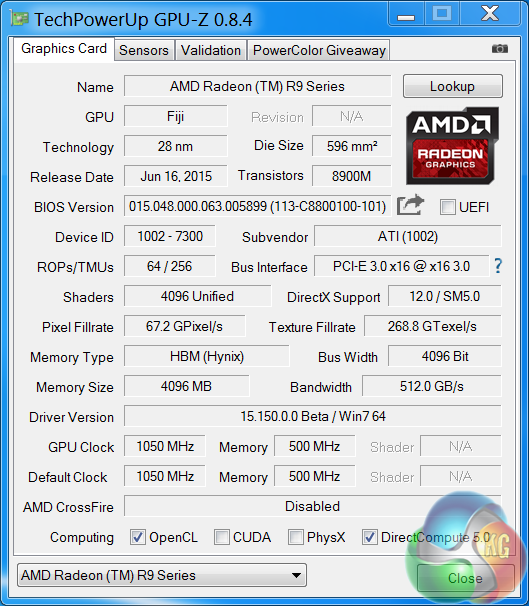 An overview of the Fury X in GPUz – as discussed in detail on the previous page of the review.