The tests were performed in a controlled air conditioned room with temperatures maintained at a constant 23c – a comfortable environment for the majority of people reading this.Idle temperatures were measured after sitting at the desktop for 30 minutes. Load measurements were acquired by playing Crysis Warhead for 30 minutes and measuring the peak temperature. We also have included Furmark results, recording maximum temperatures throughout a 30 minute stress test. All fan settings were left on automatic.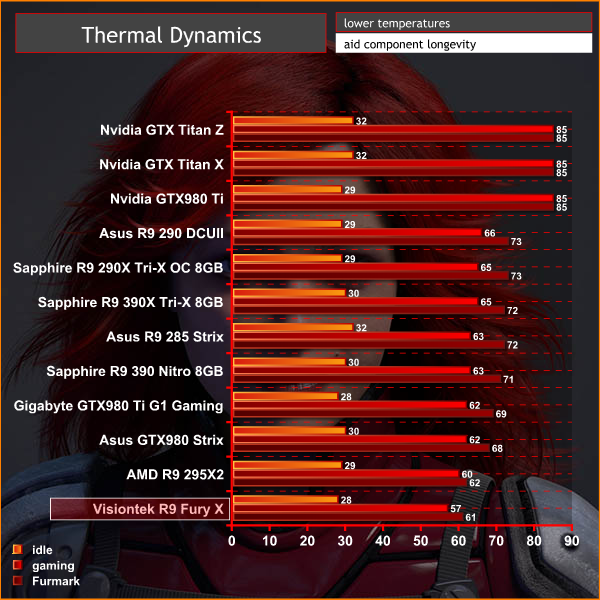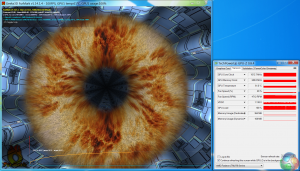 The cooler copes very well, with load temperatures hitting around 57c under gaming load. The cooler copes with the synthetic Furmark stress test, hiting 61c after sustained load durations.
We install the graphics card into our system and measure temperatures on the back of the PCB with our Fluke Visual IR Thermometer/Infrared Thermal Camera. This is a real world running environment.
Details shown below.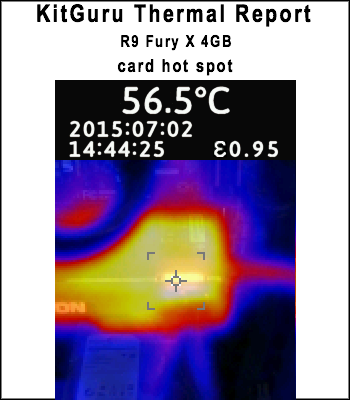 The card does get very warm to the touch after a little gaming and after 90 minutes gaming we measured 56.5C on the rear of the outer shell.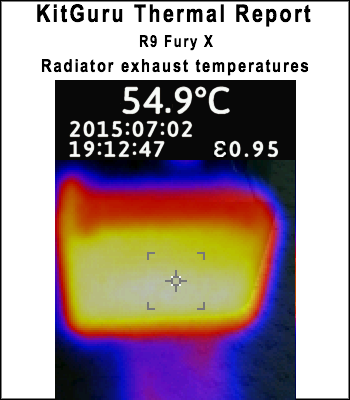 We noticed that the Fury X radiator was expelling very hot air out the rear of our case so we pointed the thermal imaging camera at the middle of the radiator grill and recorded a temperature of almost 55C. This was after 30 minutes of gaming.
From a thermodynamics and heat transfer perspective, the radiator's fins running hot allow 'more efficient' (in essence) heat transfer than if they were running cooler (the principle of convective heat transfer). Users may be quick to point faults in a hot radiator, but this actually dissipates thermal energy to the surrounding air faster than a colder radiator would (all else being equal). A by-product of this is that AMD could, in theory, get away with running the fan at a lower speed while still achieving capable heat transfer rates. And as far as almost 55°C goes, the radiator's metal can handle that temperature without longevity concerns.