The R9 Fury X 4GB is a positive move forward for AMD as it indicates the potential they have to produce small, powerful graphics cards – able to fit inside very small cases and system builds. HBM certainly seems to be tightly engrained into the future of graphics cards, even though the first iteration ships with a rather major caveat – the 4GB stacked limitation.
Right now in the real world, a 4GB framebuffer isn't really an issue if you want playable frame rates at 4K resolutions. I did notice many of our readers on Facebook were holding back from a GTX980 purchase claiming that 4GB isn't futureproofed. When the GTX980 Ti launched, that extra 2GB of memory seems to have appeased a wide audience. AMD, and the Fury X are likely to suffer from the same '4GB is just not enough' mindset.
Within the last week I have reviewed the AMD 390 (review HERE) and 390X (review HERE) , both of which ship with 8GB of GDDR5 memory. While undoubtedly reassuring to see on paper, it is clear to us that the 390 series Hawaii core runs out of horsepower at 4K before the 8GB of memory can be fully utilised.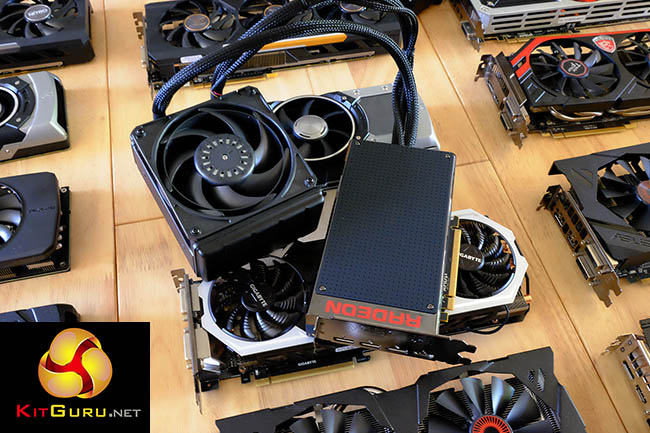 While a head to head battle is going to very game specific, we can see that the R9 Fury X struggles to compete directly against Nvidia's GTX980 Ti. At 1440p the performance differential is heavily in favour of the GTX980 Ti, but at Ultra HD 4k the gap tightens considerably.
Most times the GTX980 Ti claims the top position, although the Fury X delivers fantastic results in Witcher 3, Grand Theft Auto 5 and Metro Last Light Redux at 4K resolutions and when manually overclocked it did manage to outperform the reference GTX980Ti in Metro LL.
Unfortunately for AMD, the reference GTX980ti is only part of the problem. There are many modified partner cards from MSI, Gigabyte and ASUS that bring substantial clock improvements to the table, as well as superlative cooling systems. Our results highlighted that the monster Gigabyte GTX980 Ti G1 Gaming literally leaves the R9 Fury X for dead, even when the AMD card is manually tweaked to the absolute limit.
Overclocking results from the R9 Fury X are a little disappointing. I had hoped that incorporating a liquid cooling system would reap dividends when we got to pushing the card past the reference speeds. I could only manage 80mhz extra from the Fiji core and while a software bug would allow memory sliders to be adjusted, it immediately caused blue screens on our test system.
One of my biggest concerns after testing the Fury X is related to the noise. There is no doubt that the Cooler Master 'all in one' solution is proficient, and the fan has been designed to emit very little noise, even when loaded. Most of the noise our meter picked up was actually emitted from the pump and other related coil whine. As we detailed (with links) on the acoustics page, this doesn't seem to be isolated either which does raise some concerns. While we have heard that some early samples given to the press were at fault, our own sample is from the retail production line.
When I factor everything in, it is exciting to see AMD becoming competitive again in some areas. The R9 Fury X is not the GTX980 Ti killer that many people had expected and I do have some rather worrying concerns about the cooling system and coil whine. We are also disappointed to see that AMD have NOT decided to incorporate HDMI 2.0 support into the Fury X – meaning many people gaming on large televisions are stuck with 30hz at 4K. This is far from ideal.
The custom designed Nvidia GTX980 Ti partner cards are still our recommended high end choice.
I asked one of KitGuru's Senior Editors (Motherboards and Processors) Luke Hill to get a second opinion on The R9 Fury X:
While AMD's newest single-GPU flagship is not the GTX 980 Ti-killer many were hoping for, it does manage to restore the red team's competitiveness in the high-end GPU market. I feel that some of the technological innovations, especially the first widespread application of HBM, and continued use (leading on from the R9 295 X2) of an AIO water-cooling unit are positive points which lay foundations for the future of graphics cards.
As a fan of the benefits that monitors with synchronising technologies (G-Sync and FreeSync) add to a gaming experience, I feel that the R9 Fury X deserves some credit in this department. Many current 1440P FreeSync monitors seem to be hitting a sweet-spot with gamers, and some are considerably cheaper than similar G-Sync offerings. With many of the monitors featuring a lower boundary of 35 or 40 FPS for FreeSync to run, the R9 Fury X seems to be AMD's first single-GPU card that can consistently push minimum frame rates above the 35/40FPS FreeSync limits in many of today's games at their highest image settings. That, by many, will be deemed a positive from AMD's work.
However, from a raw performance standpoint, the R9 Fury X performance levels force it into a position where the card needs to be undercutting Nvidia's GTX 980 Ti in terms of pricing. A quick look at OverclockersUK shows a ~5% price benefit for the cheapest R9 Fury X against the cheapest GTX 980 Ti, which happens to be a reference model. That slight saving and the benefit of a water-cooling system may be enough to persuade some buyers, although it's quite an ask given the GTX 980 Ti's overall performance lead. When we start entering the £550+ region, AMD's flagship and its limited overclocking potential will struggle to compete against heavily-overclocked, custom-cooled GTX 980 Ti boards.
Both myself and my colleague Allan agree that if AMD can drop the price more towards £449.99 inc vat and get a fix for the coil whine and pump noise, we do feel the R9 Fury X has a logical place in the market.


You can buy AMD R9 Fury X partner cards from Overclockers UK HERE. Prices currently range between £509.99 and £649.99 inc vat.
Our American readers can get the Visiontek R9 Fury X 4GB sample from Amazon in the US for $682.17 with free shipping HERE.
Discuss on our Facebook page, over HERE.
Pros:
runs cool under load.
super quiet fan.
physically small, ideal for specific system builds.
HBM is likely the future of GPU design.
AMD's greatest single GPU card yet.
strong 4K performance.
Cons:
pump noise.
radiator takes up more space in case.
coil whine is intrusive.
minimal overclocking potential at this stage.
the GTX980Ti is still the faster board.
struggles to compete at 1440p.
No HDMI 2.0 support.
Kitguru says: The R9 Fury X is a daring first step for AMD into the world of HBM. While on paper the card looks to be 'all dominating', in the real world it struggles to compete against the Nvidia GTX980Ti. We also have some concerns over pump noise and associated coil whine.