AMD has really been taking the fight to Intel over the last year. Ryzen has made AMD a viable CPU option for gamers and enthusiasts while Threadripper is outstanding for workstations. But arguably the big money – and the most important battle – is at the highest end of the market. This is where EPYC comes in, and industrial-strength motherboards like the Gigabyte MZ01-CE0 (rev. 1.0) on test here.
Although the EPYC CPUs look similar in format to Threadripper, and the contacts on the bottom appear the same, the sockets are actually different. Threadripper uses TR4, while EPYC uses SP3. The key difference is in the memory controller. Where Threadripper offers quad-channel memory, EPYC provides an incredible eight channels for immense bandwidth. The basis for EPYC, like Threadripper, is four Ryzen 7 CPUs in one package, and with EPYC the dual-channel memory controllers on all four CPUs are active.
At the moment, EPYC is available like Threadripper with up to 32 cores. But the architecture also supports dual sockets, so you can have up to 64 physical cores and 128 virtual ones in one system. The switch to 7nm will also mean that up to eight  CPUs can be packaged together, for 64 cores per socket with the next 'Rome' iteration.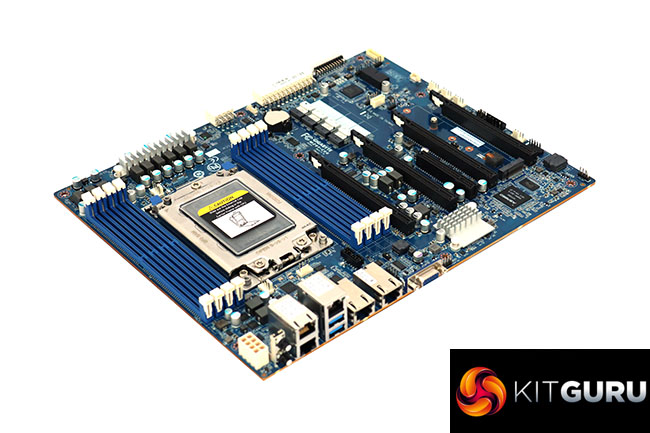 AMD is really pushing the single-socket option, however, because you can already get 32 cores even with just one CPU. The Gigabyte MZ01-CE0 (rev. 1.0) is aimed at this market. It's more of a server than workstation motherboard, however. Aside from the CPU and eight DIMM slots for the eight-channel memory, you get four LAN connections – two Gigabit, and two 10Gigabit. There's also a dedicated management port that uses the same RJ45 connector.
While there's a slot for a single M.2 NVMe drive, there are actually no SATA connections. Instead, you get four SlimSAS ports, each of which supports up to four SATA drives apiece. So this motherboard could readily form the hub of a hugely capacious storage platform. There are also five PCI Express connectors – four x16-sized and one x8 slot. So this is a serious piece of kit, and at $700, costs a serious amount of money. Let's take a closer look.
Features:
AMD EPYC 7000-series Socket SP3 processors
Eight-channel memory up to DDR4 2,666MHz
Up to 1024GB memory with LRDIMMs
4 x PCI Express x16 slots (all at x16); 1 x PCI Express x8 slot (at x8)
2 x Gbit LAN; 2 x 10Gbit LAN; 1 x Gbit management LAN
4 x SlimSAS for 16 x SATA III 6Gbits/sec ports
1 x M.2 NVMe PCI Express Gen3 x4
Integrated Aspeed AST2500 video and I/O controller
3 x USB 3.0 (2 rear, 1 via header), 4 x LAN, 1 x VGA, 1 x MLAN
Supports: Microsoft Windows 10, Server 2012 R2 64-bit, Server 2016; Red Hat Enterprise Linux 7.4, SUSE Linux Enterprise Server 11.4 and 12.2, Ubuntu 16.04 and 17.04; VMware ESXi 6.5
Price for this motherboard (at the time of writing): $700
Be sure to check out our sponsors store EKWB here