When you compare a bunch of CPU coolers there is a temptation to simply dwell on temperature figures, however this round-up of seven CPU coolers demonstrates that performance is only part of the equation.  The fact is that all seven coolers performed well in our tests when we were working with 125W or 130W of CPU power, and that is considerably more power and heat than a desktop CPU such as a Core i7-6700K produces at stock clocks.
You can see from our test results that there is a clear separation between, say, the Deepcool Assassin II and Alpenfohn Brocken ECO but the fact is that the Brocken ECO perfectly well at lower thermal loads and would be a decent choice for anyone looking for a tower cooler that comes at a budget price. On the other hand if you're overclocking and really pumping out the heat the Brocken ECO struggles and doesn't do an especially good job. That's not an error on the part of Alpenfohn but simply a consequence of the Brocken being pushed way past its TDP rating of 160W.
In addition to the way each cooler performs you also have to look at the mounting system and also the size and shape of the cooler as it clearly has to fit inside your case without causing problems around the CPU socket of your motherboard. Coolers with two fans typically require a good deal more space than a single fan model. We are hearing reports that Skylake CPUs have been damaged by super-heavy coolers so you also need to be aware that simply installing your cooler in a careless manner could have disastrous consequences. Other factors to consider are the operating speed of the fan(s) as that affects noise levels and of course there is no getting away from the selling price.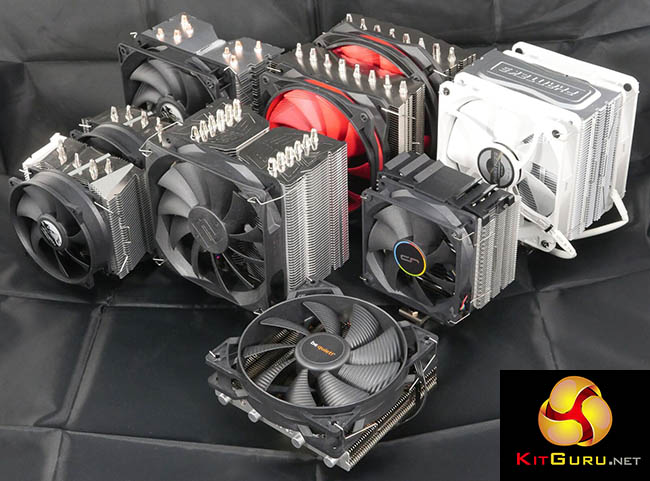 So you've (hopefully) watched the video, read the review pages and looked at the graphs and now we'll wrap things up with a final thought about each cooler. For buy links and further details please visit each page for the respective product you are interested in.

Alpenfohn Atlas seems like a fish out of water in this round-up as the small form factor isn't especially small. It performs reasonably well and is priced in the middle of the group however it seems unlikely that your case will accommodate this chunky cooler any more easily than a regular 120mm tower.
Alpenfohn Brocken ECO is cheap and effective, provided the thermal load isn't too high. It takes a certain amount of work to install the cooler however the hardware does a decent job and we were pleased by the low price of Brocken ECO.
Be quiet! Shadow Rock LP is an impressive low profile cooler that costs less than £30 and it could clearly play a role inside a small form factor PC. The downside here is the fiddly mounting system as it is fairly tricky to install the Shadow Rock LP on a bare motherboard, let alone inside your chassis.
Cryorig M9 is a tower cooler with a 92mm fan that costs less than £20 yet it performs outrageously well for such a small cooler.
At the other end of the scale Deepcool Assassin II is huge, heavy and expensive but works very well indeed. The problem faced by Deepcool is that the price is so high you could easily buy a 120mm liquid cooler instead. If you have a particular aversion to liquid cooling and don't mind the weight and sheer mass, it is a great option to cool high end processors.
We found a great deal to admire in the Phanteks PH-TC12DX as it looks good, is straightforward to install, uses good hardware and cools effectively. We also love the colour options as that adds an element of fun.
Finally we have the Prolimatech Basic 81 which is Intel only and offers the novel feature of supporting either 120mm or 140mm fans. The Basic 81 did a decent job of controllng our overclocked Core i7-4820K however it was edged out by the Phanteks.
Discuss on our Facebook page, over HERE.
Kitguru says: In this round-up we have shown that even a tiny air cooler that sells for less than £20 can do a fine job and a mid-range model such as the Phanteks can provide all the cooling you need. If you want the ultimate in air cooling you end up paying a high price for a colossus such as the Deepcool. The really good news is that air coolers can offer a valid alternative to the All In One Liquid cooler while also saving a decent amount of money.