Alpenfohn Brocken ECO
Alpenfohn Brocken ECO lists a Gapless HDC base as a feature (it stands for 'Heatpipe Direct Contact') and this makes the Brocken ECO stand out in this group as the other coolers use a mainstream design where the heatpipes are sandwiched in the base of the cooler.
Direct contact heatpipes generally indicate a cooler that is relatively cheap and relatively inefficient as the base is unlikely to be completely flat.
This is borne out by the specification as the 160W TDP is slightly lower than you might expect for a tower cooler with a 120mm fan. The price is under £25, which looks positively cheap.
Despite that low price you still get a handful of features that you may not necessarily expect.
The asymmetric design of the tower gives you a choice about the positioning of the Wing Boost 2 fan (which has a spare connection so you can add a second fan) and there are extra fan clips in the package. This suggests a decent amount of thought on the part of the designer although this is offset by the tiny writing on the installation guide which makes life difficult.
Installing the cooler on an AMD system requires a certain amount of preparation. You have to swap out the standard back plate and install some studs and spacers that are topped off with a frame that you assemble, for which you require a small screwdriver. This is fiddly and requires the motherboard to be on the bench however it has the advantage that the final step of installing the cooler body is easy and you can choose the orientation, either up and down or across the board.
Specification
| | |
| --- | --- |
| Intel LGA115x support | Yes |
| Intel LGA1366 support | No |
| Intel LGA2011 support | Yes |
| Intel LGA775 support | Yes |
| AMD AMx/FMx support | Yes |
| TDP rating | 160W |
| Base of cooler | Direct contact heatpipes |
| Heat sink | Aluminium tower |
| Heatpipes | 4 x 6mm heatpipes |
| Supplied fans | 120mm Wing Boost 2 |
| PWM | Yes |
| Fan speed | 500rpm-1,500rpm |
| Fan bearings | Not given |
| Air flow | 65cfm |
| Noise levels | 4.6dBA-27.3dBA |
| Dimensions | 150mm (H) x 126mm (W) x 88mm (D) |
| Weight | 600g |
| Warranty | Not given |
Product Shots
Testing
When you run the CPU at stock speed the Alpenfohn Brocken ECO does a fine job. The limitation with this cooler is that the fan tops out at 1,500rpm so once the cooler is overwhelmed with the heat it doesn't have any way to respond. It is an unfair criticism to say that the Brocken ECO cannot deal with an overclocked Core i7-4820K as that plays no part in its design.
KitGuru Says: Although the Alpenfohn Brocken ECO is an unsophisticated cooler, it does a decent job at a low price.
Score: 8 out of 10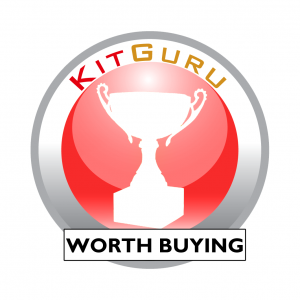 Buy from Overclockers UK for £24.95 inc vat HERE.