be quiet! Shadow Rock LP
The key feature of the be quiet! Shadow Rock LP is its horizontal design. This layout means that be quiet! has been able to include a 120mm fan on a cooler that only stands 75mm tall, which makes it a natural candidate for use in a slender tower case or HTPC. On the downside the cooler covers the area around the CPU socket and may well interfere with your system RAM and other components. You will absolutely, definitely want to install this cooler with your motherboard on the bench and not inside your case. At the time of testing, it was £30.
In fairness to be quiet! a certain amount of the installation hassle is a direct consequence of the low profile of the cooler. There is a crossbar that you feed across the cooler before clamping it down with two screws. This would be less awkward if there was more working room but that would make the cooler taller.
Once you have the cooler installed you will find it lives up to the be quiet! name and is essentially silent however when you push the cooler to the limits of its 130W TDP rating the fan spins up to 1,500rpm or 1,600rpm and is audible.
Specification
| | |
| --- | --- |
| Intel LGA115x support | Yes |
| Intel LGA1366 support | Yes |
| Intel LGA2011 support | Yes |
| Intel LGA775 support | Yes |
| AMD AMx/FMx support | Yes |
| TDP rating | 130W |
| Base of cooler | Nickel plated copper |
| Heat sink | Low profile aluminium |
| Heatpipes | 4 x 6mm heatpipes |
| Supplied fans | 120mm Pure Wings 2 |
| PWM | Yes |
| Fan speed | 1,500rpm max |
| Fan bearings | Rifle bearing |
| Air flow | 51cfm |
| Noise levels | 25.5dBA max |
| Dimensions | 75mm (H) x 122mm (W) x 134mm (D) |
| Weight | 395g |
| Warranty | Three years |
Product Shots
Testing
The Shadow Rock LP performs well within the limits of its relatively low TDP. The direction of the air flow through this laid down cooler also affects the behaviour of the cooler. If you use a beefy CPU at stock clocks you can expect to see temperatures around 50 degrees which is about ten degrees hotter than a high end tower cooler. When you push the be quiet! hard with a 200W processor the temperature will head towards 80 degrees.
KitGuru Says: Good cooler, excellent fan, mounting system needs improvement, low price.
Score: 8 out of 10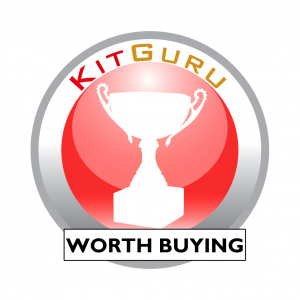 Buy from Overclockers UK for £29.99 inc vat HERE.