For overclocking, we will test a number of higher memory operating frequencies based off motherboard dividers. Memory overclocking can be a never-ending balance procedure when the tweaking of timings and voltage is taken into account.
As such, we have decided to see what frequency the memory is capable of when running its stock timings and voltages. This represents a 'quick-and-easy' overclock.
Stability is certified by running a session of Prime95 in its Blend mode, Sandra's intensive Memory Bandwidth benchmark, AIDA64′s latency test, and Bioshock Infinite. When we reach the maximum speed our kit looks to be capable of, we run MemTest to certify its stability.

Gunning for memory frequencies past 2666MHz necessitates the 125MHz base clock operating from a 1.25x BCLK ratio (unless you go well above 3000MHz). We switched up to the 125MHz BCLK too see how far we could push the memory using the XMP timings and a 1.35V DRAM voltage.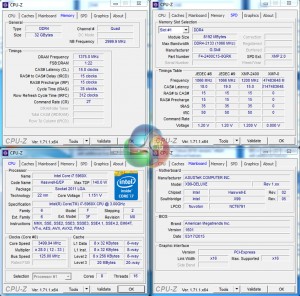 We managed to achieve a stable memory overclock of 2750MHz. This consisted of a 125MHz base clock, 100:100 BCLK:DRAM frequency ratio, and a 22x memory divider.
2750MHz was the highest frequency at which we could boot the system. We gave 3000MHz DRAM frequency multiple attempts but the system would not boot. Needless to say, your mileage will vary dependent upon the silicon lottery of your individual memory kit.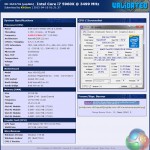 Our validation running at a 2750MHz DRAM frequency can be viewed here.
We ran tests using the 2750MHz memory frequency, but found it to offer worse performance due to the added latency of using the 125MHz BCLK strap. Instead we opted for the highest frequency that we could reach using the 100MHz BCLK strap.
Our internal testing shows the 125MHz BCLK strap to add latency into the memory subsystem when compared to the 100MHz BCLK strap. Using a disproportionally higher memory frequency (such as 3000MHz) offsets the 125MHz strap's added latency with greater memory performance.
2750MHz was not a big enough frequency boost over 2666MHz to offset the added strap latency. 2666MHz using the 100MHz BCLK offered better performance and was used for our overclocked performance tests. The 2666MHz (100MHz BCLK) validation can be viewed here.