The multi-threaded performance of Haswell-E processors makes them ideal for home users with demanding workloads. Video editors, game streamers, and users running virtual machines are some of the audiences who may benefit from up to eight CPU cores running on the Haswell microarchitecture. Those demanding workloads can bring with them a requirement for large amounts of system memory.
Combining a set of four 8GB DIMMs clocked at 2400MHz with CL15 timings, we will be taking a look at G.Skill's Ripjaws4 F4-2400C15Q-32GRK DDR4 memory kit. Can the price increase for a higher density set of memory be offset by making do with a 2400MT/s data rate?
G.Skill uses a black iteration of its Ripjaws4 heatspreader for the 32GB 2400MHz DDR4 sticks that we received. Technically identical versions are available with blue or red heatspreaders, so matching your system's colour scheme should not be a problem.
As is the case for quad-channel memory, if 16GB of DDR4 is not quite enough for your requirements, 32GB is the next logical step up. Many users will be quick to question the need for more than 16GB of system memory, but if you edit high-resolution video, work with large computer simulations or models, or just multi-task in a heavy fashion, 16GB can quickly become a limiting factor.
My own personal usage sees me editing large sets of high-resolution photographs, while conducting research on sometimes more than 100 browser tabs, and then mixing in some engineering modelling/simulation work or gaming. At that point, 16GB of system memory starts to fill at an alarming rate.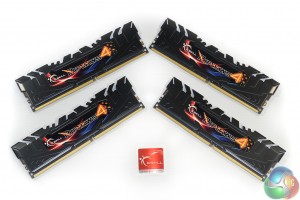 G.Skill squeezes 16 DDR4 DRAM chips onto a dual-sided PCB in order to provide the 8GB capacity per DIMM. The memory chips are likely to be of the Hynix MFR-based variety. The '3500' section of the kit's serial number is G.Skill's way of implying Samsung ICs for DDR4 modules (thanks to Calvin Summerlin and Don_Dan at XtremeSystems for the information).
An Extreme Memory Profile (XMP) is set to function at 2400MHz with common 15-15-15-35-2T timings and a 1.20V reference voltage.
Alongside the memory sticks, a shiny red case sticker is included as the sole bundle item.
Measuring in at 40mm-tall, G.Skill's choice of heatspreader is sensible – CPU cooler interference is unlikely to cause concern.
The amount of heat being given off by 1.2V sticks is easily dissipated by the thin metal (presumably aluminium) heatspreader.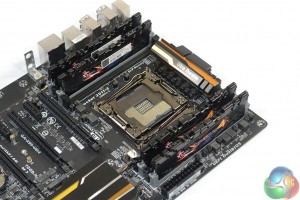 Installing the black-coloured memory kit in a black motherboard creates an appearance free of undesired contrast. Some users may be slightly disappointed by hints of orange on G.Skill's sticker, although these are difficult to notice when installed inside a chassis.
As always, credit to G.Skill for using a black PCB rather than the ugly green alternative.

Specifications:
Model Number: F4-2400C15Q-32GRK.
Compatible with Intel X99 chipset and Haswell-E processors.
Frequency: 2400MHz (PC4-19200).
Timings: 15-15-15-35.
Voltage: 1.20V.
Quad Channel Kit: (4x 8GB).
XMP 2.0 Ready.
Lifetime Warranty.