Network File Copy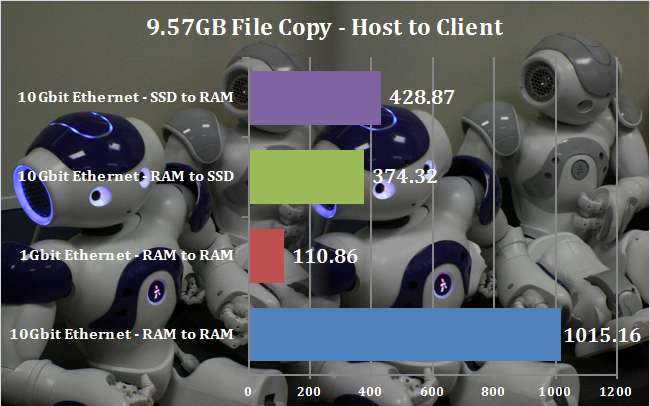 (Note that figures above are showing in MB/sec)

Copying files from the RAM disk on the host system to the one on the client system was over nine times faster over 10Gbit Ethernet than regular Gigabit Ethernet. The 1,015.16MB/sec average throughput is also 79 per cent of the nominal speed of the connection, showing the potential available from 10Gbit Ethernet.
Putting this in perspective, a 8.5GB video DVD would take less than nine seconds to copy across. Looking at the two SSD to RAM disk copies across 10Gbit Ethernet shows the remote drives are almost behaving as if they are attached locally.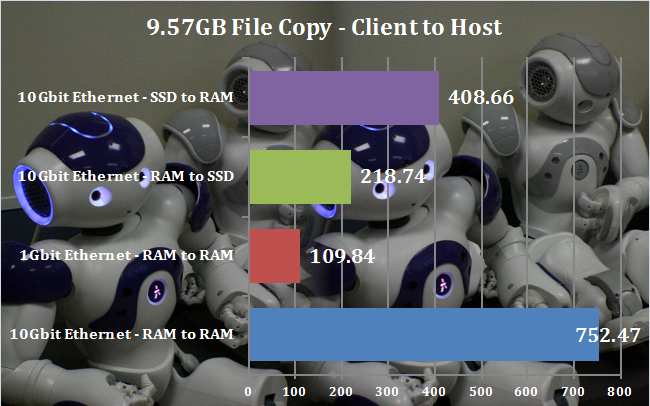 (Note that figures above are showing in MB/sec)
Although copying the files off the remote system to the local one isn't as quick as the other way round, it's still nearly seven times faster than over regular Gigabit Ethernet. Copying from remote RAM disk to local SSD was obviously experiencing some kind of extra overhead compared to the other way round. But the message is clear – 10Gbit Ethernet is an amazingly fast networking connection.