Manual CPU Overclocking:
To test the ASRock Fatal1ty AB350-Gaming K4 motherboard's CPU overclocking potential, we aim to set the CPU voltage close to 1.40V. CPU VCore is set to 1.40V. SOC voltage control and loadline calibration options are not available for this motherboard.
We maintained the DRAM frequency at 3200MHz to take its stability out of the overclocking equation.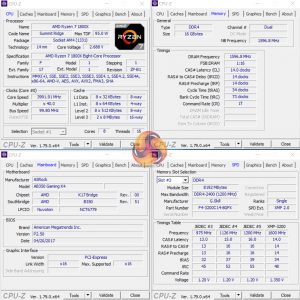 The ASRock Fatal1ty AB350 Gaming K4 could not take our Ryzen 7 1800X CPU to its known stable 4.05GHz frequency. Instead, we had to back this down by 50MHz to 4.00GHz to garner stability. This is due to the very poor voltage accuracy of ASRock's chosen PWM controller and VRM design, in addition to the lack of loadline calibration options in the UEFI.
CPU-Z voltage readings are incorrect for this motherboard, so HWINFO64 data was read instead. According to this data, the idle voltage was 1.387V and voltage under Cinebench load dropped to 1.300-1.307V. This was using our UEFI setting that asked for 1.40V. That's a very poor level of voltage accuracy under load that is clearly the cause for instability at 4.05GHz.
This issue is compounded by the fact that MSI's comparably priced B350 Tomahawk delivered good voltage accuracy and a 4.05GHz frequency that make it a better overclocking option than ASRock's Fatal1ty AB350 Gaming K4. That is despite ASRock having the advantage in terms of physical phase count. A BIOS update could possibly help to mitigate some of the issues experienced in our testing.
Overclocked Performance

As a performance comparison, we have included the results from the MSI B350 Tomahawk. The maximum overclocked configuration achieved with that motherboard was a 4050MHz (40.5 x 100MHz) processor frequency whilst using 3200MHz CL14 memory.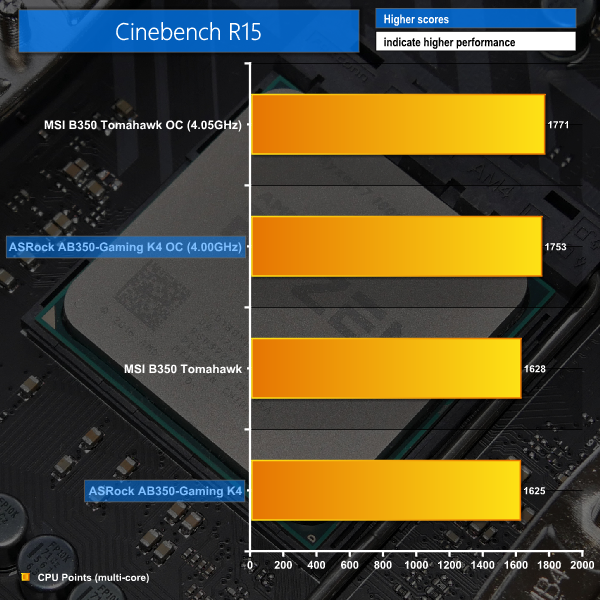 The limited overclocking capacity of ASRock's board hurts its Cinebench performance. MSI's competing option is faster when overclocked.
Power
We leave the system to idle on the Windows 10 desktop for 5 minutes before taking a reading. For CPU load results we run Cinebench multi-core and take a reading. The power consumption of our entire test system (at the wall) is shown in the chart.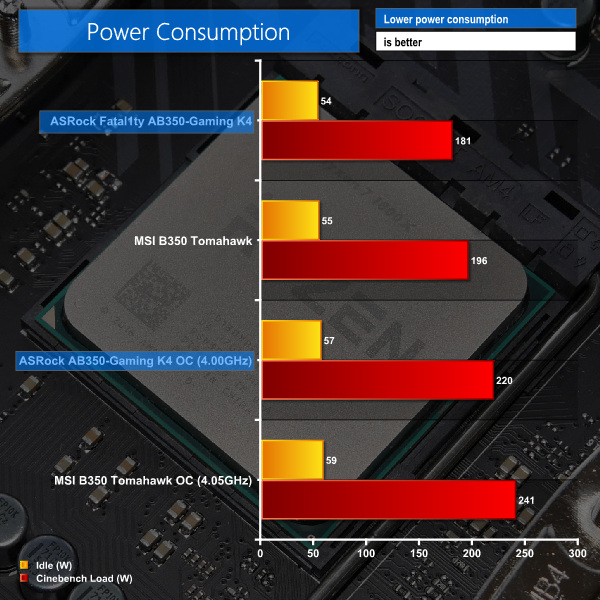 Power consumption is a strength for ASRock's motherboard and that's especially true at stock speeds. When overclocked, ASRock's power consumption benefit over the MSI competitor is wide but this is due to the voltage reduction and lower CPU frequency on ASRock's board.