Initially apparent for the ASRock Fatal1ty AB350 Gaming K4 is the red and black colour scheme that is associated with its Fatal1ty product branding. Red and black is a proven formula for the gaming market but there will undoubtedly be people more or less favourable towards the style. A solid black PCB is good to report as that can be one of the first styling features on the chopping block for budget motherboards. ASRock uses the narrow ATX dimensions.

Steel plating is used to reinforce the primary PCIe slot. Beneath the chipset heatsink is red LED lighting that can have its lighting mode controlled using OS software (but not its colour changed). Nothing of note lies on the rear of the motherboard, other than indications that the second full-length PCIe slot is electrically wired for four lanes.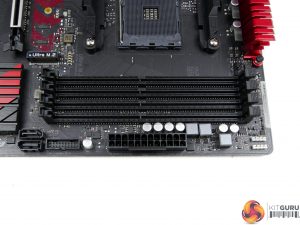 Four single-latch DIMM slots offer compatibility with up to 64GB of dual channel DDR4 memory. ASRock quotes memory frequency support of 3200MHz+ via overclocking but this will be tied to the BIOS profile stability and individual memory ICs used. Our 3200MHz G.SKILL Flare X kit worked perfectly at its 3200MHz CL14 rating by using ASRock's XMP setting.
Two 4-pin RGB headers are located in the upper-right corner. The sole outwards-facing USB 3.0 header sits next to a pair of SATA ports.
Ample spacing is allocated around the AM4 CPU socket. ASRock uses a power delivery system consisting of nine physical phases, six of which are routed for handling the CPU.
An Intersil ISL95712 PWM manages the power delivery system, assisted by one ISL6625 additional driver for the CPU components and two extra drivers for the SOC components. Given that the ISL95712 PWM tops out at four phases for the CPU rail, ASRock looks to be using one control channel per two physical phases (phase doubling). So, really you get six physical phases for the CPU but with three phases of control.
The CPU's six phases are made up of Sinopower SM4337 and SM4336 MOSFETs. These are basic MOSFETs hence ASRock's use of six phases for the CPU to spread load across the components (and better handle an eight-core Ryzen 7). The three-phase SOC voltage rail consists of three Sinopower SM4337 and six SM4336 which should be adequate for their duties.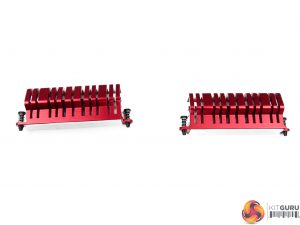 ASRock's MOSFET heatsink solution is decent but slightly on the small side. What ASRock's solution lacks in size is made up for by smart design that actually resembles how a heatsink should look with fins and angles, rather than aesthetically-friendly chunks of metal seen on competing solutions. In essence, ASRock compensates for a relatively small heatsink by using a more efficient design and this should help to keep the MOSFETs adequately cooled at sensible power delivery levels.
Unfortunately, the push-pin mounting approach is unlikely to aid cooling performance significantly due to limited pressure being applied to the FETs. A screw-fitted installation, as seen on MSI's competitor, is superior.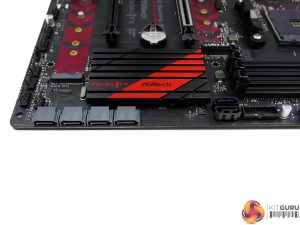 Six SATA 6Gbps ports are provided, four of which route from the B350 chipset with the remaining two being powered by an ASMedia ASM1061 chipset. ASRock mixes these ports together in terms of mounting location and colour. The outwards-facing, black ports are fed by the AMD chipset. The right-angled, grey ports furthest to the left in the picture are also from the B350 chipset but the other two are from the ASM1061 controller.
This is important as the ASMedia ports are significantly slower and should be used last. It would have been more sensible for ASRock to maintain mounting position and colour for the B350-based ports and then separate the ASMedia ports' colours to make them clearly distinguishable, without confusing a user. Only SATA port 3 is disabled if an M.2 SATA SSD is used in the secondary slot.
A single outwards-facing USB 3.0 5Gbps header sits on the right-hand edge. There is no U.2 on this motherboard, which is not an issue given its market segment.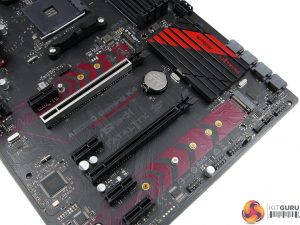 Uniquely, for a motherboard at this price point, ASRock equips the Fatal1ty AB350 Gaming K4 with two M.2 slots. The uppermost connector is fed directly from the AM4 CPU and therefore features ASRock's Ultra M.2 branding thanks to its 32Gbps PCIe 3.0 x4 (x2 for APUs) NVMe and SATA 6Gbps SSD capability. This is the M.2 connector that you should use first as it features the highest performance.
ASRock's information suggests that the secondary M.2 slot is only compatible with M.2 SATA SSDs. This is not the case as we used it with our PCIe NVMe OCZ Toshiba RD400 M.2 SSD which worked correctly, albeit at significantly reduced transfer rates.
Mounting locations of the M.2 slots avoid hot zones created by sitting beneath a graphics card. That point also has the downside of making an ugly green PCB visible inside a build. There is no cooling capability for the M.2 slots, other than incidental airflow from nearby fans.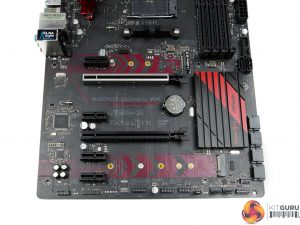 The steel-reinforced full-length PCIe slot is fed by sixteen Gen 3 lanes directly from a Ryzen CPU (or eight from an AM4 APU). This is the slot for your graphics card. A PCIe 3.0 x4 link from the CPU is delivered to the lower full-length slot, making it suitable for installation of high-bandwidth devices such as a PCIe SSD or a RAID card.
There's no SLI support as that requires PCIe x8 links. Although CrossFire is technically supported, x16/x4 connections can limit performance with the restrictive bandwidth sent to the second card. With that said, ASRock's PCIe 3.0 x16 + 3.0 x4 solution is certainly less undesirable than competing vendors' PCIe 3.0 x16 + 2.0 x4 alternatives when it comes to multi-GPU capability.
It is interesting how ASRock delivers that secondary full-length PCIe slot. Rather than siphon four Gen 2 lanes from the B350 chipset, ASRock routes a CPU-fed PCIe 3.0 x4 link intended for the M.2 device to this slot. As such, using an M.2 SSD in the Ultra M.2 slot will disable the PCIe connection. It does, however, mean that ASRock is one of the few motherboard vendors to offer more than one PCIe Gen 3 connector on a motherboard using the B350 chipset that does not inherently support PCIe bifurcation for the primary sixteen-lane chunk.
Four PCIe 2.0 x1 connectors finish off the expansion slot package. All of these connections can be used without stealing bandwidth from elsewhere. That is thanks to ASRock's unique approach for delivering the PCIe x4 link to the secondary full-length slot.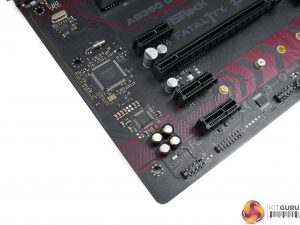 Realtek's ageing ALC892 codec is central to the audio solution. This cost-effective chipset is proving popular on budget B350 motherboards around this price point. Four ELNA capacitors aid the audio solution. Creative Sound Blaster 3 software is supported.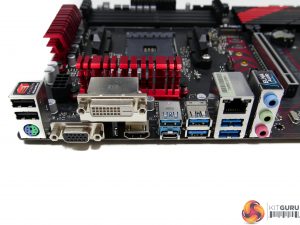 Peripherals connectivity is handled by PS/2 and two USB 2.0 Type-A ports, one of which is compatible with ASRock's Fatal1ty Mouse Port software adjustments. Five more USB Type-A ports are provided by the AMD platform, this time in the 5Gbps 3.0 variety. The single Type-C port also runs at 5Gbps USB 3.0 speeds and is made possible by an ASMedia ASM1543 logic IC. That is ample USB connectivity for a motherboard in this market segment.
Gigabit Ethernet is provided by a Realtek 8111GR NIC which is standard at this price point. ASRock's rear IO audio solution is disappointing with the inclusion of only three jacks making surround sound options limited. This is a design decision, rather than any form of limitation from the Realtek-based audio codec.
Video ports are made functional if the motherboard is partnered with an AM4-based APU. DVI-D supports up to 1920×1200 at 60Hz while HDMI can handle 4K at low refresh rates or resolutions such as 1920×1080 at 60Hz. VGA is provided by a Realtek RTD2168 adapter.
This is a perfectly capable rear IO selection of ports, with the exception of audio jacks that limit surround sound capability.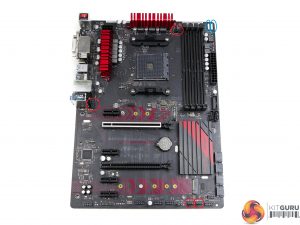 Four 4-pin fan headers are distributed around the motherboard, only two of which are easily reachable from the CPU socket. Users with dual fan CPU coolers and a rear chassis fan will likely be forced to use splitter cables. Nuvoton's NCT6779D-R chipset manages fan and monitoring duties.
ASRock's inclusion of two 4-pin RGB headers is good to see. They are both found towards the upper-right edge of the motherboard, making them ideal for use with an RGB CPU cooler, such as the Wraith Spire RGB, and roof-mounted LED strips.