ATTO Disk Benchmark

The ATTO disk benchmark is a Windows-based utility for testing storage performance of any storage drive or controller. We use the default benchmark setup.
M.2 PCIe Performance

For M.2 testing we use a Toshiba OCZ RD400 256GB M.2 PCIe NVMe SSD.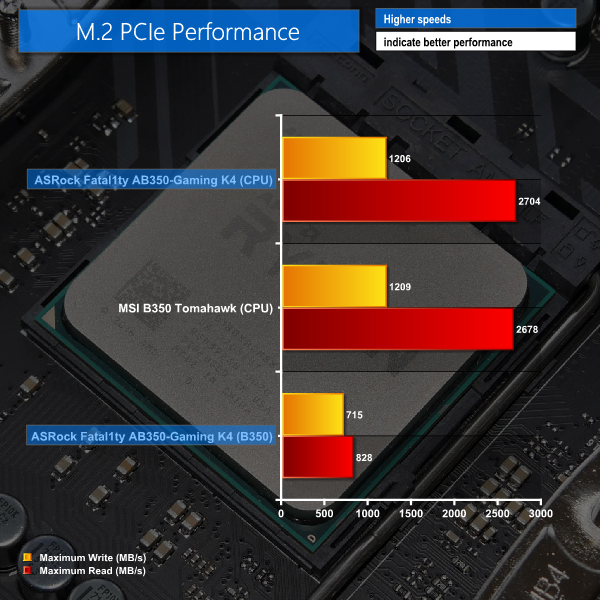 M.2 PCIe NVMe SSD performance from the primary slot is without drawbacks, as expected. The secondary slot runs at reduced transfer rates for a PCIe devices that look to be in the region of PCIe 2.0 x2 speeds. To ASRock's credit, their documentation suggests using this slot for M.2 SATA SSDs and it is a bonus to have the secondary slot at all in comparison to competing products.
As a side note, if you prefer to install your M.2 PCIe SSD in a riser card with a solid heatsink, ASRock's motherboard allows you to do so. That is thanks to the vendor's unique way of re-directing a PCIe 3.0 x4 link from the Ryzen CPU and primary M.2 slot to the secondary full-length PCIe slot on the motherboard. Flexibility is a positive for end-users.
USB 3.0 5Gbps & USB 3.1 Gen 2 10Gbps Performance
We test USB 3.0 5Gbps and USB 3.1 Gen 2 10Gbps performance using a pair of Corsair Force LE 120GB SSDs in RAID 0 connected to an Icy Box RD2253-U31 2-bay USB 3.1 enclosure powered by an ASMedia ASM1352R controller.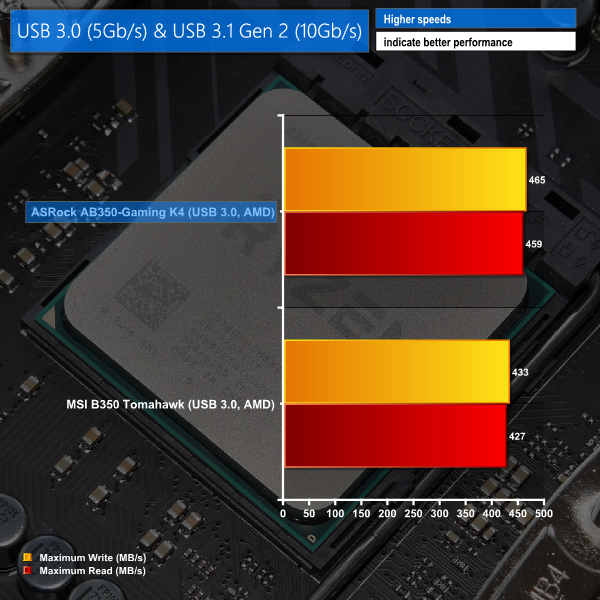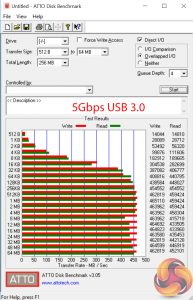 USB 3.0 5Gbps performance is very good. There's slight disparity between the speeds offered by ports originating from AMD's CPU and the AM4 chipsets, hence why ASRock shows a performance advantage over MSI's B350 Tomahawk competitor.
No 10Gbps USB 3.1 Gen 2 connectivity means that around 460MBps is the fastest external transfer rate for this motherboard.
SATA 6Gbps Performance
For SATA 6Gbps testing we use a SK Hynix SE3010 960GB SSD.
SATA 6Gbps performance from the B350-fed ports is without limitation. The ASM1061 ports are slower and should be reserved for use with mechanical storage once the AMD-based ports have all been used.
Audio

Rightmark Audio Analyser is a freeware benchmarking utility designed to objectively test the performance characteristics of audio solutions. We setup a line-in line-out loop and execute the record/playback test before generating the results report you see below. A sampling mode of 16-bit, 192 kHz was tested for the line-in test due to a software limitation with the Realtek driver and this motherboard.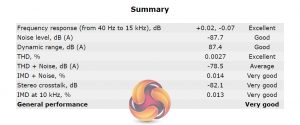 According to RMAA, audio performance for the Fatal1ty AB350 Gaming K4 is 'very good'. MSI's B350 Tomahawk is a little stronger in certain areas but the real-world difference is unlikely to be significant.