ASRock B350 UEFI
The UEFI used for ASRock's motherboards shares common features across the product range. As such, we have re-used the bulk of our analysis from previous ASRock reviews and updated the text where there are subtle differences.

Firstly, we are pleased to report that our generic wireless mouse worked correctly in the ASRock B350 UEFI. Some mice can be troubling with UEFI support, so when a generic wireless unit functions correctly in the interface, that is usually a good sign for overall mouse support.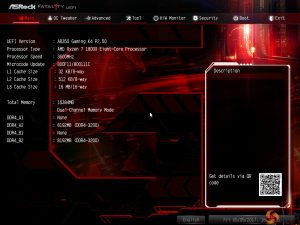 The Main page for ASRock's UEFI outlines primary information relating to the system and motherboard. We noticed that ASRock does not include an Easy Mode section on the BIOS version that we tested with. This is disappointing given the separate section's ability to present less-experienced BIOS-dwellers with simple options that are unlikely to cause instability.
The heart of the performance tuning is the OC Tweaker section within which ASRock splits off the adjustment options into CPU, DRAM, and Voltage to aid ease of navigation.
The OC Tweaker section is decent in terms of the options and granularity the user has to tune their hardware. However, we'd like to see more CPU voltage operational modes such as Adaptive, Adaptive + Offset and so on (these are offered by competitors). The lack of a loadline calibration option was also disappointing, as was the omission of SOC voltage control that can aid overclocking stability.
Up to five settings profiles can be saved, named, and stored internally to the motherboard.
The Advanced section includes control for the storage configuration, which is unsurprising, as well as some unique, low-level configuration options.
The Tools section holds several handy utilities such as Instant Flash for updating the UEFI (including via the internet), a driver installer, and an option for managing the RGB LEDs.
Instant Flash automatically scans a connected USB flash drive, rather than prompting a user to navigate through the folders to a BIOS file. There's nothing wrong with this approach as the motherboard is able to find the BIOS update file itself. However, if your USB drive contains a large amount of data, the time taken to find the relevant BIOS file will be long.
ASRock's UEFI-based RGB LED tool is almost pointless. It does little more than turn the LED controller on or off. It does not offer any form of RGB LED control, which is disappointing.
H/W Monitor contains fan controls and a number of temperature and voltage readouts for monitoring.
The fan options are adequate thanks to the variety of fan speed profiles but only CPU and motherboard temperature reading options. A user can set a well-tuned fan speed curve simply by opting for numerical inputs. We could not see an option for entering ASRock's excellent Fan-Tastic tuning utility through the UEFI. The feature looks to be disabled on this model.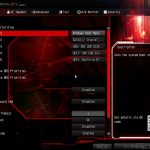 Security, Boot and Exit make up the last three tabs. There aren't many interesting options within these but the boot tab does contain a number of useful options for boot order.
UEFI Summary:
ASRock's UEFI is easy to navigate and is equipped with the core features that most users will desire. Loadline calibration is a clear omission, however. Additional CPU voltage operating modes would have also been welcomed.
The fan control system is good but it certainly could be better and is behind the offerings from ASUS, Gigabyte, and MSI in a number of aspects. There was no graphical tuning approach on the UEFI version that we tested with and that will make it more difficult to tune fans for many users.
Overall, ASRock's UEFI is easy to navigate and deploys the core features that most users will ask for. It is a basic implementation but we do not have any major gripes with the interface.