ASRock supplies the Fatal1ty Z170 Gaming K6+ in a large box that features branding on the front and an extensive list of specifications and features on the rear. An image of the motherboard on the rear side is convenient to users who may be shopping in a store.

Four SATA cables are supplied in addition to the rear IO shield, a screw for the M.2 slot, and a rigid SLI bridge. ASRock really needs to start shipping a fully black SLI bridge for the gaming series boards – many enthusiasts will put plenty of effort into styling their system, only for an ugly brown SLI bridge to ruin the appearance.
The front USB 3.1 panel is accompanied by two connection cables and installation screws.
ASRock smartly uses the 10Gbps PCIe connection delivered by the motherboard's (practically useless, as the high-speed storage market has deemed it) SATA-Express connector and routes it to the USB 3.1 panel's PCB. Power is also delivered through the same cable by means of a PSU-fed SATA connector in addition to a cable connecting to the onboard USB 2.0 header.
The logical connection for two USB 3.1 ports is handled by ASMedia's ASM1142 chipset which re-assigns the single 10Gbps PCIe lane siphoned off the SATA-Express connector. This effectively means that the combined, simultaneous throughput of both USB 3.1 connections is limited to a 10Gbps connection to the Z170 chipset, so don't expect to stuff masses of data through them without slowdown.
Providing the logic and power delivery management required to physically mount the USB 3.1 Type-C reversible connector is an EtronTech EJ179V switch IC. Taking a single USB 3.1 connection from the ASM1142 chipset, EtronTech's switch IC is able to manage data and power control signals for a USB 3.1 Type-C device.
The switch is rated for a power delivery specification of 3 Amps of current on the 5V rail. This seems to align with ASRock's chosen power delivery connectors, so you should expect an output capacity of 15W, not the 100W that USB 3.1 Power Delivery 2.0 specification permits.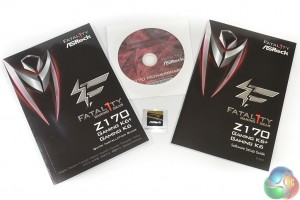 Documentation is the standard affair and ASRock also includes a shiny sticker. The documentation serves both the Fatal1ty Z170 gaming K6 and K6+ motherboards as the boards themselves are identical.
I would like to see ASRock include a platform block diagram in their user manual. Competing vendors do this and it is a convenient aid for enthusiast users who understand the information.