M.2 connector
We use Plextor's fast M6e 256GB M.2 SSD to test the speed of a motherboard's M.2 connector. We reviewed the 512GB Plextor M6e (and its PCIe x2 adapter card) HERE. Unfortunately we do not have access to a PCIe 3.0-based SSD to fully test the M.2 connector's performance limits.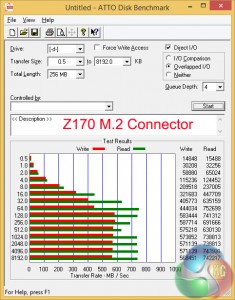 As expected, the motherboard's M.2 speed capacity will not bottleneck a PCIe 2.0 x2 device such as Plextor's M6e.
We experienced an odd issue with the ASRock motherboard whereby installing an M.2 device (be it PCIe- or SATA-fed) would result in a BSOD for our Windows 7 test system. The issue was not present when using Windows 8.1, so we can only assume that the issue lies with the now legacy (but still immensely popular) operating system.
SATA
For SATA 6Gb/s testing we use a Kingston HyperX 3K (SandForce SF-2281) SSD.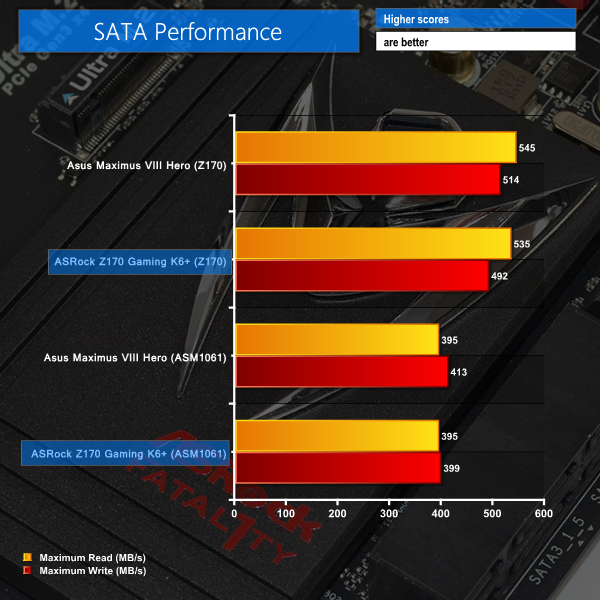 SATA 6Gbps performance from Z170 chipset ports is in the region that we would expect it to be.
Connectors provided by ASMedia's ASM1061 controller should be used as backup or for slower mechanical storage devices.
USB 3.0
We tested USB 3.0 performance using the Kingston HyperX 3K SSD connected to a SATA 6Gb/s to USB 3.0 adapter powered by an ASMedia ASM1053 controller.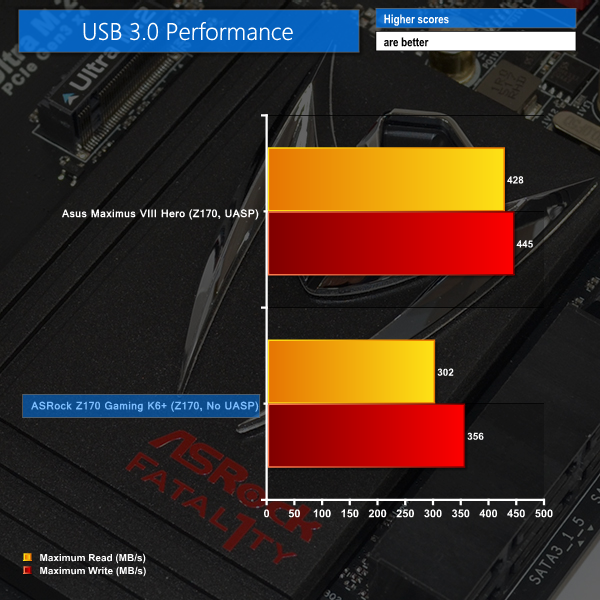 ASRock cannot match the USB 3.0 performance of Asus and the vendor's UASP-enabling software for Windows 7. When using Windows 8.1 or Windows 10, the gap will be significantly reduced.
With that said, USB 3.0 transfer rates that surpass the 300MBps mark still translates into a strong result.
We looked at the performance of ASRock's USB 3.1 solution on an X99 motherboard over here.
Audio

We use RightMark Audio Analyzer (RMAA) to analyse the performance of the motherboard's onboard audio solution. A sampling mode of 24-bit, 192 kHz was tested.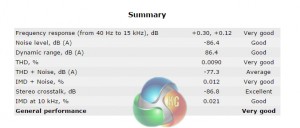 ASRock's Purity Sound 3 audio system is based around the Realtek ALC 1150 codec. Two Texas Instruments NE5532 op-amps drive rear and front panel headphone jacks, while Nichicon capacitors filter the audio signals.
RMAA scores the Purity Sound 3 system on ASRock's Fatal1ty Z170 Gaming K6+ motherboard as 'Very Good'.