Skylake processors are just the latest Intel CPU architecture to see many of the critical system operations handled by the processor. As such, benchmarking a motherboard becomes more of a test to certify that the part operates correctly and meets the anticipated performance levels.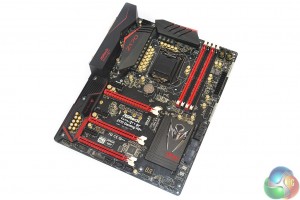 We will be outlining the ASRock Fatal1ty Z170 Gaming K6+ motherboard's performance with the Core i7-6700K CPU at its stock frequency (4.2GHz due to forced turbo). Overclocked performance will be outlined later in the review.
ASRock's Fatal1ty Z170 Gaming K6+ motherboard does not apply multi-core turbo (MCT) by default when XMP is enabled. Instead, users must manually enabled the parameter that forces all CPU cores to operate at their maximum turbo frequency all of the time. We manually activate MCT to keep consistency with other motherboard test results. This will be displayed as the 'stock' setting.
CPU-Z still has a voltage tracking issue with Skylake systems, so we called in assistance from ASRock's F-Stream software. Core voltage for the MCT settings hit a maximum of just below 1.22V under full load but dropped significantly whilst idling. This is the typical voltage level that we see applied to the mainstream platform Core i7 when MCT is enabled, and it should be simple enough to cool even with a modest cooler.
Z170 Motherboard Test System:
Compared Z170 Motherboards:
Software:
ASRock Fatal1ty Z170 Gaming K6 BIOS v1.20 (latest at the time of testing).
GeForce 353.30 VGA drivers.
Intel 11.0 ME drivers.
Tests:

SiSoft Sandra 2015 SP2b (v2142)

 

– Processor arithmetic and memory bandwidth (System)
3DMark 1.5.915

 

– Fire Strike Ultra (System)
Cinebench R15 – All-core CPU benchmark (CPU)
7-Zip 15.05 beta – Manual video archival (CPU)
HandBrake 0.10.2 – Convert 1.23GB 1080P game recording using the High Profile setting and MP4 container (CPU)
Grand Theft Auto V

 

– 1920 x 1080, near-maximum quality (Gaming)
Middle Earth: Shadow of Mordor

 

– 1920 x 1080, ultra quality (Gaming)
Metro: Last Light

 

– 1920 x 1080, very high quality (Gaming)
Tomb Raider

 

– 1920 x 1080, maximum quality, TressFX disabled (Gaming)
ATTO – SATA 6Gbps, USB 3.0, M.2 transfer rates (Motherboard)
RightMark Audio Analyzer – General audio performance test (Motherboard)