The ASRock Fatal1ty Z170 Gaming K6+ is an impressive motherboard that has all of the bells and whistles an enthusiast gamer could wish for.
Performance from the motherboard was strong. The same can be said for the overclocking results, with ASRock's efficient power delivery system managing to hold our i7-6700K CPU perfectly stable at 4.8GHz with 1.40V being shifted to the chip. And that was with the CPU Cache frequency overclocked to 4.5GHz and memory sat at 3200MHz.

ASRock has worked hard to create a UEFI that is excellent. Small iterative tweaks over the generations have given ASRock a user-friendly interface that is stable and packed with user-adjustable settings. It's not quite as in-depth as Asus' ROG UEFI, although it is still a strong implementation.
ASRock's OS-based software focuses on general usage benefits, such as the creation of RAM Drive and being able to reboot to the UEFI. While this is good for those times when you aren't gaming, Asus has the better software packaging when it comes to enhancing your pixel-pushing action.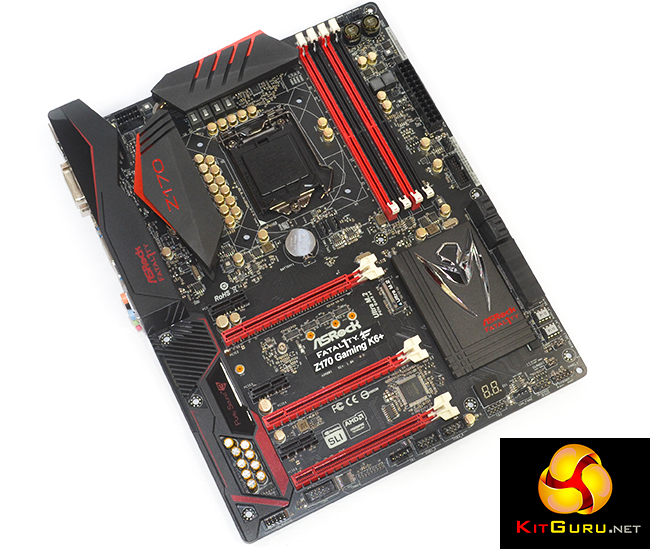 Motherboard slot layout is smart and I am fond of the decision to route the lower PCIe connector's lanes through the chipset. This permits for two high-bandwidth graphics cards to be used alongside a PCIe SSD, not to mention the PCIe 3.0 x4 Ultra M.2 connector (provided the M.2 issues we experienced are indeed limited to our test system or an early BIOS revision).
Feeding PCIe lanes from the (practically useless) SATA-Express connector in order to provide two front panel USB 3.1 ports, one Type-A and one reversible Type-C, is genius. I know ASRock is not the only vendor to apply this solution, so those competitors who have also implemented such a feature also deserve credit.
Audio quality is very good, as is the board's balance of features designed for overclocking and general tinkering. I like to see a rear IO-mounted clear CMOS toggle, while the onboard debug LEDs and power and reset buttons are also welcomed.
Perhaps my only valid gripe is the fan header positioning that may be deemed less than ideal for many users with AIO liquid coolers and a rear chassis fan. That's a minor point, as is my preference towards the inclusion of at least two USB 2.0 ports on the rear IO for enhanced support with older operating systems, like Windows 7.

OverclockersUK have the ASRock Fatal1ty Z170 Gaming K6+ listed for £163.99. The Fatal1ty Z170 Gaming K6 version without the front USB 3.1 panel retails for £23 less, at £139.99.
I think that ASRock's Fatal1ty Z170 Gaming K6+ is one of the finest motherboards in its price range. One of its crowning features is the convenient front USB 3.1 panel that is provided, but the cheaper Gaming K6 version is available if that accessory is not needed. Smart design choices that are implemented to a high standard are what makes ASRock's Fatal1ty Z170 Gaming K6+ such a user-friendly motherboard.
Discuss on our Facebook page HERE.
Pros:
Good overclocking capability.
Well-balanced set of gaming features.
Easy-to-use UEFI and dual BIOS chips for redundancy.
Superb fan control system through the UEFI and OS software.
Efficient power delivery system.
USB 3.1 front panel connectors.
Smart component layout choices.
Good audio solution.
Cons:
Supported software not as gamer-orientated as Asus ROG motherboards.
Fan header placement could be better for AIO liquid cooling users.
KitGuru says: An excellent balance between gaming features and ones that will appeal to hardware enthusiasts. ASRock's design choices are smart and they're implemented to a high standard.