M.2 PCIe Performance
We test M.2 PCIe performance using an Aorus PCIe Gen 4 2TB SSD. This SSD uses a Phison-based PCIe Gen 4 controller.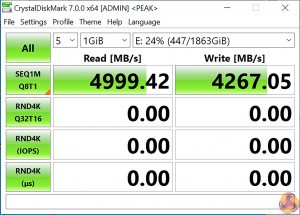 M.2 performance is right on the 5GBps mark that we expect from our Aorus PCIe Gen 4 2TB test SSD.
Cooling performance from ASRock's M.2 SSD heatsink was fine for our short, burst-type testing. The drive also stayed below 60°C in our CrystalDiskMark test runs.
One clear consideration should be the influence of a hot graphics card directly above the M.2 slot. But this point is also relevant for most competing motherboards that position the M.2 slots between PCIe expansion slots.
SATA 6Gbps Performance
For SATA 6Gbps testing we use a Crucial MX300 750GB SSD.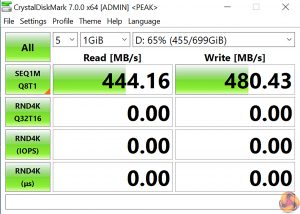 SATA performance is right where we would expect it to be. The plentiful connectivity options for the TRX40 Creator, combined with our tested speed results, means that we would have no concerns running multiple high-speed drives from the SATA connections.
Audio

Rightmark Audio Analyser is a freeware benchmarking utility designed to objectively test the performance characteristics of audio solutions. We setup a line-in line-out loop and execute the record/playback test before generating the results report you see below. A sampling mode of 24-bit, 192 kHz was tested.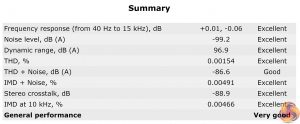 Rightmark Audio Analyser rates the ASRock TRX40 Creator motherboard's audio system as 'Very Good' overall, with most of the categories scoring 'Excellent'.