Competitively priced at just under £450, the ASRock TRX40 Creator motherboard differentiates itself by offering a unique concoction of features that are highly likely to appeal to professionals buying into the Threadripper platform.
The ability to install four dual-slot graphics cards into an ATX-sized system is perhaps a dream scenario for many potential buyers who deal with heavy animation software, multi-GPU compute, or demanding virtual machines. ASRock's TRX40 Creator is the only option on the market that gives users that flexibility.

Of course, that ability also comes with compromise, as users with two triple-slot graphics cards will have no further PCIe expansion slots available. This caveat is arguably of minor importance to the TRX40 Creator's intended target audience, many of whom will likely be running dual-slot workstation graphics cards.
10 Gigabit networking in addition to a 2.5Gb adapter and 2.4Gbps WiFi are clear features that many professional users will appreciate. The same can be said for ASRock's smart inclusion of a 20Gbps USB 3.2 Gen 2×2 Type-C port that goes some way to offsetting the omission of Thunderbolt 3 capability.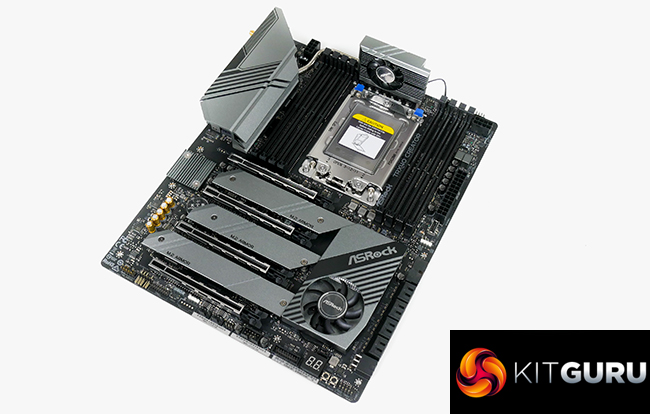 Out of the box performance was solid and we had no problem with our overclocking efforts thanks to ASRock's clear UEFI and accurate voltage levels. Despite 'only' running an eight-phase power delivery solution, we did not see any signs of weakness when using the 32-core Threadripper CPU. AMD's 64-core monster may be a tougher task if overclocking with this motherboard, however.
One clear area where the TRX40 Creator is not strong is its VRM and chipset cooling configuration. While the raw numbers that we recorded showed the temperatures to be perfectly reasonable, the high fan speeds and loud noise levels made for an irritating operating environment. ASUS' TRX40-E running in passive fan mode achieved similar VRM temperatures to ASRock's board running at an audible and irritating 6600 RPM fan speed.
The default fan speed profiles for both the MOSFET and chipset heatsink fans are adequate from a temperature perspective but woeful from a noise standpoint. Thankfully, ASRock provides excellent control capability in the UEFI and OS software and we successfully tweaked the fan curves to run at zero RPM up to temperature points that we were happy with. Just don't expect to keep those low fan speeds forever as the motherboard's physical size constraints clearly result in VRM and chipset heatsink design compromises.
It is clear where ASRock has chosen to cut costs to price the TRX40 Creator at an aggressive sub-£450 level. You do not get an integrated IO shield, onboard RGB, or fancy motherboard shrouds. And there's no denying that the VRM heatsink is a basic design that leverages a high-speed fan for strong cooling performance. However, all of those compromises are extremely smart choices for a workstation-type motherboard targeting professional users. They pave the way for undeniably valuable add-ons such as 10Gb and 2.5Gb Ethernet, 20Gbps USB Type-C, and the ability to install four graphics cards.
Overall, the areas where ASRock forces compromises to make way for its value-added features are well-thought and they result in the TRX40 Creator being a truly smart option for professional users looking to make money from their Threadripper-based system.

The ASRock TRX40 Creator is priced at £449.99 (at the time of writing) at Overclockers UK.
Discuss on our Facebook page HERE.
Pros:
Supports four dual-slot graphics cards in standard ATX form factor.
10GbE and 2.5GbE as well as 2.4Gbps WiFi.
20Gbps USB 3.2 Gen 2×2 Type-C port.
Solid performance out of the box.
Good overclocking capacity, thanks to the simple UEFI and voltage accuracy.
Strong VRM and chipset cooling capacity.
Three M.2 slots.
Cons:
MOSFET and chipset fans are needlessly loud using preset profiles.
Only five onboard fan headers.
Tall VRM heatsink could easily cause CPU cooler or AIO radiator interference.
Only one internal USB 2.0 header.
KitGuru says: An exceptionally smart option for professionals wanting high-speed networking, fast USB Type-C, and multiple high-bandwidth expansion cards. Just make sure you're willing to manually tweak the MOSFET and chipset fan speed curves.