Manual CPU Overclocking:
To test the ASRock X370 Taichi motherboard's CPU overclocking potential, we aim to set the CPU voltage close to 1.40V. CPU VCore is set to 1.40V with Level 3 LLC and SOC voltage is set to 1.25V with Level 1 LLC.
We maintained the DRAM frequency at 3200MHz to take its stability out of the overclocking equation.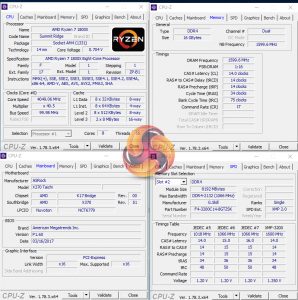 Our initial efforts of overclocking using Level 1 and Level 2 LLC settings resulted in load CPU voltages that we deemed too high and too far away from our desired 1.4V value. As such, we changed LLC to Level 3, which resulted in a 1.408V load voltage in Cinebench.
The ASRock X370 Taichi took our Ryzen 7 1800X to its 4.05GHz limit with 1.4V without hassle. The strong power delivery solution held up very well.
Overclocked Performance

As a performance comparison, we have included the results from three other AM4 motherboards. The maximum overclocked configuration achieved with each board was a 4050MHz (40.5 x 100MHz) processor frequency whilst using 3200MHz CL14 memory.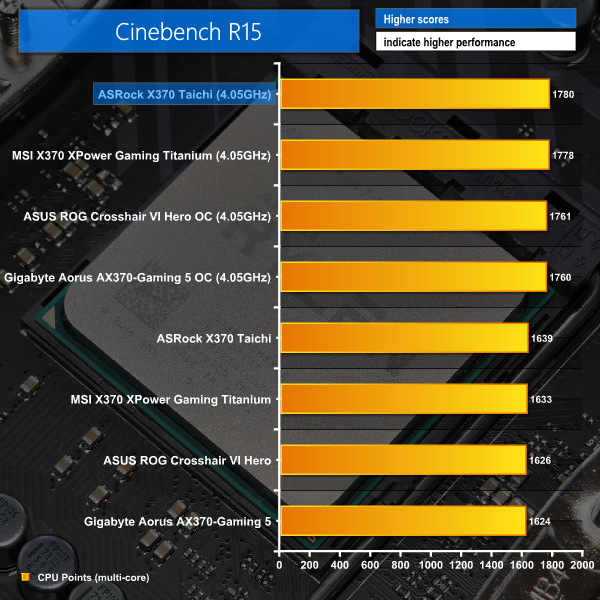 Overclocking delivers a good boost to Cinebench performance and maintains ASRock's position at the top of the chart.
Power
We leave the system to idle on the Windows 10 desktop for 5 minutes before taking a reading. For CPU load results we run Cinebench multi-core and take a reading. The power consumption of our entire test system (at the wall) is shown in the chart.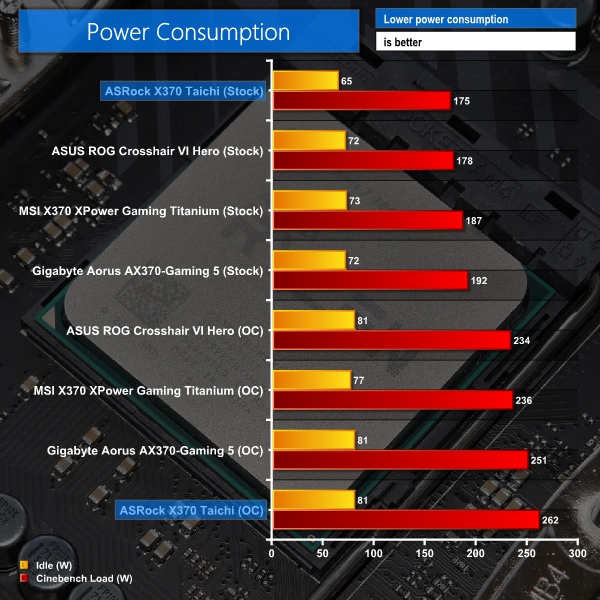 Stock-clocked power draw is good for ASRock's board. Aggressive power delivery settings look to offer a reduction in idle power draw. Load power draw is the lowest that we have tested and looks to be a testament to the efficiency of Texas Instruments' 87350 MOSFET solutions as both ASRock's X370 Taichi and the ASUS C6H use those components. Of course, applied CPU voltage plays a bigger part here.
A slightly higher load voltage for the ASRock board, driven by poorer accuracy than some competitors, resulted in higher power draw when overclocked. Further tuning would likely rein in this value.