ASRock X370 UEFI

The UEFI used for the ASRock X370 Taichi is very similar to the interfaces used for the vendor's Z270 motherboards.

Firstly, we are pleased to report that our generic wireless mouse worked correctly in the ASRock X370 UEFI. Some mice can be troubling with UEFI support, so when a generic wireless unit functions correctly in the interface, that is usually a good sign for overall mouse support.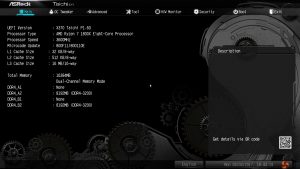 The Main page for ASRock's UEFI outlines primary information relating to the system and motherboard. We noticed that ASRock does not include an Easy Mode section on the BIOS version that we tested with (v1.60). This is disappointing given the separate section's ability to present less-experienced BIOS-dwellers with simple options that are unlikely to cause instability.
The heart of the performance tuning is the OC Tweaker section within which ASRock splits off the adjustment options into CPU, DRAM, and Voltage to aid ease of navigation.
The OC Tweaker section is good in terms of the options and granularity the user has to tune their hardware. However, we'd like to see more CPU voltage operational modes such as Adaptive, Adaptive + Offset and so on (these are offered by competitors). The voltage number input seems to be using a colour scale as an indicator but it always turned red in our testing, which is of no use to anybody.
ASRock's system for allowing a user to manage loadline calibration is very good as the options are clearly displayed using a graph.
The Advanced section includes control for the storage configuration, which is unsurprising, as well as some very unique, low-level configuration options.
ASRock adds in some useful features, such as 'downcore control' which allows specific cores to be disabled on the two CCXs of a Ryzen CPU (we only checked this with an eight-core part). Custom P-states can also be controlled, allowing a user to overclock in a new fashion that lets the CPU ramp up to different levels rather than a locked-in frequency mode.
The Tools section holds a number of handy utilities such as Instant Flash for updating the UEFI (including via the internet), a driver installer, and an option for managing the RGB LEDs.
Instant Flash automatically scans a connected USB flash drive, rather than prompting a user to navigate through the folders to a BIOS file. There's nothing wrong with this approach as the motherboard is able to find the BIOS update file itself. However, if your USB drive contains a large amount of data, the time taken to find the relevant BIOS file will be long.
ASRock's UEFI-based RGB LED tool is almost pointless. It does little more than turn the LED controller on or off. It does not offer any form of RGB LED control, which is disappointing.
H/W Monitor contains fan controls and a number of temperature and voltage readouts for monitoring.
The fan options are plentiful with a variety of fan speed profiles but only CPU and motherboard temperature reading options. A user can set a well-tuned fan speed curve simply by opting for numerical inputs. Only the two chassis fan headers that do not feature W_PUMP Switch control can be operated using PWM or DC control, which is disappointing when competitors allow all fan headers to operate with a variety of functions.
ASRock's FanTuning utility automatically detects a number of minimum fan speed levels for the connected units. This can be useful when optimising fan speed curves to output as little noise as possible, while ensuring that the fans still rotate. The FAN-Tastic Tuning utility provides a graphical approach for managing fan speeds that is well built. The 4-point (CPU) or 5-point (chassis) curve can be set to run fan speed levels as low as 0% and the adjusted parameters update on connected fans in real time, which is ideal for tuning the system to one's own preference.
There are no hysteresis options (time delays between fan speed changes) that are available on some competing motherboards, which is disappointing.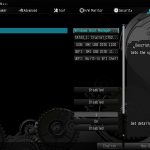 Security, Boot and Exit make up the last three tabs. There aren't many interesting options within these but the boot tab does contain a number of useful options for boot order.
UEFI Summary:
ASRock's UEFI is easy to navigate and is equipped with the core features that most users will desire. In fact, it offers more customisation options than most users will tweak and even allows for control of CPU P-states. Loadline calibration clarity is a clear strength for ASRock's UEFI, even if the number of CPU voltage mode options is limited.
The fan control system is good but it certainly could be better and is behind the offerings from ASUS, Gigabyte, and MSI in a number of aspects. With that said, the ability to operate fans at 0% and then a higher speed when temperatures increase is a good feature.
However, the version of the UEFI that our testing was conducted on (BIOS v1.60) had a considerable number of bugs that we hope are either fixed by now or will be fixed in successive updates. The latest BIOS version fixes CPU clock speed changes to 25MHz increments, rather than the 50MHz option in our testing. A complete lack of save profiles in the version 1.60 BIOS was another major oversight that points a finger towards rushed releases. There were other stability bugs such as the inability to run USB 3.1 Gen 2 devices properly without a custom tweak (outlined later in this review).
Overall, ASRock's UEFI is easy to navigate and deploys the core features that most users will ask for. However, our testing uncovered numerous bugs that put a dampener on the experience. Thankfully, bugs within the UEFI are easily fixed via updates and are unlikely to remain present throughout the board's life.