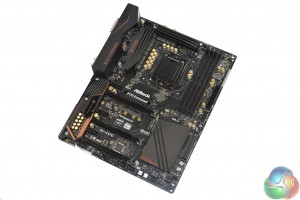 A positive tick is firmly positioned in the appearance box for ASRock's Z170 Extreme4 motherboard. While this aggressively-priced offering isn't the most stylish motherboard on the market, ASRock has smartly chosen a dark black primary colouring throughout the board's entirety.

Complementing the fully-black PCB, connectors, and heatsinks are subtle shades of gold for hardware such as the 12K-rated Nichicon capacitors. The darkish-orange text may not appeal to all, however the negativity of its presence is thankfully outweighed by the (correct) omission of an ugly brown PCB shade. The PCB is proper black, as it should be for high-end hardware.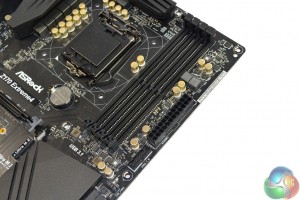 Up to 64GB of DDR4 memory can be installed in the four single-latch DIMM slots. ASRock quotes frequency support of over 3866MHz via overclocking, however such success is likely to depend on a number of factors.
For the first time on a Z170 motherboard, we were unable to get our trusty Corsair Vengeance LPX memory kit to operate at its 3200MHz XMP frequency. 2933MHz was the highest frequency that we could achieve, however this could be related to the current BIOS revision on the motherboard.
In close proximity to the 24-pin power connector is a single outwards-facing 5Gbps USB 3.0 header which can feed a pair of front panel ports. It is not uncommon to see a pair of internal USB 3.0 headers deployed on a Z170 motherboard, however this seems to be another area where ASRock minimises component expenditure.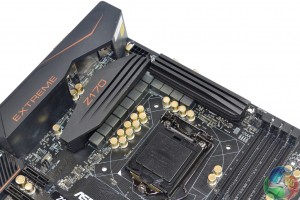 A total of ten power delivery phases are used to feed a CPU installed in the LGA 1151 socket and its integrated GPU. Beneath the sturdy pair of heatsinks are Sinopower SM4336 and SM4337 high- and low-side MOSFETs which are controlled by an Intersil ISL95824 PWM controller. Two additional components marked '5AX XWZ' are likely allocated to PWM phase-splitting duties (alongside additional components that I could not locate).
Spacing around the CPU socket is generally good and is unlikely to cause significant interference with large CPU coolers. Using ASRock's latest BIOS versions for the Z170 Extreme4, overclocking of multiplier-locked non-K LGA 1151 processors is possible by tweaking the CPU BCLK. The popular IDT-built clock generator is called upon for management of BCLK adjustments.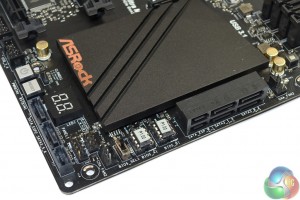 A total of three SATA-Express connectors form the internal storage interfaces. These connectors can instead be deployed as six SATA 6Gbps connections (or a mixture of both), however bandwidth for ports 0 and 1 is shared with the M.2 connector. SATA-Express has been given new life thanks to the availability of front panel USB 3.1 ports that make use of the cumbersome connector's sufficient bandwidth allocation.
I like ASRock's decision to deploy two thirds of the internal SATA interfaces in the right-angled orientation and the remaining third facing outwards. This gives users with internal chassis constraints greater flexibility.
Slightly higher-priced motherboard typically offer an additional two SATA 6Gbps ports by way of an add-on chipset, however the Extreme4 does not in order to minimise cost. This limits storage options – somebody using an M.2 SSD and a front panel USB 3.1 bay delivered through SATA-Express is only left with two usable SATA 6Gbps (or a single SATA-Express) ports. This configuration is likely to be sufficient for many users in the board's target market, however it does castrate future expansion options.
Dual BIOS chips and a dedicated selector switch are extremely positive features that are seldom found on budget Z170 motherboards. The same can be said about onboard power and reset buttons and the two-digit diagnostic LED.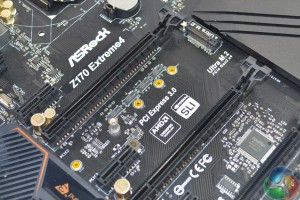 Up to 32Gbps of bandwidth is provided to M.2 PCIe SSDs via four lanes of PCIe 3.0 connectivity. The PCIe lanes are taken from the Z170 chipset's quota and therefore do not interfere with CPU-derived lanes that are crucial for maintaining full-speed SLI/CrossFire capability.
SATA 6Gbps M.2 SSDs can also be used in the slot. The 'Ultra' M.2 socket is compatible with devices up to 110mm in length, including the popular 80mm-long interface. Positioning sees M.2 SSD's sat beneath a graphics card, which has the benefit of hiding ugly green PCBs, but also limits cooling performance of the SSD's controller.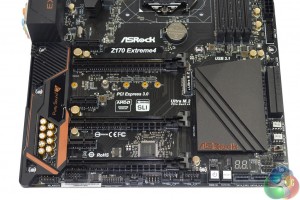 ASRock distributes the LGA 1151 CPU's 16 PCIe 3.0 lanes across the two uppermost full-length PCIe slots as: x16/x0 and x8/x8. The lowermost full-length PCIe slot receives its four lanes of bandwidth from the Z170 chipset, meaning that an x8/x8/chipset x4 PCIe configuration is possible.
Up to three-card CrossFire is supported, however only two discrete cards can be used in SLI due to Nvidia's requirements for PCIe x8 links. The use of chipset PCIe 3.0 lanes for the lower slot means that a pair of high-bandwidth graphics cards can run with PCIe 3.0 x8 links alongside an additional PCIe 3.0 x4 device such as an Intel SSD 750.
Expansion slot spacing is ideal for this calibre of motherboard. A pair of dual-slot graphics cards are given a cooling gap between them and can be used alongside a high-bandwidth device installed in the lowest PCIe slot. There's also room for a pair of triple-slot graphics cards to be used in tandem.
ASRock also outfits the Z170 Extreme4 with a trio of open-ended PCIe 3.0 x1 slots. These connectors can be used for devices which utilise a connector that is physically larger than PCIe x1 but do not necessarily need more than a single lane of PCIe bandwidth.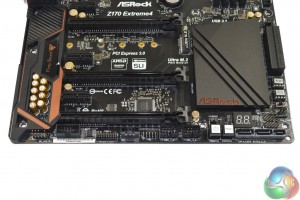 The usual array of front panel ports is found along the board's bottom edge. In addition to a Thunderbolt add-in card connector, there are two USB 2.0 headers as well as legacy TPM and COM headers.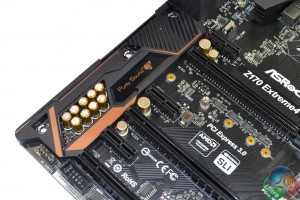 ASRock's Purity Sound 3 audio system is based around the Realtek ALC 1150 codec. Two Texas Instruments NE5532 op-amps drive rear and front panel headphone jacks, while Nichicon capacitors filter the audio signals.
PCB segregation is used to separate the audio signals, however the Realtek ALC 1150 codec is deployed in an unshielded state – many motherboards ship with dedicated EMI shielding for the audio codec.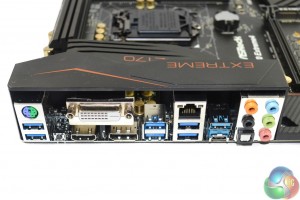 A total of six USB 3.0 ports are found in the rear IO section, all of which stem from the Z170 chipset. ASMedia's ASM1142 chipset feeds the pair of 10Gbps USB 3.1 ports, while an EtronTech EJ179V switch makes the reversible Type-C USB 3.1 connector physically possible and provides it with a 3A current rating.
Despite providing legacy keyboard and mouse support via the PS/2 connector, there are no USB 2.0 ports on the motherboard. This can hardly be deemed a negative now that the Windows OS is more USB-aware, although I would have liked to see two of the rear IO USB 3.0 re-assigned to an extra internal header duty, and then replaced by a pair of USB 2.0 connections. This is perfectly acceptable given that the Z170 chipset supports up to fourteen USB connections in total.
Gigabit Ethernet is provided by Intel's I219V NIC. HDMI, DVI-D, and DisplayPort 1.2 cater for high-resolution outputs from the iGPU. Audio connections are the standard affair and the venerable clear CMOS button is an always-welcomed addition to the rear IO.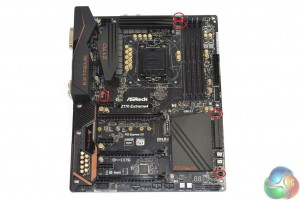 Positioning of the five 4-pin fan headers is generally good. Two are dedicated for CPU control duties, although there is no supplementary 3-pin header for use with an AIO watercooler's pump. Front, rear, and side chassis fans are effectively served by the three remaining well-positioning 4-pin headers.
Control of the fan headers, as well as general motherboard monitoring, is the duty of Nuvoton's NCT6791D chipset.