Intel's Skylake processors are just the latest Intel CPU architecture to see many of the critical system operations handled by the processor. As such, benchmarking a motherboard becomes more of a test to certify that the part operates correctly and meets the anticipated performance levels.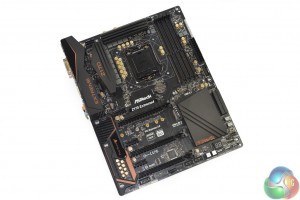 We will be outlining the ASRock Z170 Extreme4 motherboard's performance with the Core i7-6700K CPU at its stock frequency (4.2GHz due to forced turbo). Overclocked performance will be outlined later in the review.

The ASRock Z170 Extreme4 motherboard allows users to manually apply multi-core turbo (MCT) and force the 6700K to a constant 4.2GHz, however this setting is not automatically applied when XMP is enabled (as many other boards will do). This setting can be easily enabled through the UEFI in order to provide enhanced performance, or it can be disabled to reduce power consumption and CPU temperatures. We apply MCT for the 'stock' testing.
Unfortunately, due to previously mentioned issues with ASRock's BIOS profile, we were unable to achieve system stability with our 3200MHz Corsair Vengeance LPX DDR4 kit set to its XMP frequency. Instead, we had to reduce the DRAM frequency to 2933MHz in order to maintain testing stability. This is likely to have a small impact on the motherboard's performance.
Z170 Motherboard Test System:
Compared Z170 Motherboards:
Software:
ASRock Z170 Extreme4 BIOS P2.40.
GeForce 353.30 VGA drivers.
Tests:

Cinebench R15 – All-core CPU benchmark (System)
HandBrake 0.10.2 – Convert 1.23GB 1080P game recording using the High Profile setting and MP4 container (System)
7-Zip 15.05 beta – Manual video archival (System)
3DMark 1.5.915 – Fire Strike Ultra (Gaming)
Grand Theft Auto V – 1920 x 1080, near-maximum quality (Gaming)
Middle Earth: Shadow of Mordor – 1920 x 1080, ultra quality (Gaming)
ATTO – SATA 6Gbps and USB 3.0 transfer rates (Motherboard)
RightMark Audio Analyzer – General audio performance test (Motherboard)