ASRock Z170 UEFI
Firstly, we are pleased to report that our generic wireless mouse worked to its usual standard in ASRock's Z170 UEFI. We've found the wireless mouse to be troubling with UEFI support in the past, so when it functions correctly in the interface, that is usually a good sign for overall mouse support.
ASRock's Z170 UEFI styling and feature set is very similar for the boards across its line-up. As such, we reused some of the screenshots gathered for our review of the Fatal1ty Gaming K6+ motherboard.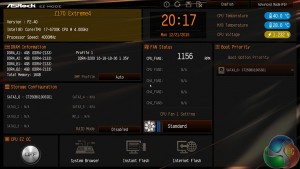 ASRock has recently added a new entry page to its UEFI. This simplified entry page allows novice users to tweak some important settings without being overcome by the extensive set of features in ASRock's deeper UEFI zones.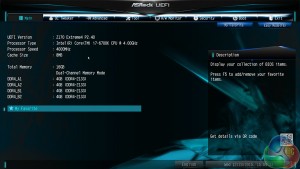 The Main page displays information about the system components. There is a My Favorite section that gives users quick access to their most desirable settings.
The OC Tweaker page controls access to the board's numerous overclocking-related sub-sections. I like the way that ASRock has split its main overclocking sections into separate folders. This keeps the interface clean and makes the desirable settings easy to find. It also proves that ASRock has listened to previous feedback and taken steps to improve its UEFI user experience.
Up to five customised user profiles can be saved to the board's internal memory. I feel that five profiles is sufficient for a motherboard that is not intended for competitive overclocking. A USB flash drive can be used to transfer profiles to and from the board.
A good degree of control is given to DRAM settings. A number of frequency multipliers can be selected and timings can be tweaked with ease.
CPU overclocking profiles set by ASRock's engineers can be applied. These are convenient for gamers who want to boost their CPU clock speed with minimal time spent fussing in the UEFI.
ASRock includes a number of convenient tools in its UEFI. Users can rapidly apply a number of system configurations and drivers can also be downloaded via the interface.
Instant Flash, ASRock's simple BIOS updating tool, scans through one's USB flash drive to search for the relevant BIOS file. While this sounds good, with the tool's ability to scan all the way through your flash drive until it finds the relevant BIOS profile, users with a large amount of data on their drive could find the search time to be in the order of minutes. There's little wrong with a manual folder search.
Included both via the UEFI and OS-based software, System Browser is a convenient tool that displays which components are connected to the motherboard. The tool is particularly useful for troubleshooting purposes; if, for example, a memory stick is faulty, it will not show up in the System Browser window.
ASRock includes an extensive set of voltage, temperature, and fan speed readings on its HWMonitor page.
There are two ways of setting fan speeds in ASRock's UEFI. Users can either select from pre-defined profiles, or they can fine-tune their own custom fan speeds. There's the old way of doing this – by selecting the relevant choices from multiple drop-down lists. Or there's ASRock's modern FAN-Tastic Tuning visual tool.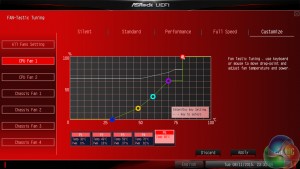 I was very impressed by the capabilities of the FAN-Tastic Tuning tool (the cheesy name, on the other hand…). The five-point curve can be adjusted to an individual's preference with a large range of freedom; a CPU temperature as low as 30°C can be set, while the fan can run at 0-100% in fine increments. And what is particularly impressive is the board's ability to completely shut-off a controlled fan below a user-defined temperature threshold.
The level of control FAN-Tastic Tuning provides is excellent, especially when a fan can be set to stop spinning in order to provide a particularly quiet system.
ASRock Z170 Software
Using ASRock's OS-based A-Tuning software (which is practically identical to ASRock's F-Stream software in the screenshots), users can manage their system's operating states without diving into the UEFI BIOS. Overclocking settings can be adjusted, system activity can be monitored, and the fan speed profiles can be tweaked.
System Browser also shows up in the OS software, bringing with it benefits for troubleshooting scenarios.
The App Shop allows users to download many of ASRock's dedicated tools. This is where tools such as XFast LAN and XFast RAM are found. As a bonus, ASRock also gives users access to NBA 2K13 and other useful pieces of third-party software.
The variety of ASRock's supported software is strong. From apps that launch directly into the UEFI (useful for Windows 8.1/10 users) to ones that can create a RAM disk, ASRock definitely has the variety aspect covered for general usage.