The ASRock Z170 Extreme4 is a low-cost point of entry onto the Z170 and Skylake platform which allows buyers to utilise a good variety of features with little additional expenditure.
Core functionality that is required by gamers and power users is offered by the Z170 Extreme4. There's CrossFire and SLI support, capacity for PCIe 3.0 x4 SSDs via M.2 or a native PCIe slot, and USB 3.1 Type-A and Type-C tick the box for a degree of future-proofing.
Dual BIOS chips provide redundancy as well as longevity for the motherboard. Unfortunately, stability is not one of the areas where ASRock's Z170 Extreme4 is shown in a positive light.

Memory frequencies above 2933MHz start to present system instability. While this is not currently an issue for a budget motherboard due to the expense of 2933MHz+ DDR4 kits, it will be an undesirable problem for the future. Poor memory stability also caused problems when trying to push the CPU and CPU Cache frequencies during overclocking.
Voltage accuracy also presents a significant problem for the Z170 Extreme4. When manually adjusting the CPU VCore, or even when applying on of the four CPU overclocking presets, a core voltage overshoot in the region of 70mV was registered. Seeing your CPU being delivered 70mV more than you asked for is unreasonable. It takes the operating voltage from a sensible 1.35-1.40V up to a more worrying 1.42-1.47V.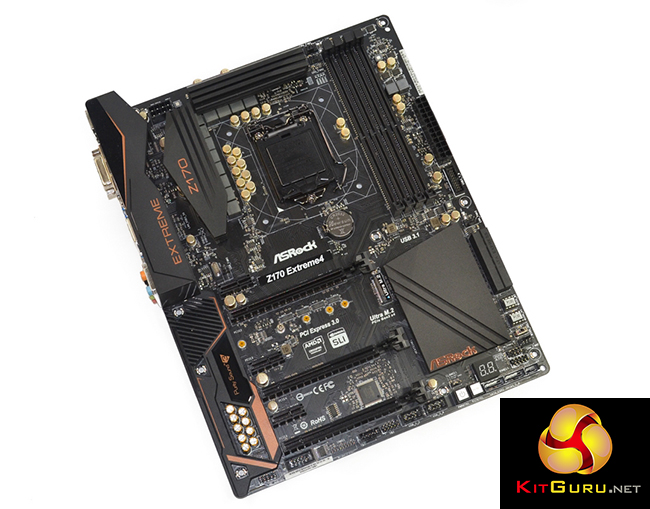 Despite the stability and voltage accuracy negatives, ASRock's UEFI layout is a positive. The interface is easy for novices and more advanced users to operate with good success. And the ease at which the UEFI can be operated is beneficial to allowing an overclocking user to manually compensate for the high CPU voltage overshoot and poor memory stability.
Further positives come in the form of a smart motherboard layout with very few questionable decisions, a likable dark black styling, and a solid audio solution. ASRock's OS-based software suite also offers some decent tools. And let's not forget the Z170 Extreme4's ability to overclock multiplier-locked Skylake CPUs, which could be a critical feature for many users.
Priced at £109.99 from Novatech, the ASRock Z170 Extreme4 is one of the lowest cost Z170 motherboards to offer CrossFire and SLI capability. The general set of features offered by ASRock, and the smart way in which they are deployed, make the Z170 Extreme4 a notable contender at its price point. Despite the healthy feature set, issues relating to high-speed memory and CPU voltage accuracy prevent the ASRock Z170 Extreme4 from being a clear winner at its price point.
If you have the patience to wait for a BIOS fix to the board's bugs, or simply don't need support for high-speed memory and are happy to spend extra time tweaking CPU voltages, the ASRock Z170 Extreme4 is worth considering. Just don't expect straightforward, problem-free performance until a new BIOS addresses the board's current downfalls.
Discuss on our Facebook page, over HERE.
Pros:
Smart application of features from the Z170 chipset and good layout.
USB 3.1 Type-A and Type-C ports.
Can operate two-card CrossFire or SLI in addition to a high-bandwidth PCIe device.
Easy-to-navigate UEFI with plenty of options.
Dual BIOS chips for redundancy as well as onboard debug LED and buttons.
Dark black colour scheme.
Cons:
Huge, potentially dangerous CPU VCore overshoot when overclocking.
Overclocking presets practically unusable due to large CPU VCore overshoots.
Limited operation and hampered overclocking results with high frequency DDR4 modules.
KitGuru says: ASRock's Z170 Extreme4 offers a good set of features for an attractive price tag, however further work is needed in the form of BIOS updates to enhance the board's stability when operating at higher CPU and DDR4 frequencies.