SATA
For SATA 6Gb/s testing we use a Kingston HyperX 3K (SandForce SF-2281) SSD.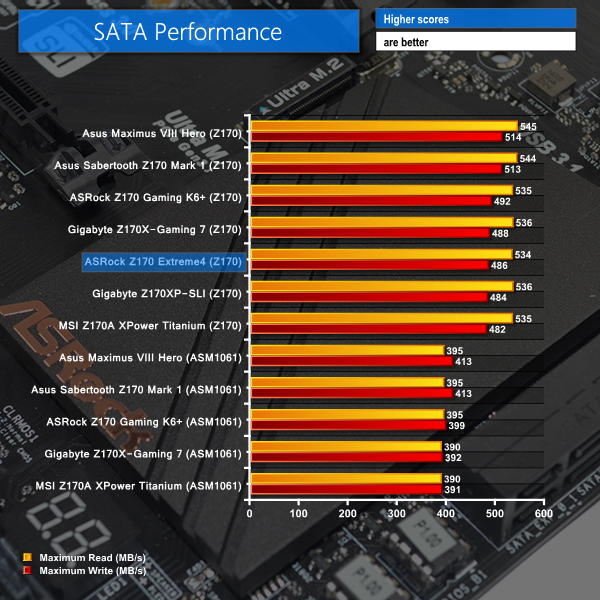 SATA 6Gbps performance from the Z170-fed ports shows no performance issues.
USB 3.0
We tested USB 3.0 performance using the Kingston HyperX 3K SSD connected to a SATA 6Gb/s to USB 3.0 adapter powered by an ASMedia ASM1053 controller. The test system uses Windows 7 with SP1 as the OS.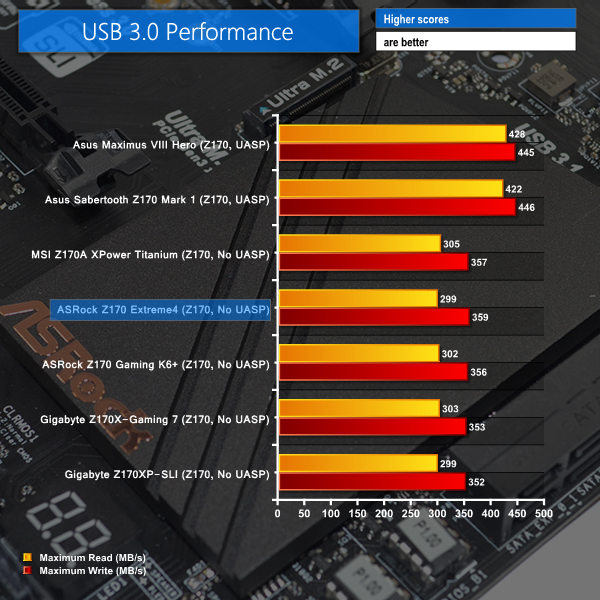 USB 3.0 performance for the Z170 Extreme4 is strong, given the lack of a UASP-activating program for Windows 7 users. Windows 8.1 and 10 users can expect higher transfer rates thanks to the UASP drivers included within those operating systems.
Audio

We use RightMark Audio Analyzer (RMAA) to analyse the performance of the motherboard's onboard audio solution. A sampling mode of 24-bit, 192 kHz was tested.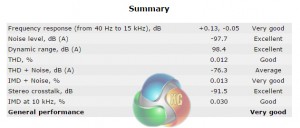 General audio performance is 'Very Good' according to RMAA. Noise level and dynamic range of the audio system are particular strengths.
Power
We measured the power consumption with the system resting at the Windows 7 desktop, representing idle values.
The power consumption of our entire test system (at the wall) is measured while loading only the CPU using Prime95′s in-place large FFTs setting. The rest of the system's components were operating in their idle states, hence the increased power consumption values (in comparison to the idle figures) are largely related to the load on the CPU and motherboard power delivery components.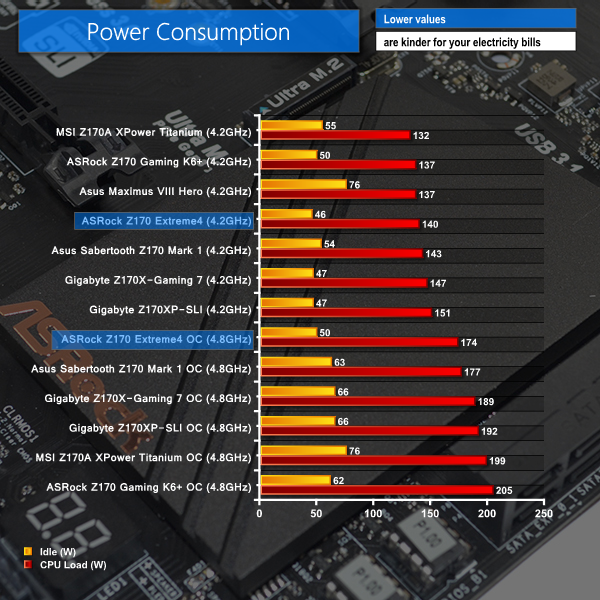 ASRock's power delivery system presents extremely pleasing idle consumption numbers thanks to the speed at which the PWM controller drops the CPU VCore under low load conditions.
Load power consumption levels are also generally positive, which indicates that the choice of electrical components has been wise. The differing voltage level means that the load power consumption level when overclocked is not directly comparable to that of other motherboards.