The Gigabyte Aorus Z270X-Gaming 7 is a feature-heavy motherboard that strikes a smart balance between being a high-end gaming product and one intended for system enthusiasts. RGB LEDs alongside a 40Gbps Thunderbolt 3 connector may seem odd, but there are plenty of prosumers who use their gaming system for work tasks and vice versa.
Performance from the Z270X-Gaming 7 was no cause for concern although it did appear very slightly slower than ASUS and ASRock competitors during our testing. This was likely attributed to the resources being eaten by a wealth of OS-based software tools, many of which were superb additions to the overall package (RGB Fusion in particular).
Gigabyte includes plenty of UEFI-based overclocking presets and the 4.8GHz 7700K mode was perfectly fine. OS-based Auto Tuning of the system using EasyTune was not particularly good as the CPU VCore was significantly higher than necessary for a 4.7GHz clock speed and XMP was disabled. Stock (forced-turbo) CPU voltage was also far too high with as much as 1.37V being pushed to the CPU under heavy load, resulting in wasted power and a cooling challenge for mid-range air heatsinks or AIOs.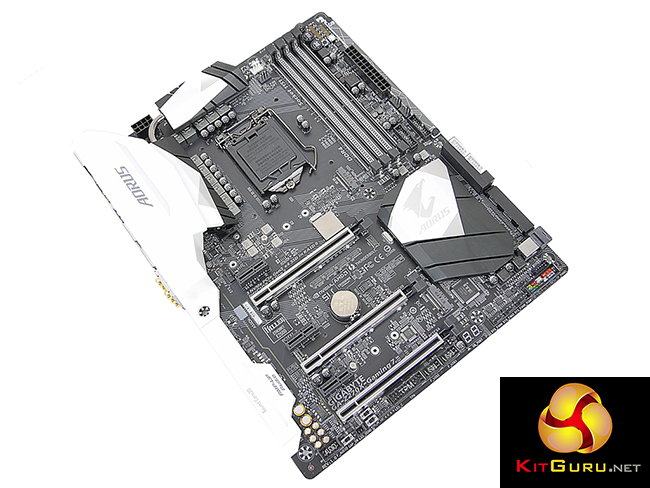 Motherboard layout for the Gaming 7 is superb and the design decisions for PCIe lane routing are excellent. Being able to use a trio of PCIe NVMe SSDs simultaneously using M.2, M.2/PCIe, and U.2 while also off-loading at 40Gbps through Thunderbolt 3 is mightily impressive. I also liked the inclusion of onboard buttons and voltage measurement points for tweaking and diagnostic purposes.
Gigabyte's RGB system is excellent. The LEDs are bright and colour-accurate and zones can be controlled individually within the OS-software (which is bundled in addition to a UEFI-based RGB tool). The RGB header with 5 re-mappable pins worked well and helps to improve strip compatibility.
On the topic of excellent points, Gigabyte's effort being put into the fan control system has paid off. The Gaming 7 has superb abilities for fan control both through the UEFI and OS software. And the board ships with eight 4-pin headers that should satisfy even hardened watercooling enthusiasts.

The Gigabyte Aorus Z270X-Gaming 7 motherboard is available at Overclockers UK for £229.99. This puts it in the high-end price range for Z270 offerings. If you can withstand the high voltage levels by default and lack of M.2 cooling, the Aorus Z270X-Gaming 7 motherboard has plenty of positive aspects that will allow it to compete in a tough marketplace.
Discuss on our Facebook page, over HERE.
Pros:
Superb set of features (dual M.2, U.2, Creative audio, etc.).
Intel 40Gbps Thunderbolt 3 and USB 3.1 Gen 2 Type-C are good to see.
One of the best fan configurations on the market – 8 4-pin headers, all with precise controllability.
Smart layout and PCIe routing design decisions.
Excellent RGB LED performance and control ability.
OS-based RGB Fusion software provides plenty of flexibility.
Cons:
Auto/MCT CPU VCore levels are too high.
UEFI needs more work to better compete with ASRock, ASUS, and MSI implementations.
The LLC settings make little sense without any form of explanation and they don't perform particularly well, either.
No consideration given to M.2 SSD cooling.
KitGuru says: Excellent RGB and fan control systems aid a good feature set and wise design choices to make Gigabyte's Aorus Z270X-Gaming 7 a smart choice.