Automatic CPU Overclocking – OS-based EasyTune Auto Tuning:
The OS-based auto tuning found inside EasyTune software worked, and that's about it. The speed bump was only 200MHz from a forced-turbo 7700K and 4.7GHz at 1.4V is a very conservative overclock that basically all 7700K CPUs should achieve. Realistically, that voltage could be dropped by at least 50mV while still maintaining stability.
XMP was also disabled, which is always disappointing as our memory speed was cut by a third as well as being given higher latency timings.
Automatic CPU Overclocking – UEFI-based CPU Speed Profile:
The 4.8GHz 7700K UEFI preset worked well. 4.8GHz at 1.38V under load is a fair setting that average Kaby Lake 7700K CPUs should be able to run at while also maintaining Prime 95-level stability. Thankfully, XMP was left enabled on our memory modules.
Manual CPU Overclocking:
To test the Gigabyte Aorus Z270X-Gaming 7 motherboard's CPU overclocking potential, we first increased the CPU VCore to 1.35V and applied High LLC setting.
We maintained the DRAM frequency at 3200MHz to take its stability out of the overclocking equation. Cache frequency was maintained at its stock MCT value of 4.2GHz.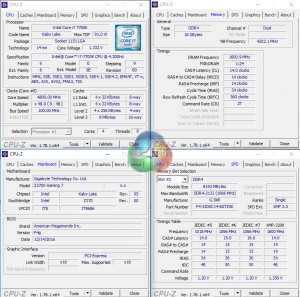 Gigabyte's Aorus Z270X-Gaming 7 managed to take our Core i7-7700K to its maximum Prime-stable overclock of 4.8GHz using 1.35V. The board actually did this with less than 1.35V (1.33 under load) by virtue of the poor LLC settings.
If you want a specific voltage level, the way to achieve it is by trial and error because LLC swings the load value either above or below the intended mark.
3600MHz XMP Memory:
We test the motherboard's ability to run G.Skill's high-speed 16GB DDR4 TridentZ kit at a 3600MHz XMP setting. High-speed XMP settings can prove a challenge for motherboard designers when optimising the settings for stability at the intended DRAM frequency.
3600MHz DDR4 worked without issue using the XMP setting.
Overclocked Performance

As a performance comparison, we have included the results from two other Z270 motherboards. The maximum overclocked configuration achieved with each board was a 4800MHz (48 x 100MHz) processor frequency whilst using 3200MHz CL14 memory.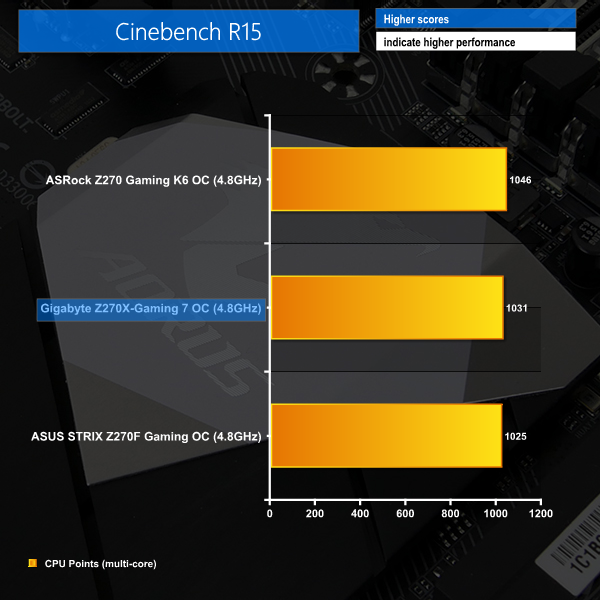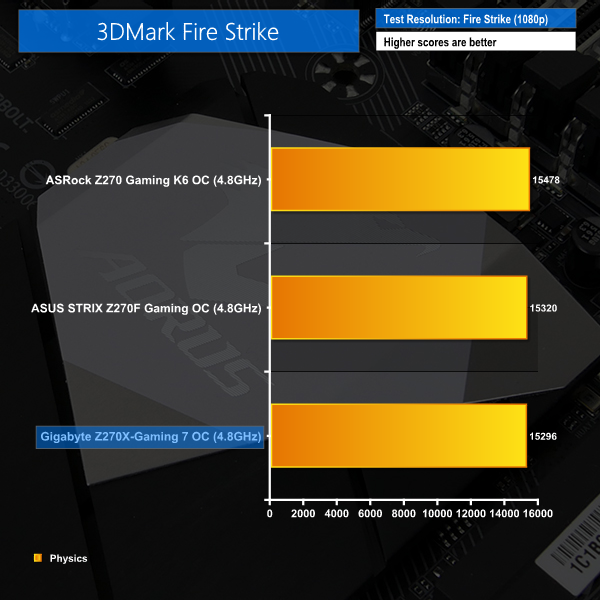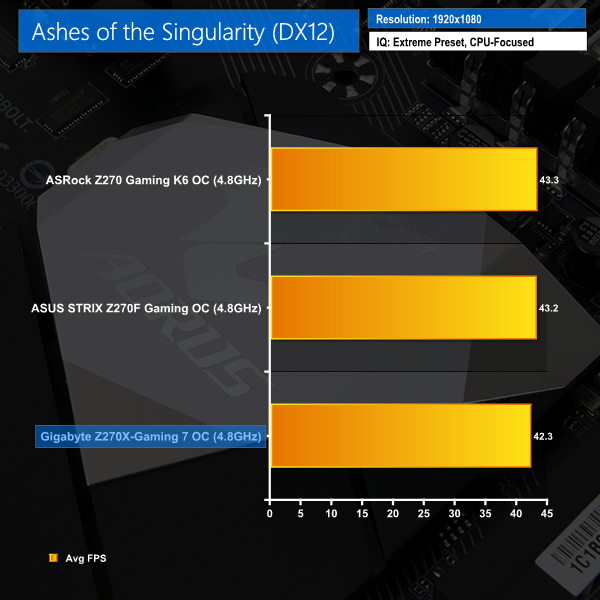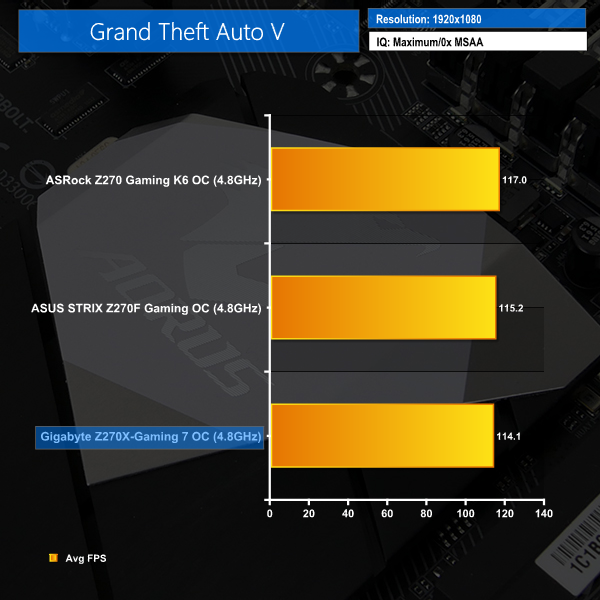 Overclocking delivers a nice performance boost for the Aorus Z270X-Gaming 7.
Power
We leave the system to idle on the Windows 10 desktop for 5 minutes before taking a reading. For CPU load results we run AIDA64 CPU, FPU, and Cache stress tests and take a reading. The power consumption of our entire test system (at the wall) is shown in the chart.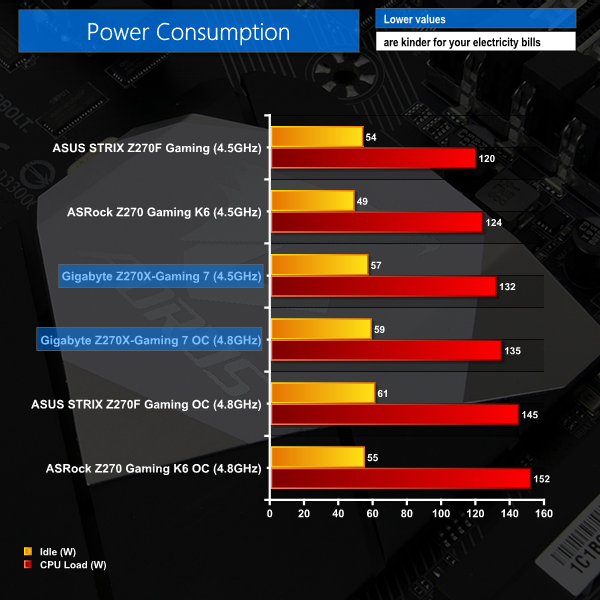 Stock (MCT) power consumption was not a strength for Gigabyte due to the over-aggressive CPU voltages being applied. Overclocking only resulted in effectively the same power consumption, emphasising just how needlessly high the stock voltage levels are.
With that said, Gigabyte's board does have lower overclocked load power draw numbers than ASUS and ASRock competitors. This is a direct result of the poor voltage accuracy attributed to the LLC settings. The board actually gets a stable overclock at a lower voltage by virtue of poor LLC design, which is an interesting thought that some may deem not such a bad point.