Viewed in isolation, the Gigabyte B550 Aorus Master is an undeniably premium AM4 motherboard.
The true 16-phase power delivery solution built around Infineon hardware is market leading for the board's price point. Thanks to this, overclocking performance was strong even with our hefty 16-core Ryzen 9 3950X load.
Gigabyte also deserves plenty of credit for deploying a true, well-designed heatsinks on the VRM. The fin arrays and heatpipe are probably not a necessity, given the sheer efficiency of the underlying VRM components. However, there is absolutely zero downside to deploying an efficient heatsink design that also looks aesthetically appealing. Gigabyte's approach certainly beats the competing vendors – many of whom still insist on deploying aesthetically pleasing blocks of metal that are inefficient in terms of cooling capability.

Keeping with the topic of cooling, Gigabyte's deployment of eight 4-pin fan headers is welcomed. This approach shouts 'premium' especially when all of the headers can be controlled with excellent granularity using Gigabyte's market-leading Smart Fan 5 implementation. RGB aficionados will also be pleased by the inclusion of five onboard headers, rather than the usual four.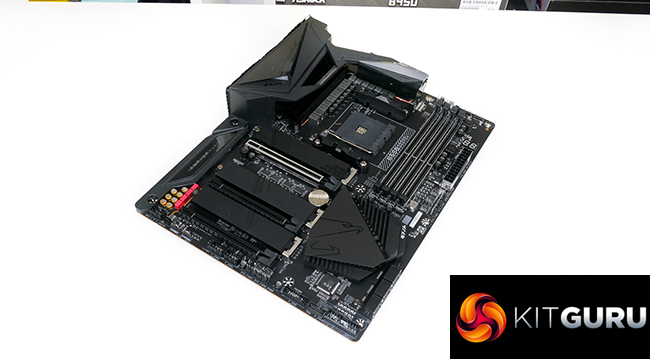 Despite deploying the B550 chipset and its limited PCIe Gen 4 capability, Gigabyte still manages to offer an appealing set of connectivity options. Up to triple Gen 4 M.2 SSDs can be installed, though this does come with the trade-off of dropping a graphics card to an x8 link. To many users, this will be an acceptable compromise for the added storage capability. However, there is an argument that most similarly priced X570 options have superior bandwidth capability in this regard.
Undeniably, our biggest disappointment for the B550 Aorus Master is its lack of internal USB 3.2 Gen 2 Type-C header. This is an incredibly silly move and I honestly do not know how it passed through design sign-off. It is no over-exaggeration to highlight that this decision alone is likely to be a deal-breaker for a sizeable number of potential buyers.
Priced at £300 in the UK, notable competition for Gigabyte's B550 Aorus Master comes from the slightly cheaper MSI X570 MEG Unify and the slightly more expensive ASUS ROG STRIX X570-E Gaming and ASRock X570 Taichi.
The MSI offering, in particular, is a tough one to contend with. However, there are positives for Gigabyte in the form of its higher-quality power delivery solution, excellent fan control interface, and WiFi 6 capability. Also, there should be no understating in just how pleasing the lack of chipset fan for the B550 Aorus Master is, versus its X570 competitors.

The Gigabyte B550 Aorus Master is priced at £299 in the UK and will be available at e-tailers such as Overclockers UK.
Discuss on our Facebook page, over HERE.
Pros:
Excellent power delivery solution.
Very good VRM and motherboard cooling.
Triple Gen 4 M.2 slots with direct CPU lanes.
High-speed wired and wireless networking.
Ample fan headers with superb Smart Fan 5 control.
Five RGB headers.
No chipset fan is beneficial versus X570 competitors.
Cons:
No internal USB 3.2 Gen 2 Type-C header.
Graphics card drops to x8 when more than one SSD is installed.
Very expensive for a B550 offering.
KitGuru says: A premium B550 offering that competes against upper-mid-range X570 options and battles them well. Quality power delivery components, triple M.2 support, and high-speed networking galore, the Gigabyte B550 Aorus Master is a tempting AM4 proposition despite its dizzying price tag for B550.