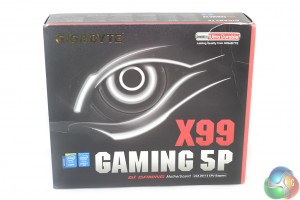 The Gigabyte X99-Gaming 5P ships in the company's usual style of gaming packaging. Gigabyte's eye symbol is predominant.

Specifications and features are outlined on the box's rear side, while a flap can open to give a view of the board.
The healthy bundle consists of:
4x braided SATA cables.
3×8-pin to 1×8-pin power adapter.
Rear IO shield (LED lit).
Black 2-way flexible SLI and CrossFire ribbons.
Black 3-way, spaced 3-way, and 4-way SLI bridges.
Gigabyte deserves credit for providing all-black SLI connectors, as well as including a black CrossFire ribbon for coluor-concious buyers.
The meshed SATA cables are a nice touch, as is the LED-lit rear IO shield. I would be surprised if many people buying a mid-priced X99 gaming motherboard would have access to three 8-pin CPU power cables in their system.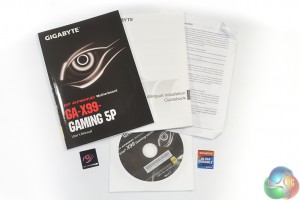 The standard affair of documentation, sticker, and drivers CD is included. Gigabyte prints a block diagram for the motherboard's connection inside the manual – this is a move that I love to see because educated buyers can get a better understanding of how their board best operates.