We will be outlining the Gigabyte X99-Gaming 5P motherboard's performance with the Core i7 5960X CPU at its stock frequency (3.5GHz due to forced turbo). Overclocked performance will be outlined later in the review.
We initially tested with the F1 BIOS version found on Gigabyte's website as it is the latest (and only) non-beta BIOS profile. The BIOS is unstable and could not even provide full stability with the CPU running at its stock speeds.
Gigabyte's other BIOS available on the product page – beta version F2c – functioned as expected throughput testing, without instability concerns. The vendor rolled out a sizable batch of updated BIOS profiles for many of its X99 boards at the end of April. This is good to see and shows that user feedback of instability and usage issues are being addressed.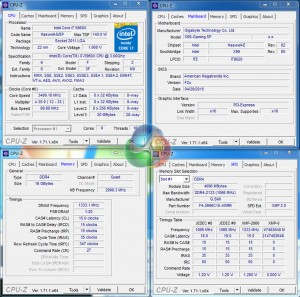 By default, the Gigabyte X99-Gaming 5P motherboard applies multi-core turbo (MCT) and forces the 5960X to a constant 3.5GHz when XMP is enabled.
Gigabyte feeds the 5960X with just under 1.07V under its 3.5GHz MCT load. This is a good level of voltage to observe and provides positive, controllable temperature levels.

We use Gigabyte's Hardware Monitor tool for recording voltages because CPUID HWMonitor is largely dysfunctional with the X99-Gaming 5P. Apart from completely erroneous readings in CPUID HWMonitor, Gigabyte's own tool seems to report CPU temperatures which are around 10°C lower than those reported by the CPUID software.
X99 Motherboard Test System:
Compared X99 Motherboards:
Software:
Gigabyte X99-Gaming 5P BIOS F2c beta (latest official BIOS).
Catalyst 14.9 VGA drivers.
Tests:

3DMark 1.3.708 – Fire Strike (System)
SiSoft Sandra 2014 SP2 – Processor arithmetic, memory bandwidth (System)
Cinebench R15 – All-core CPU benchmark (CPU)
WinRAR 5.10 – Built-in benchmark (CPU)
HandBrake 0.9.9 – Convert 4.36GB 720P MKV to MP4 (CPU)
ATTO – SATA 6Gbps, USB 3.0, M.2 transfer rates (Motherboard)
RightMark Audio Analyzer – General audio performance test (Motherboard)
Bioshock Infinite – 1920 x 1080, ultra quality (Gaming)
Metro: Last Light – 1920 x 1080, high quality (Gaming)
Tomb Raider – 1920 x 1080, ultimate quality (Gaming)