M.2 connector
We use Plextor's fast M6e 256GB M.2 SSD to test the speed of a motherboard's M.2 connector. We reviewed the 512GB Plextor M6e (and its PCIe x2 adapter card) HERE.  Unfortunately we do not have access to a PCIe 3.0-based SSD to fully test the M.2 connector's performance limits.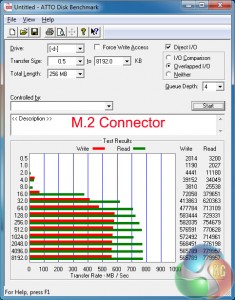 Gigabyte's 10Gbps PCIe 2.0 x2 M.2 connector is fast enough to not limit our Plextor M6e SSD. But there are plenty of faster M.2 drives on the market (Samsung's XP941 and SM951, as well as Kingston's HyperX Predator M.2, for example) that would more than saturate the lowly 10Gbps connection.
It was a big mistake by Gigabyte to not include a faster-than-10Gbps M.2 connection. Buyers' SSD upgrade path will be heavily limited by the inadequate M.2 link speed.
SATA
For SATA 6Gb/s testing we use a Kingston HyperX 3K (SandForce SF-2281) SSD.
SATA 6Gbps performance is as we would expect from X99-fed ports.
USB 3.0
We tested USB 3.0 performance using the Kingston HyperX 3K SSD connected to a SATA 6Gb/s to USB 3.0 adapter powered by an ASMedia ASM1053 controller.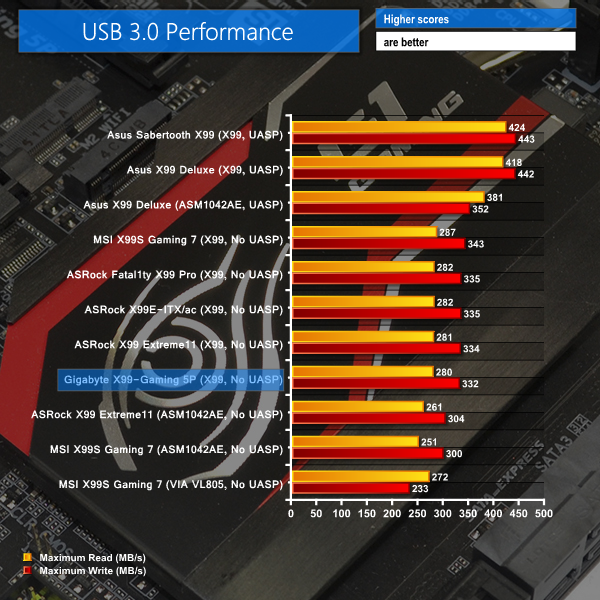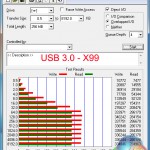 The USB 3.0 transfer rates that we observed from Gigabyte's board are competitive with other X99-fed solutions.
Audio

We usually use RightMark Audio Analyzer (RMAA) to analyse the performance of the motherboard's onboard audio solution. Unfortunately our usual RMAA testing procedures would not function with Gigabyte's X99-Gaming 5P audio solution (seemingly related to the high gain of the Sound Core3D processor and op-amp). So instead we used a subjective audio listening test.
The first thing that I noticed about the X99-Gaming 5P's audio system was just how loud the output signal is. Using even basic headphones the audio was at the point of painful before a level of 50% was reached. 100% volume practically turned the headphones into stereo speakers.
There's nothing wrong with a loud output volume – it gives users greater flexibility for driving difficult to power speakers at acceptable audio levels. It also had a noticeable positive effect on bass in our listening testing, although that can be partly attributed to the surrounding audio hardware.
I liked the range of tones and clarity of audio output by the X99-Gaming 5P. Watching The Dark Knight was a pleasant experience with the movie's excellent soundtrack. And the high volume levels and clear audio transposed into effective gameplay, with quiet footsteps and other indicators being more recognisable.