Automatic CPU Overclocking: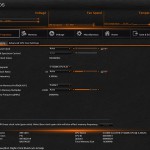 Gigabyte's automatic CPU speed-boosting profile had no problem taking our 5820K to 4.3GHz. We were happy to see that only the CPU speed level was adjusted, and the memory configuration was maintained in its XMP mode.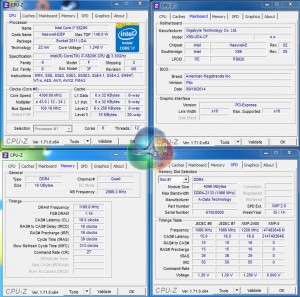 The 4.3GHz profile delivered around 1.25V to the CPU under heavy load. I am pleased to see that Gigabyte has (finally) listened to feedback and provided sensible voltage levels for its overclocking pre-sets (not the 1.4V+ levels that many Z-series boards use/used).
Manual CPU Overclocking:
To test the Gigabyte X99-UD4 motherboard's CPU overclocking potential, we first increased the CPU VCore to 1.275V, Cache voltage to 1.25V, and CPU Input Voltage to 2.0V. Extreme LLC was applied to ensure that our set voltage was delivered continuously.
DRAM frequency was maintained at 2400MHz to take its stability out of the overclocking equation. Cache frequency was maintained at 3.0GHz.
Taking our 5820K retail chip to its 4.5GHz limit was as easy as applying the voltage tweaks, selecting the 45x ratio, and rebooting.
We tried pushing for 4.6GHz, but our chip was not stable with the 100MHz increment.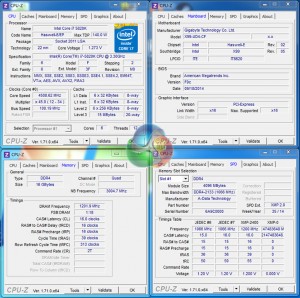 The X99-UD4's Extreme LLC profile performed well. Voltage accuracy on the motherboard was excellent – we asked for 1.275V and received 1.273V under load.
Our 4.5GHz overclock validation can be viewed here.
Memory Frequency Performance: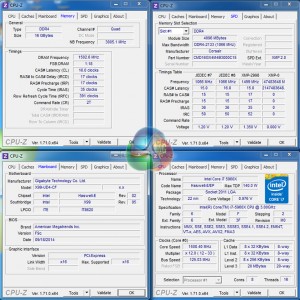 Gigabyte has been working hard to provide support for 3GHz memory kits on its motherboards. We managed to boot with a 3GHz memory clock using a 3000MHz kit of Corsair Dominator Platinum DDR4. Gigabyte told us that G.Skill's popular 3000MHz Ripjaws4 kit is still suffering stability issues.
We did notice that our 5960X test CPU's operating frequency was pushed past its 3.5GHz MCT level when 3Ghz XMP was enabled. We don't see this as an issue currently, because the parameter may be adjusted and the likelihood of a 5960X and 3GHz DDR4 being used with an entry-level X99 motherboard is slim.
Our 3Ghz memory validation can be viewed here.