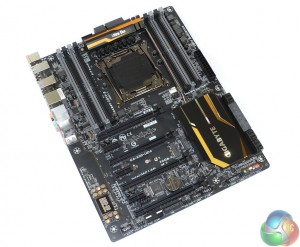 Aiming to cater for an audience that takes pride in system appearance, Gigabyte gives the X99-UD4 a matte black PCB with yellowy-gold tints on the two heatsinks and a grey shade to four of the DIMM slots.

The board has a clean appearance and conforms to the standard ATX form factor. A yellowy-gold LED is placed in the left-hand strip of the chipset heatsink.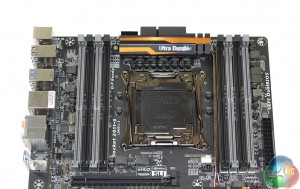 A six-phase power delivery system feeds LGA2011-3 CPUs. Gigabyte opts for Cooper Bussmann chokes to take advantage of their server-grade reliability.
Frequency support of up to 3000MHz is quoted for the 64GB of DDR4 memory. The exact speed that can be reached will be heavily related to the strength of Haswell-E CPU's IMC and the memory modules' IC performance.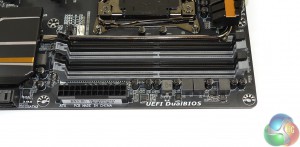 International Rectifiers 3570A controllers are used to manage the board's power delivery. Multiple 40A-capable IR3553M MOSFETs from the same company are also deployed.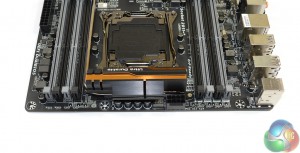 Additional power delivery components are hidden beneath the MOSFET heatsink. They sit close to the 8-pin power connector.
Gigabyte does not put any fan headers along the X99-UD4 motherboard's top edge, which is a bad idea. Headers in this position make cable management easy – any excess cabling can be tucked behind the motherboard tray with ease. This is especially true for users with AIO water-cooling units.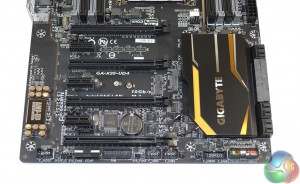 Gigabyte provides four full-length PCIe 3.0 expansion slots, allowing the X99-UD4 to support 4-card CrossFire and SLI. The first and third full-length slots are wired for a full sixteen PCIe lanes, which is excellent for two-card spacing (even with triple-slot coolers). The other two slots are designed to operate with eight lanes.
With a 40-lane CPU, users can enjoy x16/x0/x16/x8 3-card and x8/x8/x16/x8 4-card configurations. The first and second full-length slots share sixteen PCIe lanes between them. This is important when working out the best 3-card bandwidth configuration.
There is a confusing mistake regarding PCIe bandwidth allocation in the motherboard manual that we received (an early, pre-release version). Gigabyte's website clarifies the situation.
When a 5820K CPU is installed, its 28 PCIe 3.0 lanes can be divided up as x8/x8/x8/x4, which gives capacity for up to 4-card CrossFire or 3-way SLI + expansion card. With a 5820K, two graphics cards should be run using the first (x16) and third (x8) full-length slots, with the fourth slot providing a 4-lane expansion buffer.
Three PCIe 2.0 x1 ports are fed by the X99 chipset and can be used for expansion devices, such as sound or WiFi cards. There is no PCI connection, which will be welcomed by some users and condemned by others.
As well as the standard affair of audio, chassis, and USB 2.0 connectors, Gigabyte also places the front panel USB 3.0 header along the motherboard's bottom edge.
This is a layout decision that I hate to see; not only does it necessitate a longer USB 3.0 cable on most cases, it also makes the large connector prone to blockage by expansion cards located in the lower slots. Users must choose between 3- or 4-card setups and front panel USB 3.0 connectivity.
Trusted Platform Module (TPM) and a 4-pin molex power connector are also mounted along the bottom edge, the latter of which serves additional juice to heavy graphics configurations.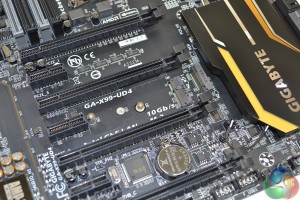 Gigabyte opts for a pair of M.2 connectors on the X99-UD4, but they are very different in function. The 10Gbps M.2 connector supports 60 or 80mm-long SSDs that use the M.2 form factor. 30mm-long WiFi cards (presumably running off a single PCIe 2.0 link) can be installed in the other M.2 slot.
Gigabyte's decision to use a limiting 10Gbps M.2 connection speed, when most competing boards are providing at least 20Gbps links, may be a deciding factor for many buyers. M.2 drives that saturate two PCIe 2.0 lanes are already available (look at Samsung's XP941), so 'future-proofing' is pretty much non-existent with a 10Gbps connection rate.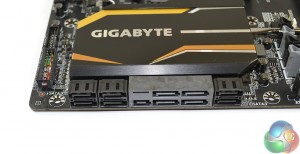 The X99 chipset supports a total of ten SATA 6Gbps connections and Gigabyte deploys all of them on the X99-UD4.
Two ports double-up as the 10Gbps SATA Express connector (which freezes the M.2 slot's function when used, and vice versa).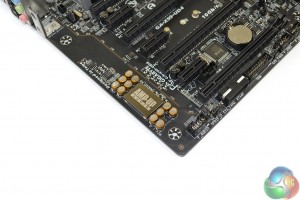 Gigabyte's audio system is based around the Realtek ALC1150 codec with its 115dB signal-to-noise ratio (SNR). A Texas Instruments NE5532 amplifier is used to drive the signal through rear audio ports. Two discrete PCB pathways are used to segregate each audio stream.
We also spotted an AS358M operational amplifier and AS393M voltage comparator in the region of the audio system, although they may be used for other power-related motherboard functions. Nichicon capacitors are used to smooth the voltage delivery.
There is a subtle yellow backlight running through the discrete PCB pathway that may appeal to appearance-conscious buyers.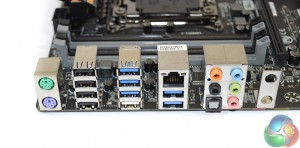 Six USB 3.0 ports are provided on the rear IO, four of which operate via a Renesas uPD720210 hub. I like seeing the presence of four USB 2.0 ports; the older connection has far fewer issues with native drivers (which is a particular pain when installing Windows 7).
Gigabit LAN is provided by an Intel I218-V NIC. There are also individual PS/2 keyboard and mouse ports for users who prefer the interface, although I would be surprised if anybody uses them both.
Gigabyte uses a purple-coloured LED mounted in the IO shield, and connected to a nearby board header, to illuminate the rear IO ports. This is a feature that I like – our test system's NZXT Phantom 630 has an identical function and it proves convenient when rummaging through connectors in low light.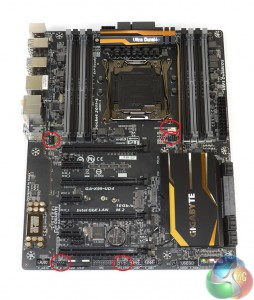 Fan header distribution could be better and, as such, cable management efforts will be hampered. As already mentioned, Gigabyte places the CPU fan headers below the socket, where hiding their cables will be difficult.
The single header is easy to access for a rear chassis fan, and the two bottom-edge connectors are convenient for side panel fans. I would have liked to see one of the bottom connectors moved closer to the board's right side, negating the cable-length issue for a front fan.
Fan control and monitoring is handled by the ITE IT8792E controller.