M.2 connector
We use Plextor's fast M6e 256GB M.2 SSD to test the speed of a motherboard's M.2 connector. We reviewed the 512GB Plextor M6e (and its PCIe x2 adapter card) HERE.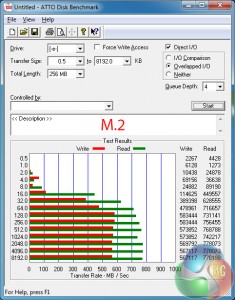 The X99-UD4's 10Gbps M.2 connector allows our Plextor M6e PCIe-fed SSD to reach its full speed. A higher-performance device, such as Samsung's XP941, would saturate the 10Gbps connector and result in lost performance.
That's not a good thing for users looking to future-proof their system as effectively as they can.
SATA
For SATA 6Gb/s testing we use a Kingston HyperX 3K (SandForce SF-2281) SSD.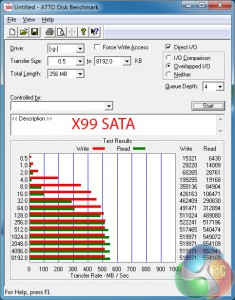 As expected, the X99-fed SATA 6Gbps ports have no problem providing full bandwidth to a SATA SSD.
USB 3.0
We tested USB 3.0 performance using the Kingston HyperX 3K SSD connected to a SATA 6Gb/s to USB 3.0 adapter powered by an ASMedia ASM1053 controller.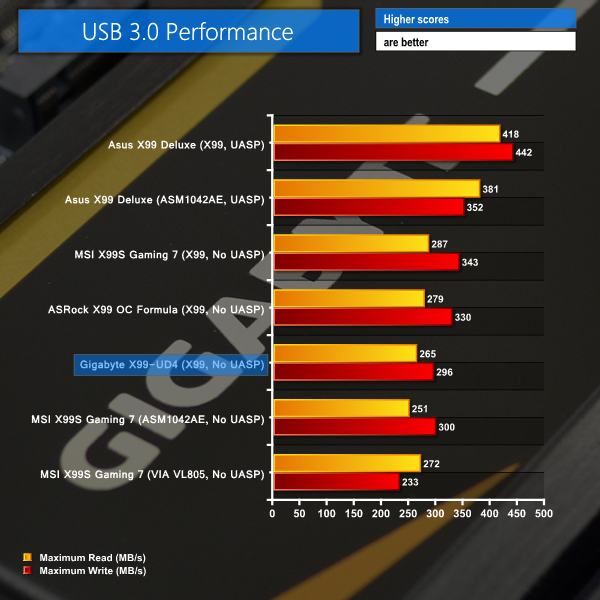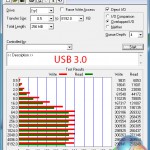 We tested every USB 3.0 port on the Gigabyte X99-UD4 motherboard (to make sure the Renesas uPD720210 hub's performance was not a limiting factor), but performance was consistent throughout.
The X99-UD4's USB 3.0 ports deliver poor speed performance (SSD speed was not an issue). All other X99-fed USB 3.0 solutions on competing motherboards outperform Gigabyte's implementations by at least 45MBps combined. That's frustrating for users who transfer large amounts of data, such as games, regularly.
Audio

We use RightMark Audio Analyzer (RMAA) to analyse the performance of the motherboard's onboard audio solution. A sampling mode of 24-bit, 192 kHz was tested.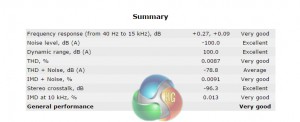 Gigabyte's audio system is based around the Realtek ALC1150 codec with its 115dB signal-to-noise ratio (SNR). A Texas Instruments NE5532 amplifier is used to drive the signal through rear audio ports. Two discrete PCB pathways are used to segregate each audio stream. Nichicon capacitors smooth the power delivery.
RMAA rates the overall performance of the Gigabyte X99-UD4's audio system as Very Good. Stereo Crosstalk performance is particularly positive, which implies that the pathway segregation tactic is functioning as intended.