We will be outlining the Gigabyte X99-UD4 motherboard's performance with the Core i7 5820K CPU at its stock frequency (3.6GHz due to forced turbo). Overclocked performance will be outlined later in the review.
We opted for components representative of a value X99-based system, which included 2400MHz DDR4 memory and the excellent Haswell-E 5820K processor.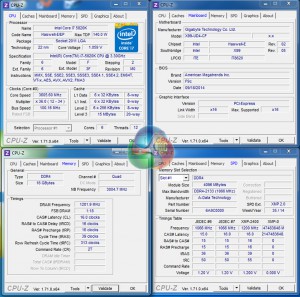 By default, the Gigabyte X99-UD4 motherboard applies multi-core turbo (MCT) and forces the 5820K to a constant 3.6GHz when XMP is enabled. This will be displayed as the 'stock' setting.
A full CPU load sees the X99-UD4 pushing around 1.06V through our 5820K CPU when MCT is applied. That voltage level is about average from what we have seen, and results in temperature levels that can be easily dealt with. Idle operation sees the VCore dropping around the 0.7V-mark, with a 1200MHz CPU frequency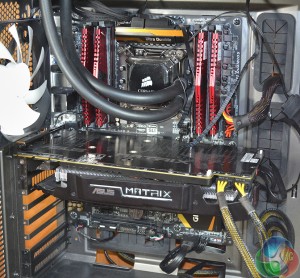 We have already referenced the issues we ran into with the X99-UD4 refusing to operate our graphics card with PCIe 3.0 bandwidth. As such, our testing uses a PCIe 2.0 link which may have a small impact on the Gigabyte motherboard's score in GPU workloads. It is an accurate interpretation of a motherboard with error-ridden BIOS software.
X99 Motherboard Test System:
Compared X99 Motherboards:
Asus X99-A (BIOS v0502 and Catalyst 14.4 drivers).
Software:
Gigabyte X99-UD4 BIOS F9c.
Catalyst 14.9 VGA drivers.
Tests:

3DMark 1.3.708 – Fire Strike (System)
SiSoft Sandra 2014 SP2 – Processor arithmetic, memory bandwidth (System)
Cinebench R15 – All-core CPU benchmark (CPU)
WinRAR 5.10 – Built-in benchmark (CPU)
HandBrake 0.9.9 – Convert 4.36GB 720P MKV to MP4 (CPU)
ATTO – SATA 6Gbps, USB 3.0, M.2 transfer rates (Motherboard)
RightMark Audio Analyzer – General audio performance test (Motherboard)
Bioshock Infinite – 1920 x 1080, ultra quality (Gaming)
Metro: Last Light – 1920 x 1080, high quality (Gaming)
Tomb Raider – 1920 x 1080, ultimate quality (Gaming)