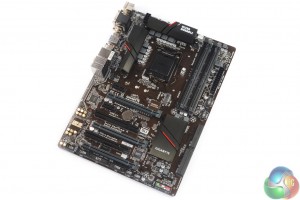 The Gigabyte Z170XP-SLI is slightly narrower than a standard ATX board and therefore loses two of its right-edge screwing locations. This is not an uncommon design feature amongst lower cost parts as it helps to minimise expenditure on unneeded PCB real estate and traces.
The brown, not black, PCB is disappointing although somewhat forgivable given the price point. Users wanting an attractive system may be best served by a different motherboard, or by cramming the Z170XP-SLI full of expansion cards so that the somewhat dull colour scheme is suppressed.
64GB of DDR4 memory can be installed in the four single-latch DIMM slots, with Gigabyte quoting frequency support of up to 3466MHz. Close to the memory slots are the 24-pin power connector and two outwards-facing USB 3.0 headers. Both of the USB 3.0 headers are served by the Z170 chipset's bank of 5Gbps ports.
A total of seven power delivery phases (presumably in a six plus one configuration) are used to feed the LGA 1151 CPU and its integrated graphics core. There's no fancy branding for the MOSFETs, chokes, or capacitors, although Gigabyte does cool the power delivery components with a pair of metal heatsinks. The black blocks of metal are loosely held in place by a pair of spring-tension pins, so do not expect extreme cooling performance from these units.
Gigabyte uses what it calls a Turbo B-Clock IC. The chip allows a range of BCLK frequency adjustments to made, with a region of 90MHz to 200MHz supported. This is actually a positive for an entry-level motherboard, and may prove useful once locked Skylake CPUs are released.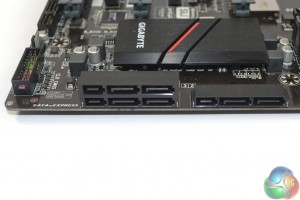 Three SATA-Express ports derive from the Z170 chipset's flexible IO connections. Gigabyte rates the SATA-Express transfer rate for up to 16Gbps by utilising two of the chipset's PCIe 3.0 lanes. SATA-Express has been given a new breath of life thanks to it being the foundation for a front panel USB 3.1 device, as we saw ASRock deploy.
I am struggling to see the logic for including three SATA-Express connectors. Unless Gigabyte knows facts about the storage market and upcoming devices that the rest of the industry has missed, one SATA-Express port would suffice for the vast majority of users. That said, the PCIe lanes derive from the Z170 chipset so do not necessitate additional cost.
When not making use of the SATA-Express connections, all six of the SATA 6Gbps ports are available for standard SSDs and HDDs.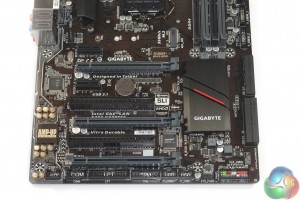 With a single graphics card installed, the top full-length PCIe slot is allocated all sixteen of the LGA 1151 CPU's lanes. Installing an additional AMD or Nvidia card into the second full-length PCIe slot splits the Gen 3 lanes as x8/x8. That lowermost full-length PCIe slot operates at a maximum connection speed of PCIe 3.0 x4 by using chipset-fed lanes, although it shares bandwidth with the second PCIe 3.0 x1 slot (which will realistically never be used due to a dual-slot graphics card cooler).
With a plausible lane configuration of x8/x8/x4 (CPU/CPU/chipset), 3-card CrossFire is supported, although potentially ill-advised due to the necessitated application of higher-latency chipset lanes. Nvidia SLI demands a minimum PCIe link of x8 and is therefore supported in 2-card capacity. Slot spacing is smart for two-card users – a single gap for airflow is left when using dual-slot boards, and triple-slot coolers are usable.
ASMedia's ASM1083 bridge chip is used to provide legacy PCI slots. I am not going to berate the decision to include PCI slots like some readers may – minimising the cost of an upgrade may force budget users to recycle that old PCI WiFi adapter or TV tuner.
The 32Gbps M.2 connector supports drive lengths of 42mm, 60mm, and the popular 80mm sizing. Support for extended 110mm-long drives is not present, although SATA or PCIe connections are possible. Gigabyte places the M.2 connector slightly below the CPU socket. While this location moves a drive away from the heat zone of a graphics card, it also makes an SSD's (typically) ugly green PCB visible inside a build.

Parallel, serial, and TPM headers are provided for legacy support. There are two USB 2.0 headers found along the bottom edge, allowing a pair of front panel USB 2.0 ports and something like an integrated card reader to be powered.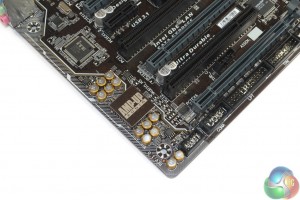 The audio system is based around Realtek's popular ALC1150 codec. Nippon Chemicon audio capacitors and a Texas Instruments OP1652-marked op-amp also form the audio system. Gigabyte shields the audio codec and inserts a controllable yellow LED in the signal pathway.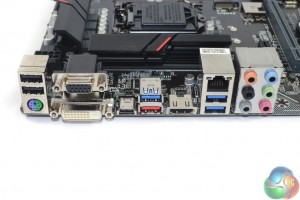 Two USB 2.0 ports and a PS/2 connector are found on the rear IO. I like seeing these connectors provided to aid support with older operating systems (including Windows 7) and times of troubleshooting. Video connections are provided by means of DVI, VGA, and HDMI.
Three blue USB 3.0 ports are provided via the Z170 chipset. 10Gbps Type-A and Type-C USB 3.1 ports are provided by way of ASMedia's ASM1142 chipset. I do not spot the popular EtronTech EJ179V logic IC, implying that Gigabyte is not making use of enhanced power delivery capabilities of the USB Power Delivery specification (commonly associated with the Type-C connector).
Intel's I219-V chipset provides Gigabit Ethernet and cFos software is used for network management. Six audio jacks are present, although the omission of an optical SPDIF connection will disappoint users who want to connect their home cinema surround sound system.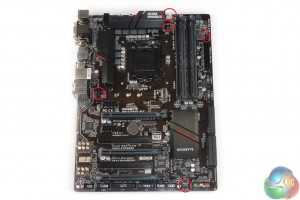 Five 4-pin fan headers are spread sensibly around the board. Two are allocated for CPU duties, with a further two being easily accessible from the LGA 1151 socket. The final 4-pin connector along the board's bottom edge is well-suited for a side panel fan.
ITE's IT8628E chipset is used for monitoring and fan management duties. In typical Gigabyte fashion, dual BIOS chips are provided for redundancy.