Intel's Skylake processors are just the latest Intel CPU architecture to see many of the critical system operations handled by the processor. As such, benchmarking a motherboard becomes more of a test to certify that the part operates correctly and meets the anticipated performance levels.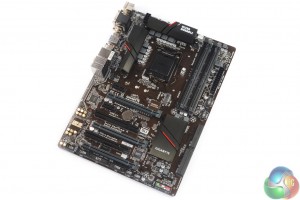 When XMP is enabled, many of the competing vendors' motherboards automatically apply a CPU operating state that sees all cores running at their maximum turbo frequency (typically termed as Multi-Core Turbo, or MCT). Gigabyte, however, does not feature this setting on its Z170XP-SLI motherboard.
We manually overclocked the CPU to its maximum turbo state of 4.2GHz and set the cache frequency to 4.1GHz. This allows us to keep the performance results and testing configuration consistent with data from ASRock's and Asus' motherboards.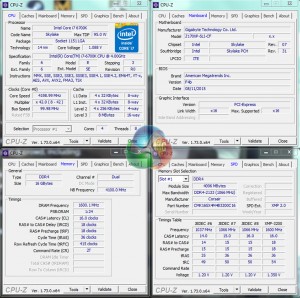 CPU-Z still has issues tracking the voltage levels of Skylake chips. AIDA64 showed that the processor was being delivered up to 1.296V when loaded in our manually-set 'simulated' MCT state. The VCore value was dropped to around 1.21V using out-of-the-box settings.
Z170 Motherboard Test System:
Compared Z170 Motherboards:
Software:
Gigabyte Z170XP-SLI BIOS F4b (latest).
GeForce 353.30 VGA drivers.
Intel 11.0 ME drivers.
Tests:

SiSoft Sandra 2015 SP2b (v2142) – Processor arithmetic and memory bandwidth (System)
3DMark 1.5.915 – Fire Strike Ultra (System)
Cinebench R15 – All-core CPU benchmark (CPU)
7-Zip 15.05 beta – Manual video archival (CPU)
HandBrake 0.10.2 – Convert 1.23GB 1080P game recording using the High Profile setting and MP4 container (CPU)
Grand Theft Auto V – 1920 x 1080, near-maximum quality (Gaming)
Middle Earth: Shadow of Mordor – 1920 x 1080, ultra quality (Gaming)
Metro: Last Light – 1920 x 1080, very high quality (Gaming)
Tomb Raider – 1920 x 1080, maximum quality, TressFX disabled (Gaming)
ATTO – SATA 6Gbps, USB 3.0, M.2 transfer rates (Motherboard)
RightMark Audio Analyzer – General audio performance test (Motherboard)