Automatic CPU Overclocking: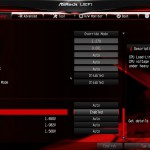 Built into the Z97X-UD5H-BK motherboard's UEFI is a parameter called 'Performance Upgrade'. This seems to be Gigabyte's version of automated overclocking.

Users are free to select from five profiles which are named: 20%, 40%' 60%, 80%, and 100%. Oddly enough, the number values mean nothing. The profile names do little more than confuse a user away from applying the profile in fear for their chip's life – 100% would be a huge overclock.
We recorded the profile settings to be configured as follows:
20% gives a CPU frequency of 4.30GHz with a VCore of around 1.40V and DRAM speed of 1600MHz.
40% gives a CPU frequency of 4.40GHz with a VCore of around 1.40V and DRAM speed of 1600MHz.
60% gives a CPU frequency of 4.50GHz with a VCore of around 1.40V and DRAM speed of 1866MHz.
80% gives a CPU frequency of 4.60GHz with a VCore of around 1.355V and DRAM speed of 1866MHz.
100% gives a CPU frequency of 4.70GHz with a VCore of around 1.42V and DRAM speed of 2133MHz.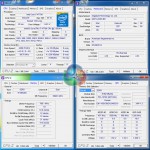 As is clear, all of the profiles use high voltage levels which will demand a very potent CPU cooler. We feel that the three lowest-speed profiles are very badly optimised. 1.40V for a frequency of 4.30GHz, 4.40GHz, or 4.50GHz is far higher than what is necessary and results in CPU temperatures which are unstable even with a Corsair H100i. We would not use any of those three profiles for 24/7 usage as 1.40V is higher than we would want our chip to use for extended periods of time.
The 80% 4.60GHz profile uses some well-thought settings. Unfortunately, 4.6GHz is higher than many processors are capable of reaching, ours included. The Z97X-UD5H-BK applied a 1.42V VCore for the 100% 4.70GHz option which, again, is higher than we would recommend for safe usage over extended time periods.
Given the bad decisions made when applying settings to the Performance Upgrade profiles, users wanting an automated overclocking option are forced to rely upon the CPU Up setting. Unfortunately, this option is also programmed badly, with a VCore of 1.40V being applied to each profile, even the sub-4.50GHz options.
To say that we are unimpressed by Gigabyte's attempts at providing automated overclocking options would be an understatement. Despite the badly optimised profile, the truth is that a significant proportion of this board's target audience is likely to be capable of applying a stable overclock to their system, negating the reliance upon the poor automated options.
If automated overclocking is a must for your needs, we would advise going down the OS software route that Gigabyte provides, although its options are more constricted.
Manual CPU Overclocking:
To test the Gigabyte Z97X-UD5H-BK Black Edition motherboard's CPU overclocking potential, we first increased the CPU VCore to 1.325V, Cache voltage (called RING voltage) to 1.275V, and CPU Input Voltage (called VRIN) to 1.900V. LLC was set to 'Auto'.
Gigabyte's UEFI makes overclocking our 4770K to its 4.5GHz limit a simple task. A multiplier adjustment to 45x was made on the Frequency page, while voltages were adjusted in their relevant sections. Gigabyte's slider options also help to make small voltage increases a possibility.
For hitting 4.5GHz, we didn't have to mess around with offset voltages or any other irritating settings; the Z97X-UD5H-BK was happy to take our inputs and return a 4.50GHz overclock.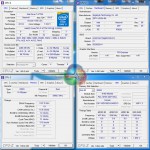 4.5GHz at 1.325V was perfectly stable with the Gigabyte Z97X-UD5H-BK motherboard and our Corsair H100i cooler. The Gigabyte board had no problems taking our chip as far as it will go.
We cannot comment on voltage accuracy because, as we have already pointed out, after testing this motherboard we recognised reading issues using CPU-Z. Our future reviews will update the recording procedures accordingly to analyse voltage accuracy of the motherboard's power delivery system.