SATA
For SATA 6Gb/s testing we use a Kingston HyperX 3K (SandForce SF-2281) SSD.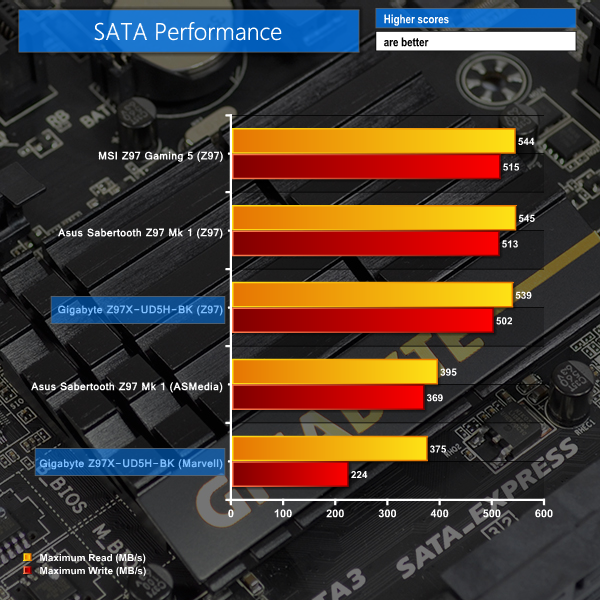 The Z97 SATA 6Gbps connections act as we would expect them to; the speed of a SATA 6Gbps SSD, such as the Kingston HyperX 3K, will not be limited by the chipset-based links.
Marvell's 88SE9172 chipset provides two SATA 6Gbps ports from the Z97 chipset's PCIe 2.0 lanes. Throughput of the Marvell 88SE9172-fed SATA 6Gbps ports is far lower than that of the native Z97 connections. In fact, ASMedia's alternative – the  ASM1061 chipset – provides significantly higher throughput numbers than the Marvell option.
We would recommend reserving the two Marvell connectors for slower storage devices such as mechanical HDDs. Gigabyte needs to analyse its Marvell-based storage system; the current performance raises questions.
M.2 connector
We use Plextor's ultra-fast M6e 256GB M.2 SSD to test the speed of a motherboard's M.2 connector. We reviewed the 512GB Plextor M6e (and its PCIe x2 adapter card) HERE.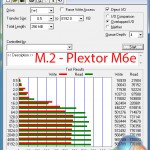 Fed by two PCIe 2.0 lanes from the Z97 chipset, the M.2 connection on Gigabyte's motherboard is capable of taking Plextor's M6e SSD to the limit of its performance numbers. No issues here.
USB 3.0
We tested USB 3.0 performance using the Kingston HyperX 3K SSD connected to a SATA 6Gb/s to USB 3.0 adapter powered by an ASMedia ASM1053 controller.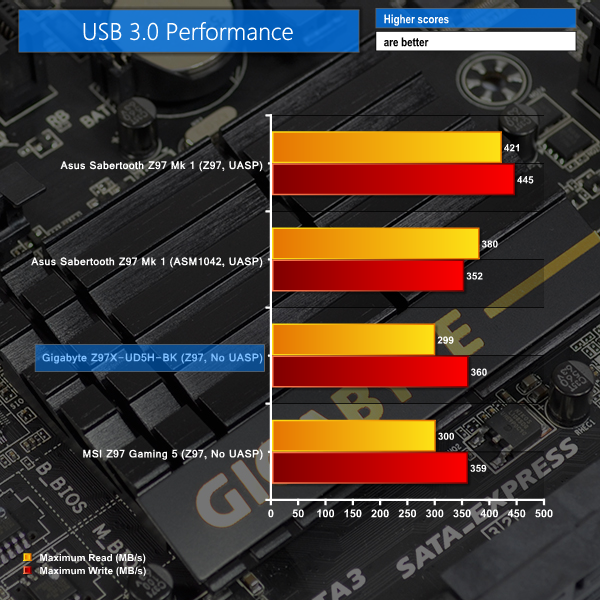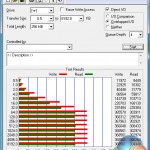 Gigabyte does not provide a UASP-activating software tool (as Asus and ASRock do) for Windows 7 users, hence the Z97X-UD5H-BK's USB 3.0 transfer rates are limited to 360MBps and lower, rather than the interface's typical limit of around 450MBps.
Audio

We use RightMark Audio Analyzer (RMMA) to analyse the performance of the motherboard's onboard audio solution. A sampling mode of 24-bit, 192 kHz was tested.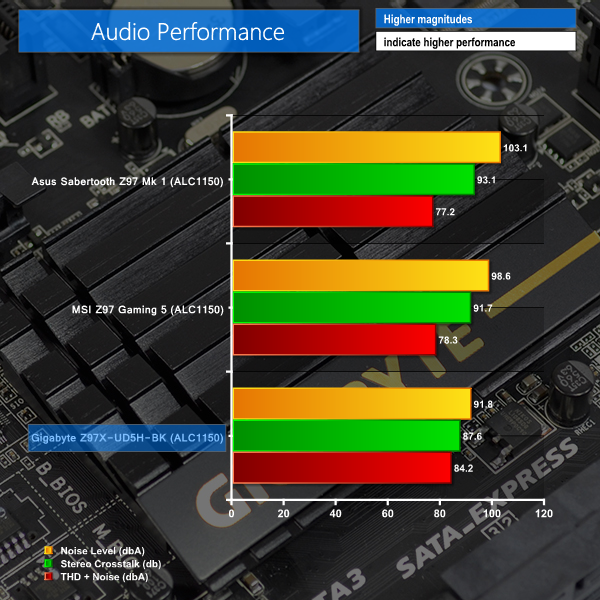 Based around the Realtek ALC1150 codec, Gigabyte uses a Texas Instruments N5532 amplifier for rear audio purposes and filters signals through a series of capacitors and a discrete PCB layer. Realtek's ALC1150 codec provides a signal-to-noise ratio of 115.
Testing the Z97X-UD5H-BK board's audio solution was a challenging procedure. Our typical settings for the RMAA test resulted in an input waveform with an unusable amplitude. After many hours of tweaking, we managed to create a waveform that delivered consistent results.
RMAA reports the Gigabyte Z97X-UD5H-BK motherboard as having an audio solution with Excellent performance. The numerical results are in the region that we would expect them to be for a Realtek ALC1150-based solution. Total Harmonic Distortion + Noise performance of the Z97X-UD5H-BK is strong.