As the name would suggest, Gigabyte's Z97X-UD5H-BK Black Edition motherboard uses a dark colour scheme with gold and grey hints offering small variances from the all-black appearance.
Gigabyte's upper-mid range motherboard is accompanied by a host of user-orientated features, but two further foundations for the Black Edition part are: stability and reliability. Gigabyte outlines the motherboard's durability by operating a continuous, week-long, server-level stress test which includes Litecoin mining as a task. Dual BIOS chips are also used to provide redundancy.
Owners of Gigabyte's Black Edition motherboard are able to join the Black Edition Members' Club. Gigabyte states that members can enjoy a number of benefits from joining the club, but the most important perk is an extended warranty period which sees the board being covered for five years. That's a strong warranty period which shows that Gigabyte has faith in its motherboards.
Up to 32GB of DDR3 memory can be installed in the Gigabyte Z97X-UD5H-BK motherboard. Gigabyte does not state supported memory speeds over the CPU's native 1600MHz frequency. Speeds of up to 2933MHz should be achievable with most quad-core LGA 1150 i5s or i7s.
In the vicinity of the DIMM slots are onboard buttons and voltage checkpoints to assist with users' overclocking efforts. The button functions are: On/Off, Clear CMOS, and Restart. Switches allow for the BIOS mode to be switched between single and dual.
Gigabyte's positioning of the onboard Debug LED is slightly odd; a thick USB 3.0 cable feeding into the nearby header is likely to block the debug display's view.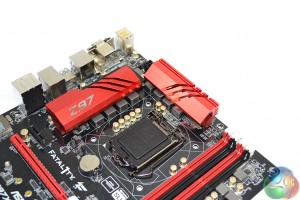 Durability and reliability are key philosophies behind the twelve phase power delivery system and electrical arrangement; Gigabyte's Z97X-UD5H-BK utilises a 2 Oz copper PCB design, 10K black solid capacitors rated for 10,000 operating hours at 105°C, and a 15-micron gold-plated CPU socket.
International Rectifiers 3570A and 3598 controllers work in tandem to operate the power delivery system and voltage regulation.
A pair of eye-catching heatsinks, sporting gold-coloured Gigabyte branding, are connected via a heatpipe and tasked with cooling the motherboard's MOSFETs. The heatsinks are sufficiently low-profile to make interference with large CPU coolers an unlikely issue.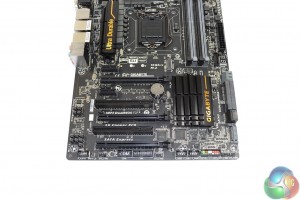 Support for 3-way CrossFire and 2-way SLI is present on the Gigabyte Z97X-UD5H-BK. All PCIe x16-length slots are fed by the CPU's sixteen PCIe 3.0 lanes. 3-way CrossFire is supported in an x8/x4/x4 manner, while SLI is limited to a 2-way setup due to the technology's insistence on PCIe x8 connections.
One caveat of providing all full-length PCIe slots with CPU-fed lanes is further expansion. A user wanting SLI (which dictates x8/x8 bandwidth) and a PCIe x2 or x4 interface storage drive, to sit in the lower full-length slot, will have to look for a different motherboard.
A single PCIe lane is used by an ITE 8892E bridge chip to outfit the Z97X-UD5H-BK with a pair of legacy PCI slots. Layout of the expansion area is very good; triple-slot graphics cards can be used in a multi-GPU configuration at x8/x8 bandwidth, or a dual two-slot card setup can be given a breathing gap between the partnering boards.
Gigabyte includes an auxiliary SATA power connector, situated next to the data connections, to provide extra juice to multi-VGA configurations.
Front panel connections are the usual affair; the audio header sits to the left while the front panel chassis connections lie to the right. Four system fans headers, one 3-pin and three 4-pin, are sat along the motherboard's bottom edge.
The Trusted Platform Module (TPM) may be welcomed by many productivity users who put emphasis upon the security of their system.
Six Z97-powered SATA 6Gbps connectors are found on the Gigabyte Z97X-UD5H-BK motherboard, with a further two ports being provided by an add-on Marvell controller. One PCIe 2.0 lane is used to provide bandwidth to the Marvell SE9172-fed pair of grey SATA 6Gbps ports. RAID 0, 1, 5, and 10 support is provided by the chipset-fed SATA connections, while the Marvell controller can only handle RAID 0 and 1.
SATA Express support is present; two of the chipset-fed SATA 6Gbps connectors can be used alongside the additional bandwidth-provided port to produce a 10Gbps SATA Express connection.
Positioned between the CPU socket and upper PCIe expansion slot is the motherboard's 10Gbps M.2 connector. Situated away from lingering expansion cards, the positioning of Gigabyte's M.2 implementation is excellent, as is its support for 42, 60, and 80mm drives.
Due to bandwidth restrictions of the Z97 chipset and the Z97X-UD5H-BK motherboard with its host of add-on controllers, there are limitations as to which storage interfaces can be used simultaneously. Only one set from SATA ports 5 and 6, the M.2 slot, and the SATA Express connection can be used at the same time.
The point to take from providing SATA Express and M.2 connectors, even though they cannot be used together, is one of future-proofing. It is still unclear as to which interface will receive better market adoption, so Gigabyte leaves users with a choice of which to use and the freedom to switch interfaces a few years down the line.
Based around the Realtek ALC1150 codec, Gigabyte uses a Texas Instruments N5532 amplifier for rear audio purposes and filters signals through a series of capacitors and a discrete PCB layer. Realtek's ALC1150 codec provides a signal-to-noise ratio of 115.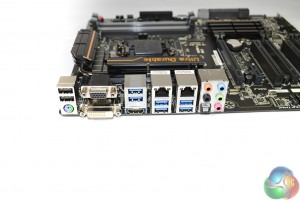 Highlight of the rear IO is the pair of LAN ports. Aiming to cater for all consumer-level audiences, Gigabyte uses a Killer E2201 NIC to provide gamers with smooth online performance, while Intel's tried-and-tested I217V chipset provides accompaniment and potential low CPU overhead benefits.
ASMedia ASM1442K and NXP PTN3360DBS are used for shifting of the rear connectors' video signals. PS/2 support ensures that gamers can use their old mechanical keyboards.
Gigabyte uses a solid black base colouring for its low profile heatsinks, with touches of gold to create an attractive appearance.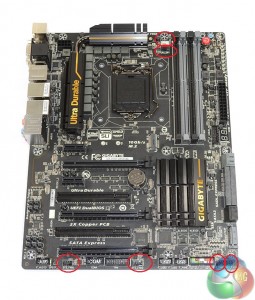 Six fan headers are found on the Z97X-UD5H-BK motherboard, five of which are 4-pin. Two 4-pin headers connecting to the CPU's PWM lane is a good move by Gigabyte which shows that the company is listening to feedback.
Unfortunately, distribution of the remaining four fan headers is particularly poor. All four of the connectors are situated along the motherboard's bottom which, while fine for powering side panel fans, makes stealthily routing a cable from the rear fan mount or an AIO cooler's pump unit almost impossible. Gigabyte should have placed one header near the rear chassis fan position and another near the 24-pin connector.
The motherboard features a total of six USB 3.0 ports, and one header for an additional two connections. A Renesas uPD720210 hub is used to provide four of the ports.